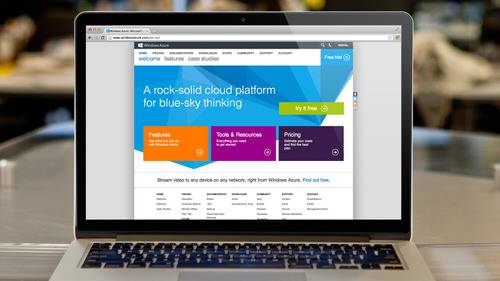 Guest author Daniel Lopez is co-founder and CTO of BitNami.

It is difficult to avoid a weird feeling of Deja-vu when looking at the current cloud-computing landscape. Microsoft is once again battling for the future of the technology industry.
For years, Microsoft dominated the IT landscape with its Windows operating system, providing an industry-standard platform that others built on top of. Regardless of any pricing issues or technical shortcomings, the vast ecosystem of Windows applications and service providers ensured the continued success of the platform for many years and was an insurmountable barrier for competitors. It was not until the Web came along that this dominance was seriously challenged. The book High-Stakes, No Prisoners chronicles the story of the Frontpage acquisition and does a good job of providing a peek into the ruthless 'battle for the Web' against Netscape.
Microsoft Is A Cloud Computing Underdog
Microsoft is now waging another platform war: the battle for the cloud. The difference is that this time, Microsoft is the underdog.
Amazon has built not only an automated way to spin up new servers and databases, but an entire platform for building and running a whole new generation of applications. Where in the past you had to write apps using Win32 APIs and third-party OCX controls, you can now write applications using Amazon's cloud APIs for file storage, database access, message queues and dozens of other services. The launch of the AWS marketplace further solidified Amazon's move up the stack. If Amazon acquires a critical mass of users and vendors to build on top of its platform, the network effect will make it very difficult to displace that ecosystem.
Microsoft has not been sitting idle. The original version of Windows Azure was architected around a Platform-as-a-Service (PaaS) offering and was very Windows-specific. It had many shortcomings and attracted little developer and partner support.
Making Windows Azure More Competitive
However, in 2013 Microsoft has refreshed its Azure offering, providing a Virtual-Machine-centric offering modeled after Amazon's Elastic Compute Cloud (EC2). The company went out of its way to make sure Linux and open source were first-class citizens. Microsoft has even demoed Azure using Apple MacBook Pro laptops and launching Ubuntu images. Microsoft finally "got it" – the launch of Azure Virtual Images was the first step towards fighting AWS head on.
About a month, Microsoft unveiled the Windows Azure Community portal, which provides dozens of popular open source applications and language runtimes contributed by partners. Even more recently, Microsoft took this a step further and made the images from the portal available directly in the Azure console, so they can be easily deployed onto Azure infrastructure. By making it easier to deploy third-party apps on its cloud, Microsoft is helping to grow its own ecosystem while increasing the utilization of its infrastructure. It also provides a counterpart to the AWS marketplace that, while limited, it is in many aspects simpler and easier to use.
Not Better, But Maybe Good Enough?
Microsoft still offers only a fraction of the functionality of Amazon, but it has a much bigger established user base among small and medium businesses and the enterprise. Coupled with its willingness to aggressively compete on price, Microsoft does not necessarily need to be better than Amazon to win. It just needs to be "good enough" to prevent its own users from switching.
It is incredibly refreshing to finally see viable competition to Amazon in the public cloud arena. Together with Google Compute Engine, Microsoft should be able to give Amazon a good run for its money.
Who will be the big winners of this war? For one, end users, who will benefit from lower prices from increased competition, as the cloud giants fight for market share.

Image courtesy of Shutterstock.