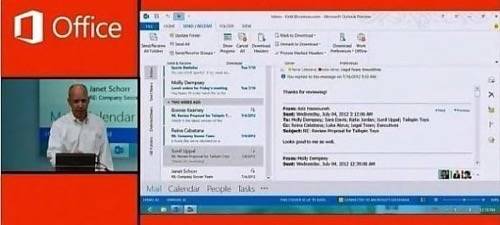 For those still wondering whether to choose Microsoft's traditional Office productivity software suite or the new, subscription-based Office 365, consider this: traditional Office users will have to wait for "updates," and they won't receive any new "upgrades" to the service at all.
And there's another consideration, too: Office 2013 is apparently locked to a single machine, perpetually, while Office 365 licenses are sold to a group of users, who can license and de-license PCs at will.
Choosing Which Office Is A Big Decision
These are important considerations for Microsoft Office users. Microsoft is in the middle of its Office 365 launch; Microsoft made the consumer version available on Jan. 29, and the version for small businesses and enterprises will be made available on Feb. 27. Although some consumers may have already made up their mind and opened their wallets, small businesses trying to decide between a traditional Office license and the new Office 365 suite may want to put on the brakes and reconsider their options.
So far, Microsoft has tried a number of strategies to encourage users to sign up for an Office 365 subscription, not the least of which has been pricing. Single consumers will probably gravitate toward the traditional Office 2013 suite, where users can buy a single license of Office 2013 Home & Student for $139.99. In two years, that option will have paid for itself, as Microsoft's Office 365 subscription runs $99.99 per household per year. But for larger households, Office 365 makes more financial sense.
Different Versions Get Treated Diffferently
The problem is that's not the entire equation. Microsoft representatives said this week that updates and upgrades will be treated differently for both products.
"Will Office 2013 customers with traditional licenses get updates with the same frequency as Office 365 Home Premium customers?" I asked in an email.
"No," a Microsoft representative replied. "Office 365 customers will get most updates first, and they will get upgrades and/or new capabilities. Office 2013 customers will get the same updates as Office 365 customers, usually in the form of a service pack, later than Office 365 customers, and they do not get upgrades and/or new capabilities."
The service packs will be rolled out "when needed," the Microsoft representative added. Microsoft will also continue to support Office 2013, as it does all of its products, for ten years.
What's An Update? What's An Upgrade?
Under the Office definitions, new content will be made available to users in the form of updates, minor improvements and patches; and more significant, major upgrades. Fortunately, at least for business users, Microsoft publishes its list of updates and upgrades here.
Updates happen on a monthly basis; in October, for example, the Office 365 updates consisted of new Office Web Apps, PDF viewing inside the browser, and a new administrator ability to set password expiration dates. In December, the updates were less significant: a rate-limit increase for both Outlook and Exchange.
The 2013 upgrade, however, is more significant. Microsoft explains that it will be rolling out to customers throughout 2013. As you'd expect from a Software-as-a-Service (SaaS) platform, the improvements will go on behind the scenes.
The new 2013 upgrade features include, according to Microsoft:
Wider support for mobile devices, so you and your staff can be more productive in more places.
Integration between online conferencing, social networks, and email for improved collaboration.
File sharing and storage in the cloud with SkyDrive Pro.
Smarter email, calendar and contacts with broader mobile support.
Improved management capabilities in the redesigned Office 365 admin portal.
SkyDrive Pro will offer businesses roughly the same capabilities as Microsoft's SkyDrive cloud storage, where users can upload documents, photos and other files. SkyDrive Pro will let users share the documents with others in the organization, and help IT admins manage the account. (The sharing features are actually restricted more than the basic SkyDrive content, because of corporate security concerns.)
Microsoft didn't say what it would do regarding security patches; Critical updates will presumably be pushed out on a roughly equal timeframe to both Office 365 as well as Office 2013.
Your Office Is Locked
But there's another consideration, too: With Office 2013, Office copies are apparently locked to one machine, forever.
Adam Turner at Australia's The Age read through the Office 2013 licensing agreement and discovered that the terms of service for both the version that comes with new computers and retail copies are now the same: Only one computer can contain Office. Unlike with Office 2010, users can't "de-license" the PC and shift the copy to a new machine. Microsoft public-relations officials confirmed the story's accuracy to ReadWrite.
Unfortunately, Turner discovered this only through days of communications with Microsoft's public-relations team, and only after Microsoft's tech-support personnel gave him mixed messages. And Turner wasn't able to discover if the one-copy, one-license provision will be stringently enforced, or if it will end up as another loophole in the Office 365 licensing language.
So far, Microsoft has used price as the prime lever to push consumers to Office 365. But for customers set on Office who still haven't made up their minds, the lack of timely updates and upgrades should be a major concern for those eyeing Office 2013. The fear of being locked to a single PC could also be an issue for some people. If you're the type of user who demands flexibility, including the latest features, Microsoft keeps coming up with more ways to encourage you to choose Office 365.