A Mastermind is a peer-to-peer mentoring group used to help members solve their problems and improve their lives. We have all read Think and Grow Rich by Napoleon Hill. The central concept is to surround yourself with like-minded individuals who have what you'd like to create if you haven't. Masterminds allow you to gain new experiences and perspectives, growing your life and business.
Mastermind groups have exploded in popularity in recent years. If you're not in a Mastermind, the world will pass you by. The world is changing rapidly and surrounding yourself with other industry leaders is essential to staying ahead or catching up.
Being part of a group that thinks alike and different will make you better. They will also challenge your thinking. Most of these communities are exclusive and invite-only. If you qualify, consider yourself one of the fortunate ones. It is up to the participant to show up and receive value within all these groups.
Check out more masterminds on Coursera.
Why join a specific mastermind and which group to join can be complicated?
I am in a few different masterminds for different reasons. One is a business and speaker mastermind, another is a spiritual mastermind, and another focuses on marketing and sales strategies. 
You can join masterminds for every industry, entrepreneur, or business leader.
A few years ago, I was at a mastermind dinner for one of the groups below. One of the members was debating whether he would rejoin for $25,000 for year two. One of our fellow members asked why he would not rejoin. He responded that he didn't feel he had received $25,000 in value or even a fraction of the $250,000 the program guaranteed. 
This member shared how he thinks about receiving value in these communities upon further discussion. It isn't on the mastermind leader or the group to provide the value. It is on the participant to receive the value. He shared his thinking: how on day number 1 of a year-long program can I receive $25,000 or $250,000 in value in my life or business. The rest of the year and days in meetings are a bonus for accomplishing this. This thinking forever changed how I show up and receive value from these groups. Masterminds have led to millions of dollars of opportunities, friendships, and business collaborations. 
Being a member of many masterminds over the years, I want to outline the top 22 to join during 2022 to make it the best year of your life and business. 
1. YPO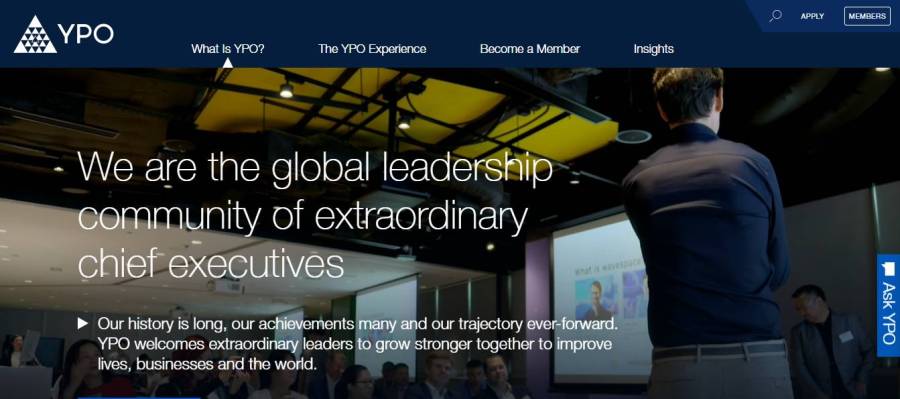 Young Presidents Organization (YPO) is one of the oldest, most respected, and most prominent masterminds globally. The group was founded in 1950 by Ray Hickok. It connects 30,000 CEOs globally. Admission is invite-only and with business standards like 50 full-time employees and revenue over 13 million. Members connect in-person and online over the course of the year. Events often include speakers like Richard Branson, Steve Wozniak, and heads of state. Money's no issue for members, but the annual fee is reasonable. So if you're offered an invitation, don't let the opportunity pass.
2. Genius Creators Collective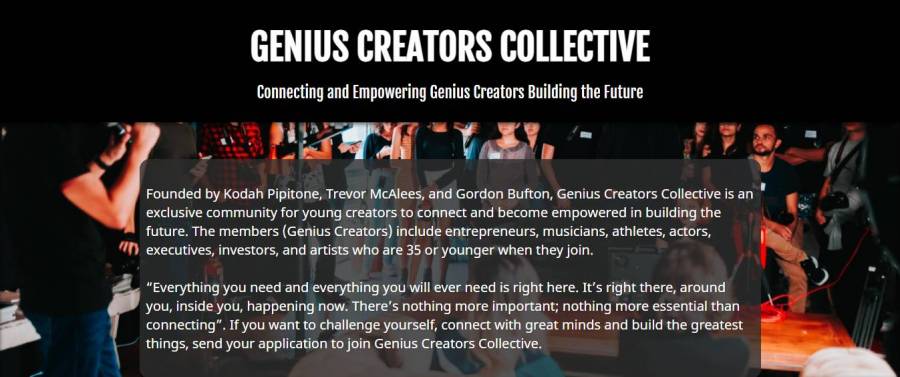 Genius Creators Collective is an exclusive community of young creators focused on connecting and becoming empowered in building the future. The members (Genius Creators) include entrepreneurs, musicians, athletes, actors, executives, investors, and artists born during and after 1985. They host events at luxurious properties around the world. The community also meets twice a month online. Genius Creators Collective was created on the premise that young leaders crave a place to connect, learn, grow, and flourish collectively. The founders run investment companies and use the community to determine and support their investments. The community is startup founder and finance centric with influencers building all industries. 
3. Selfless Givers Mastermind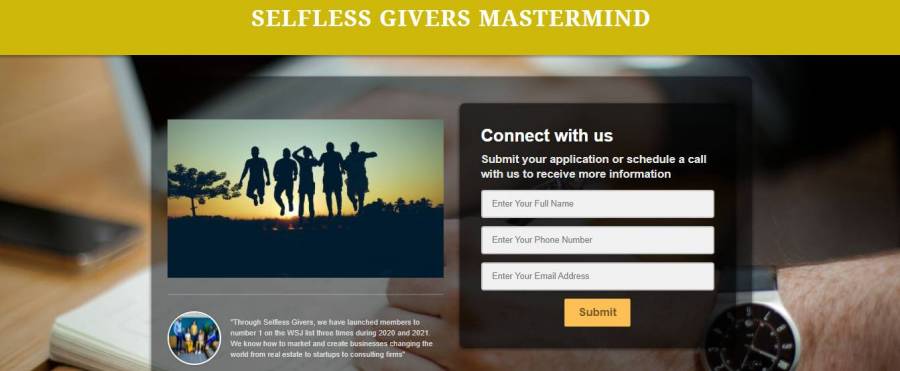 An invite-only mastermind that includes multiple best-selling authors, YPO members, hall of fame speakers changing the future. Membership costs $55,000 per year and consists of an epic trip to a remote location. Last year they rented a 90-foot yacht off-coast of Cabo. The group has launched members to number 1 on the WSJ list three times during 2020. They know how to market and create businesses changing the world from real estate to startups to consulting firms.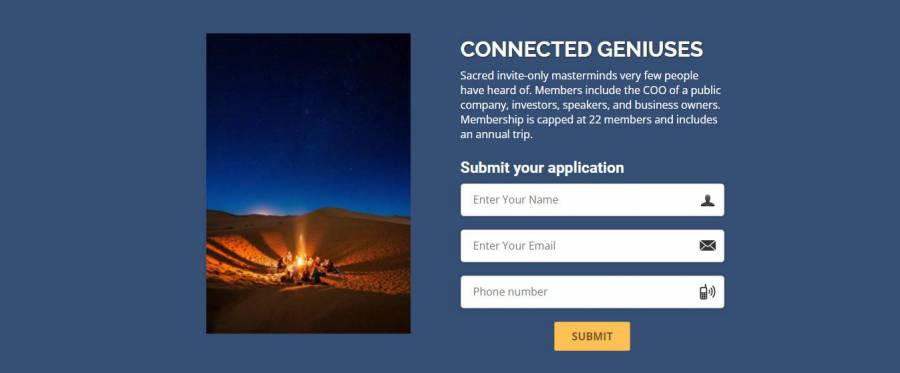 4. Connected Geniuses
Sacred invite-only masterminds very few people have heard of. Members include the COO of a public company, investors, speakers, and business owners. Membership is capped at 22 members and includes an annual trip. We had no idea of the cost, yet we talked with one member who said it's a place where he can be vulnerable and learn arm and arm with his brothers.
5. The Lifestyle Investor Mastermind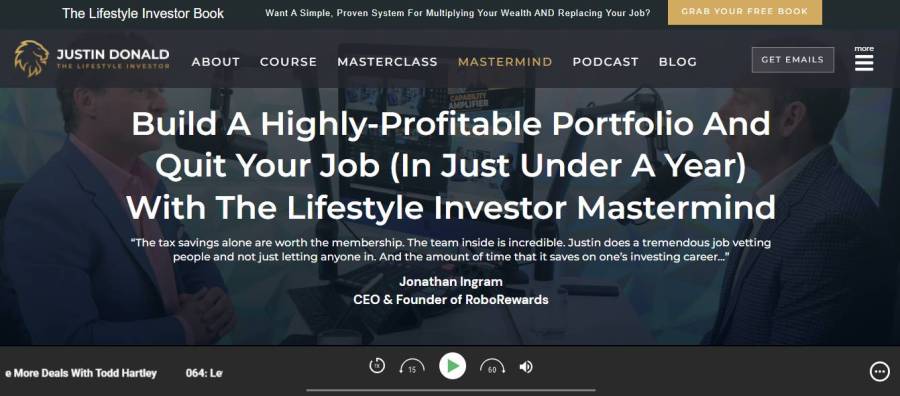 Justin Donald's Mastermind is a 12-month program that's perfect for anyone looking to go beyond his book, courses, podcasts, and connect with top investors. The Lifestyle Investor Mastermind gives you the space for building your confidence, skills, network, and portfolio — all in one spot. The tax strategies of high net-worth individuals gain more than pay for the investment in this mastermind. Members get preferred rates to invest alongside Justin in his deals. They meet annually in-person and monthly online. So if you want to work less and have your money create a new lifestyle, this is the mastermind to join.
6. Mastermind Talks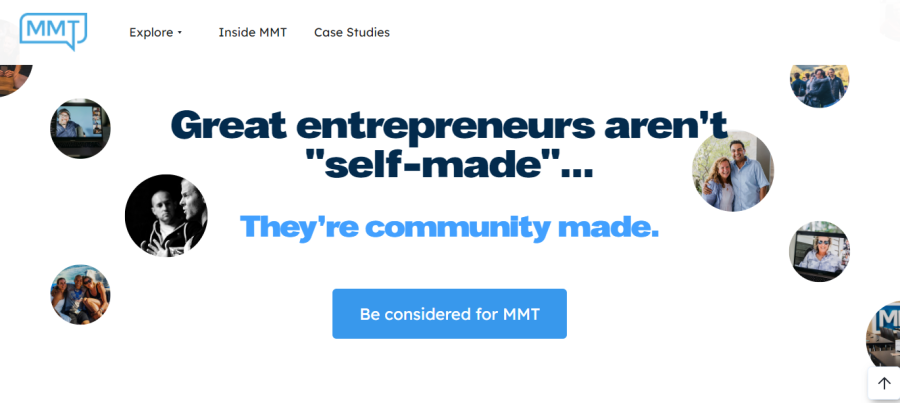 A veteran entrepreneur, Gaignard is the founder of a top-rated business podcast on iTunes and runs one of the world's most exclusive events for entrepreneurs through Mastermind Talks. His invite-only event brings together brilliant minds. His work has been featured by influential publications like Forbes, Life Hacker, and Business Insider.
Since 2013, more than 19,000 entrepreneurs have applied to MMT from across the globe. With our community capped at 150 members annually, MMT is one of the most exclusive entrepreneur groups in the world.
7. Genius Network

I alleged War Room was pre-Illuminati, but that's before I researched 'Genius Network.' Joe Polish's group connects members to educational content, a digital network, and colossal annual events where Tony Robbins, Peter Diamandis, and Richard Branson speak. Pricing is either 25K or 100K annually. By most accounts, it's the premium mastermind option. 
Genius Network is recommended for the most experienced masterminders. It is best to join knowing how to network, create partnerships, and market your business. Learn to walk before sprinting a marathon and joining Genius Network.
8. The Human Gathering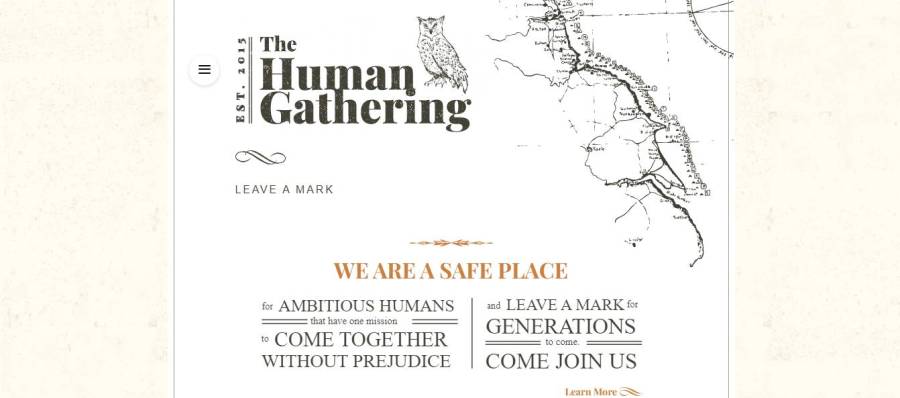 The Human Gathering is a community created under the belief that nothing is impossible through the right community. Together, it is possible to gather the power to change the world. The focus is to leave behind a legacy carved into the history of humanity. Members include executives from public companies, entertainment, music, and diplomats. 
9. EO
EO is perhaps the most well-known mastermind brand. Over 13,000 entrepreneurs are members globally. Each meets the standard of running a business over at least $1 million in revenue. Meetings are in-person at local chapters with discussions covering business, life, and balancing the two. 
If you meet its requirements, EO is very reasonable. The membership cost is minimal compared to other groups. The network is international, with members near every major city you can travel to. It has reigned as the 800-pound gorilla of masterminds since 1987 for good reasons.
10. Live for Livin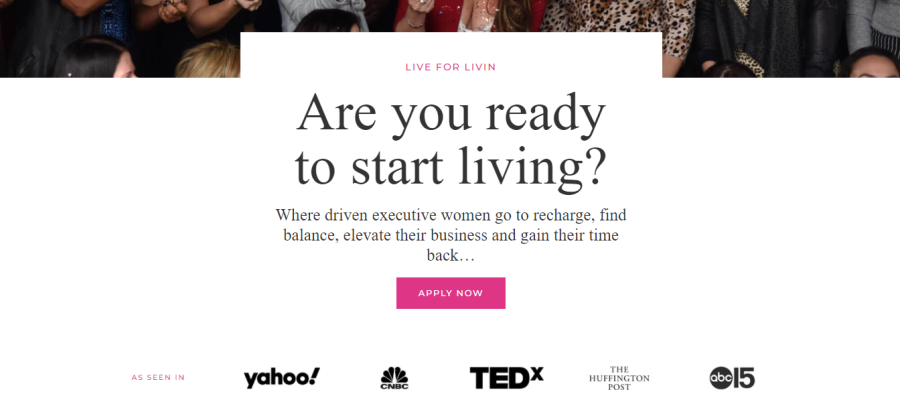 Olenka Cullinan's mastermind is a perfect place where driven executive women go to recharge, find balance, elevate their business and gain their time back. This combination of 1-1 work and peer connection Mastermind model helps executive women create life on their own terms while scaling and maintaining success. Cullinan has more than ten years of experience as an executive coach. As a result, she understands the main struggles women entrepreneurs deal with daily. This is the foundation for why she created Live for Livin. It's a vetted group of very driven women running six to eight-figure organizations around the globe.
11. Titans Mastermind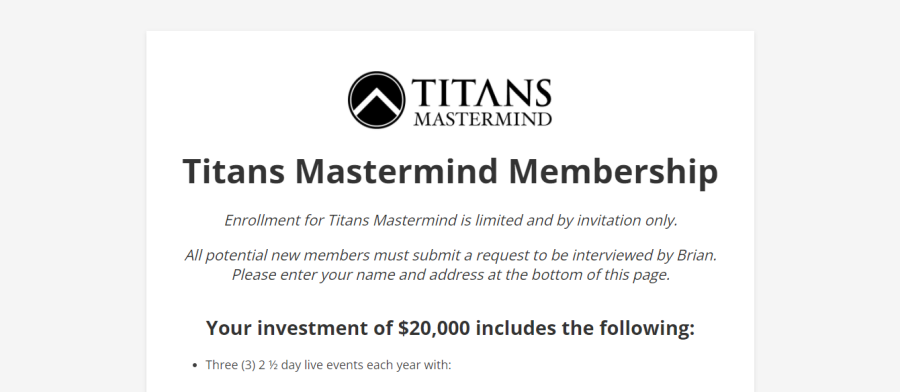 The Titans Mastermind is a business and personal growth. It is run by Brian Kurtz, one of the best direct response marketers in history. His group meets multiple times her year in-person and on zoom. So if you want to turn your company into a marketing machine, this is the group for you. 
Brian has worked with all the great marketers in history. These marketers are regular attendants and speakers at his events. In addition, this legend has mailed over 1.5 billion pieces of mail and shares his secrets with the group.
12. War Room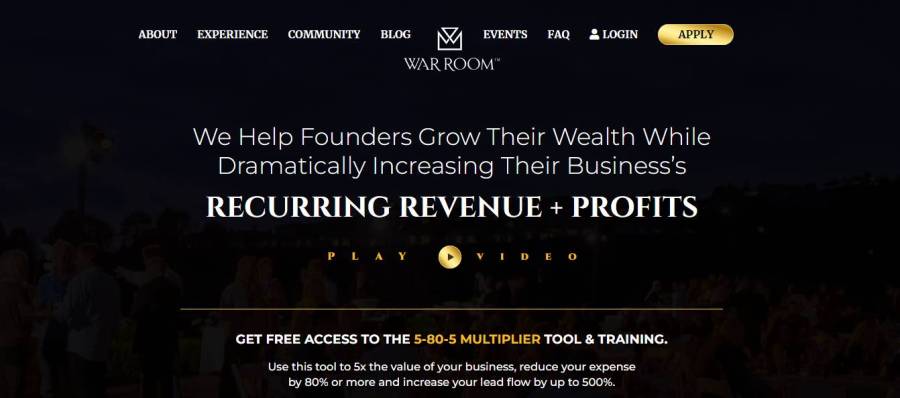 War Room is where the top entrepreneurs, marketers, and game-changers meet to share strategies. Hall of Famers include Sara Blakely of Spanx, a Shark Tank Judge, and a former Pepsi VP. Executives share written templates, checklists, and systems on a private social network. War Room's goal is to "double your business every year." 
This mastermind tier is recommended for the experienced. Try out informal groups first to see if you do well in them. The payoff only justifies itself if you're already good at networking, forming partnerships, and, generally, playing extraverted business.
13. Elite365 (Itzler's Mastermind)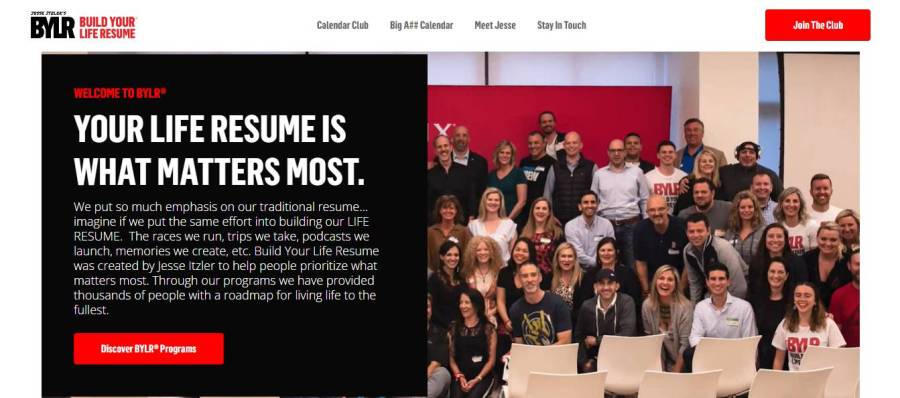 Jesse Itzler created this mastermind to help members prioritize their lives over their work. Members discover that who they are matters more than what they do. Its main objective is to inspire people to build their life resumes, give them tools to do so, and experiences to create. Jesse is also a serial entrepreneur who has sold businesses to Warren Buffett, Coca-Cola, and iFit. He is also an ultra-endurance athlete who once hired David Goggins to live and train him for 30 days.
14. Strategic Coach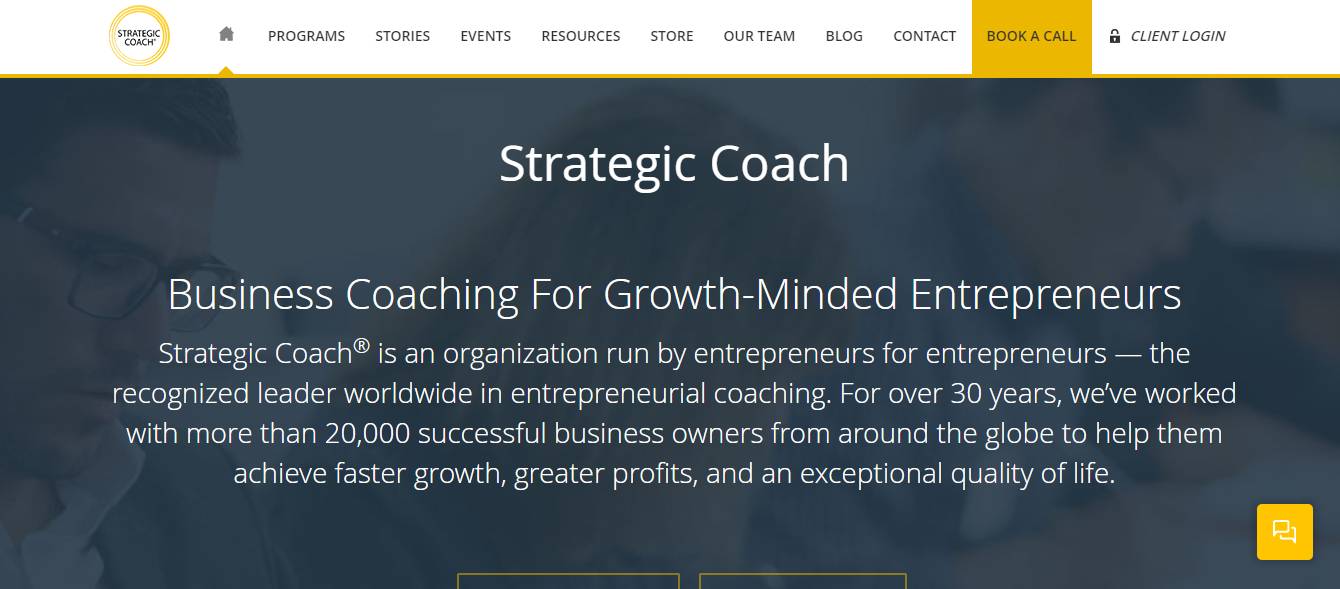 Strategic Coach is an organization run by entrepreneurs for entrepreneurs. Coach is the recognized leader worldwide in entrepreneurial coaching. For over 30 years, Coach has worked with more than 20,000 successful business owners from around the globe to help them achieve faster growth, greater profits, and an exceptional quality of life. In addition, Strategic Coach offers business coaching workshop programs designed to step up progress and accelerate your business and personal life results. The global community of successful entrepreneurs, highly experienced coaches, an arsenal of proprietary tools, and deep-dive strategy sessions are the cornerstones of member success.
15. Tony Robbins Platinum Partnership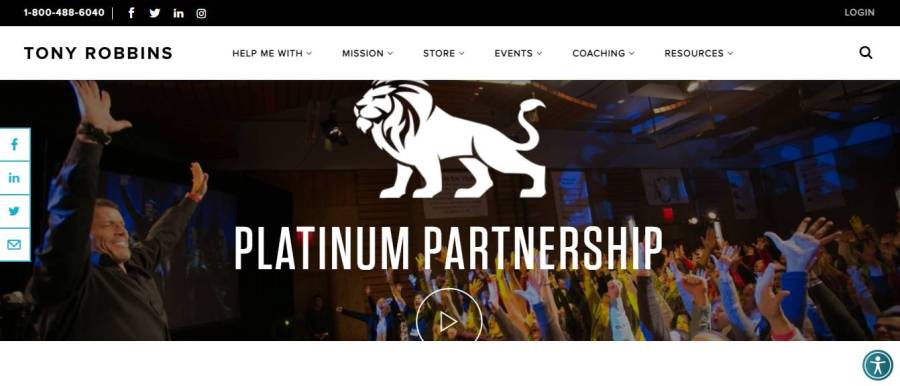 Platinum Partnership provides the unprecedented opportunity to network and learn from Tony and master teachers. Limited to an exclusive group of serious players worldwide. Membership involves traveling to some of the most spectacular destinations on earth. An annual commitment, The Platinum Partnership is an opportunity to receive a personalized level of coaching from the Robbins organization. In addition, members can attend Tony Robbins live events whenever they want, as often as they'd like, anywhere in the world.
16. World Economic Forum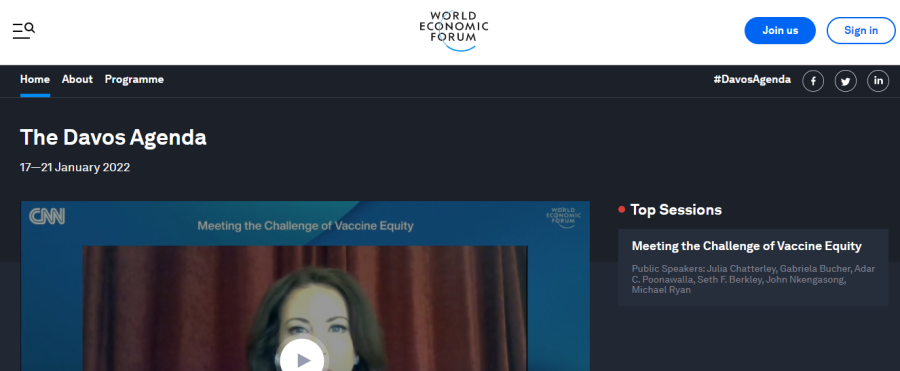 The World Economic Forum is the International Organization for Public-Private Cooperation. The Forum engages the foremost political, business, cultural, and other leaders of society to shape global, regional, and industry agendas.
It was established in 1971 as a not-for-profit foundation headquartered in Geneva, Switzerland. It is independent, impartial, and not tied to any special interests. The Forum strives in all its efforts to demonstrate entrepreneurship in the global public interest while upholding the highest standards of governance. Moral and intellectual integrity is at the heart of everything it does.
17. Blue Collar Mastermind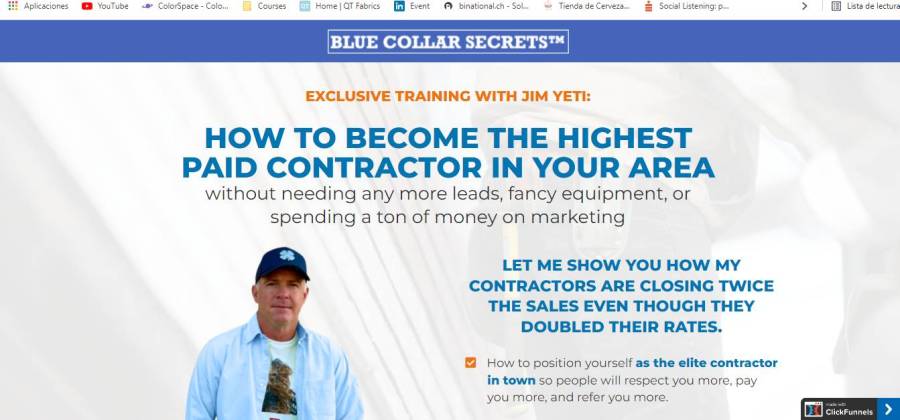 This is the mastermind designed for contractors. Meetings educate business owners on how to position companies as elite. Content focuses on increasing sales, marketing, and increasing the profitability of all contractors. In addition, the founder's experiences as a contractor coach and sales strategist give this Mastermind a unique perspective for the contractor's industry.
18. Aubrey Marcus Fit for Service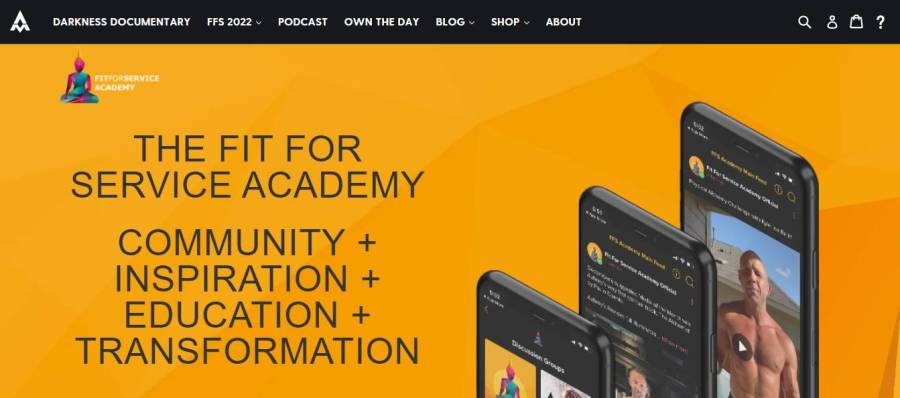 Fit For Service is a curated fellowship with some of the world's top coaches and experts, specifically designed to help you become physically, mentally, emotionally, financially, romantically, and spiritually fit. To use this to be in service for the good of all. Everyone who enters this program will leave more equipped to tackle life's challenges with absolute confidence. This is not a mastermind, this is a transformational experience. It doesn't matter where members are starting from, all have a lion inside, just waiting to emerge with a roar that says, "I am done playing small, I am done hiding my voice, I am done being the good girl, or the good boy. I would rather live one day as a lion than a thousand days pretending to be less than who I truly am."
19. The Conscious Leader Mastermind – Gerard Adams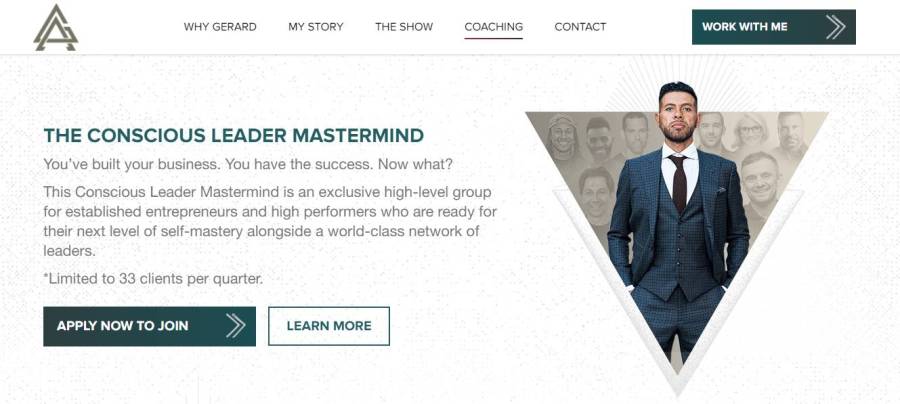 The world-class network will power up and accelerate your path to financial fulfillment, global influence, and joyful spiritual growth. A full-stack, exclusive experience for 33 selective individuals… and you're one of the lucky 33.
You've built your business. You have success. Now what? This Conscious Leader Mastermind is an exclusive high-level group for established entrepreneurs and high performers who are ready for their next level of self-mastery alongside a world-class network of leaders.
20. Elevate Club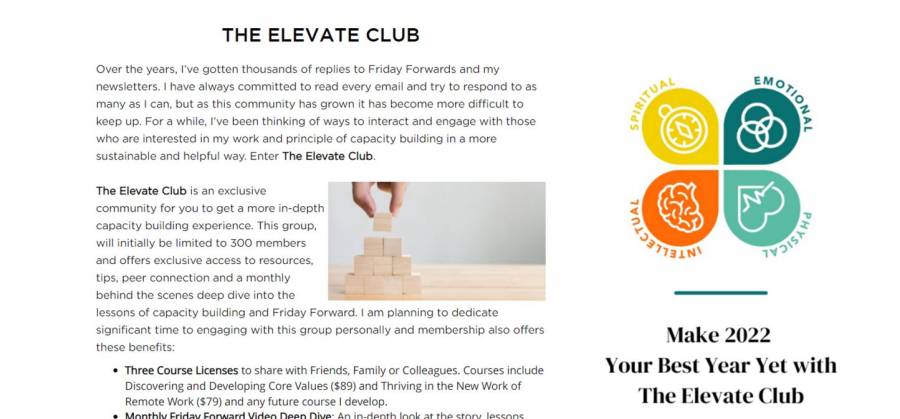 The Elevate Club is a peer-to-peer learning community built around building capacity in four key areas—spiritual, intellectual, physical and emotional capacity—to help members reach full potential in their personal and professional lives. Elevate Club members include over 100 CEOs, entrepreneurs, executives and thought leaders from the United States, New Zealand, Australia, Germany, India and Guatemala. Members meet regularly for keynotes/seminars, participate in on-demand online courses, and have experience sharing discussions in a private online community. The group is led by Robert Glazer, a serial entrepreneur, #1 Wall Street Journal bestselling author and creator of Friday Forward, an inspirational newsletter read by over 300,000 leaders each week.
21. Dan Martell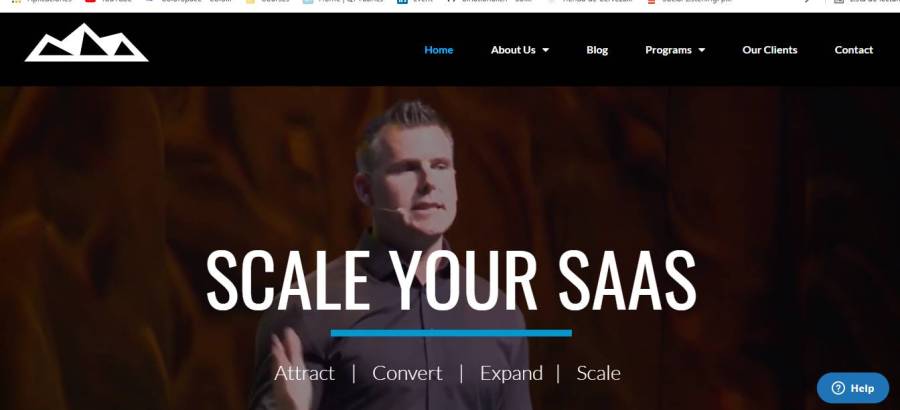 Are you in the early stages of building your SaaS startup?
You'll learn the "3 P's of Growth" in the Growth Accelerator—product, positioning, and promotion. You'll learn how to build compelling software, position it attractively to the right market, and promote it in a way that creates traction so you can scale your way to $10K/MRR in record time. Scale your software company. Optimize their revenue engines and build escape velocity in their business.
22. Women in Tech

Women in Tech is an international non-profit organization to close the gender gap and help women embrace technology. They promote girls' and women's empowerment worldwide, focusing on Sustainable Development Goal 5b: harnessing technologies. It is a global movement with chapters in 6 continents, counting over 70.000 members.
The aim is to educate, equip and empower women and girls with the necessary skills, confidence, and opportunities to succeed in STEM career fields.
Being part of a group of people who think alike and have the same interests and ambitions will make you better at what you do. Not only will these masterminds challenge, but they will also support your wildest dreams.
Despite their exclusive, private status and investments, these groups have proven to be very effective in helping entrepreneurs to uplevel their lives and businesses.
Let us know which groups you join or are already a member of. I look forward to seeing you at one of these masterminds this year.