Guest author Stephen Moyers is an online marketer, designer, avid tech-savvy blogger. Associated with Los Angeles-based SPINX Digital Agency, he writes about online marketing, web design, development, social media marketing and more.
With roughly 27.9 million small businesses in the United States and many more mid-sized companies, having a good digital marketing plan is crucial for standing out. Marketing is how you get your brand in front of people.
Without a campaign, your business doesn't have a voice. In fact, a recent survey by CB Insights found that 17% of startups fail because of poor marketing; many of these startups actually had a fine product and an otherwise decent jumping-off point.
See also: How To Target The Right Customers
Marketing to your online audience is the only way to make yourself available all hours of the day, every day of the week. The average consumer today shops for convenience; they want to research your brand and be able to buy when they decide the time is right. Digital marketing does just this.
Simply setting up a website and sending a few email messages isn't enough. Digital marketing campaigns are like a living, breathing being that needs to be cared for in order to grow up and do well in the world. They're tremendously helpful in bringing attention to a brand and establishing a voice and audience. So why do so many marketing campaigns fail?
Build A Foundation
To start, many marketers don't establish clear-cut plans for their marketing campaigns. This dooms them to failure. A decent marketing plan will include a written analysis of your businesses needs and goals. A plan should include:
Customer persona. Research demographics, background, income, and anything else relevant about your ideal consumer. You can target your marketing efforts with these buyers in mind, but it will come in handy whenever your produces anything – whether it's a new product or an online form.
Customer challenges and goals and how your business can address them. What are your customer's pain points? What knowledge do they already have, and how can you help them? With this information in hand, you can make the most of your readers' time.
Business objectives and milestone goals on the way to each. Also work out some key performance indicators (KPIs) you can use to show progress for each objective and goal. This will help you evaluate your success and streamline any changes.
Marketing budget and how it will be used to achieve these goals.
Essentially, your marketing plan should outline your business goals, how the marketing plan fits into those goals, and the financial manpower you will need to get there. This plan serves as a foundation, a backbone that you can reference in the event that something changes, which of course, it will at some point. A strong foundation will enable you to adapt more easily.
Start With Baby Steps
Trying to do too much at once is another common mistake marketers make. Many professionals hope to pull off a grand plan from the start, attempting to reach as wide an audience as possible. But the truth is, small, targeted efforts work just as well as large campaigns, and sometimes are even more effective. This is where your marketing plan comes in.
Do you have the resources to commit to a wide, multi-channel campaign? Will your budget sustain the campaign throughout its life? Probably not. It's better to start with concentrated efforts in one facet of your campaign than to try and launch everything at once. Choose an achievable and measurable goal, and start with that. Maybe you want to begin your efforts by bringing in a specific number of unique visitors every month. If so, you can use those visitors to refine your customer persona.
Whatever you decide to focus on first, make sure you have parameters in place for measuring success. You should track the campaign for several months (that's usually how long it takes to see significant results). If your KPIs show progress, great; if not, it's time to rethink this sector of the campaign.
Get To Know Your Audience
Understanding your audience is the most important concept behind a successful marketing campaign. If you don't understand your customers, you're wasting your marketing efforts. It's like screaming through a wall: You're putting all your vocal efforts into your pitch, but the audience will never hear you, no matter how hard you yell.
You need to profile your customers and get into their heads. Think about their hopes and dreams, their jobs, their home lives. Put yourself in your customers' shoes. What do they want from your business? What kind of problems do they have, and how can your brand solve them? Whether you're targeting an older audience, hip millennials, or someone else, you need to know how to speak their language. It may be helpful to give each persona a name and description.
The marketing team at Pardot even went so far as to create cardboard cutouts of their personas, complete with demographic information, goals, and obstacles. It wasn't just for fun; now the marketing team has a constant reminder of who their customers are. Whenever they need to realign their marketing efforts, all they have to do is visit their cardboard customers. Really, your patrons are the center of your business, and you should honor them accordingly.
Choose Your Channels Wisely
Social media is a fantastic way to start getting some attention for your business. Many marketing campaigns tend to go overboard in this department. Consumers use social media to stay connected and discover new brands, but not all consumers use the same accounts. Spreading your marketing campaign too thinly across every channel will weaken your campaign and waste money.
This is where your customer persona profiles come in handy. Use your buyer profiles to determine what type of social media your customers are more likely to use. Your strategy should focus on user persona and channels that align with your brand personality, not on what's trendy.
If you look at your competitors and see what channels they're using, it should point you in the right direction. Then, see which of their social media channels get the most action. Wherever they see the most engagement is where you should concentrate your efforts.
As with all marketing campaigns, make sure to measure your efforts and achievements continually. If one of your four social media channels just isn't getting the engagement numbers you were expecting, get rid of it. You'll have more time and money to spend on the other three.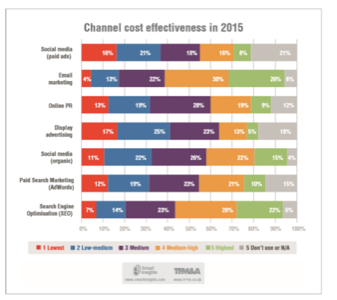 Make Your Content Meaningful
Even when marketing campaigns have a reliable foundation in place and target all the right channels, they can still fail. What's the reason? Content. Content is how you deliver your message to your customer personas, and bad content will sink your campaign quickly. To make sure you produce only the most valuable content, you need to study marketing trends and your audience.
Focus on converting your visitors into customers. Whatever content you choose to reach your customers should be relevant to your brand, engaging, and helpful. There are hundreds of ways to create content like this. Video is a huge trend in the marketing world now; so big that it's impossible to ignore. Likewise, textual content, such as blogs and landing pages, create the background for your campaign.
Integrate these, and you have a dependable way to pull in new visitors, get them interested in your brand, and convert them to buyers – if the content itself is valuable. Google search algorithms are constantly improving their standards for what makes good content, and so should you. The focus now, more than ever, is high quality.
Crafting and launching a successful marketing campaign doesn't have to be as hard as it seems. As long as your teams have a deep understanding of your brand and customers and have realistic expectations, your efforts should naturally fall into place. As with most things in life, the key is setting achievable goals and taking baby steps to reach them.
Lead photo courtesy of Bigstock Photo via Stephen Moyers; chart courtesy of Relevanza