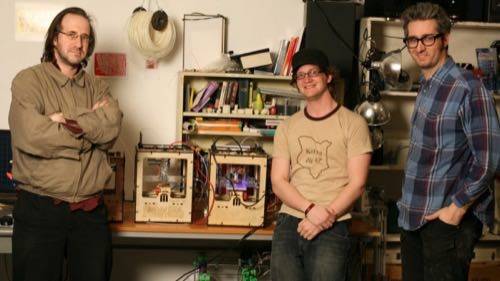 There are hundreds of thousands of schools in America. And MakerBot wants to put a 3D printer in every one of them.
MakerBot Academy is the 3D printing company's new initiative to get students learning about technology. According to the company, it's a direct response to President Obama's Feb. 2013 State of the Union address, which encouraged businesses to think about ways to bring manufacturing jobs back to America.
"3D printing [has] the potential to revolutionize the way we make almost everything," said the President. "[We must] guarantee that the next revolution in manufacturing is made right here in America."
In order to accomplish this sizeable task, MakerBot has partnered with 3D design software corporation AutoDesk, 3D printing institute America Makes and classroom crowdfunder DonorsChoose.org.
Beginning Tuesday, any person or business interested in getting MakerBot Academy into schools can visit DonorsChoose. Teachers can register their classroom to request a MakerBot Academy bundle. So far, a handful of classrooms, mostly in highly impoverished areas, have already requested the 3D printer.
MakerBot will begin by funding the first few classrooms, at schools in the company's hometown of Brooklyn, New York, on it's own.
Each MakerBot Academy bundle contains a MakerBot Replicator 2 Desktop 3D Printer, three spools of MakerBot PLA Filament, and a full year of the MakerBot MakerCare Service and Protection Plan. The company and its new partners are also in the process of developing a 3D-printing curriculum for teachers to use.
Bre Pettis, CEO of MakerBot and a former teacher himself, said he hopes the initiative introduces students to key manufacturing skills they'll need for the workforce.
"When you have a MakerBot Desktop 3D Printer, you see the world differently," he said in a press release. "Instead of waiting for someone to create a product for you, you can create your own. It can change the whole paradigm of how our children will see innovation and manufacturing in America."
Photo of MakerBot founders Adam Mayer, Zach Hoeken Smith and Bre Pettis courtesy of MakerBot.