A consortium of tech companies unveiled a new module specifically designed for IoT devices and sensors. The M2.COM module combines data collection, networking and computing capability in a single module that can upgrade obsolete applications to IoT capability.
As reported by New Electronics, the M2.COM module was created by Advantech, ARM, Bosch, Texas Instruments and Sensirion. The M2.COM module could have potential applications in outdoor/indoor wireless sensors and nodes as well as for intelligent wireless controllers for traffic signs and lighting. The M2.COM's modular format allows rapid data acquisition and transformation into formats suited for cloud service providers.
"Data collection will be one of the main challenges for IoT. Sensors, wireless technology and embedded computing will be the three major core abilities for data acquisition and that's the reason Advantech worked closely with industrial partners to define the M2.COM open standard," said vice president of Advantech's Embedded Computing Group, Miller Chang. "With this standardization, we envision M2.COM will accelerate IoT sensor device deployment."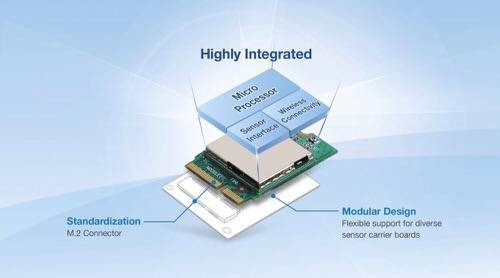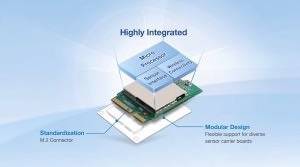 M2.COM module eases integration
According to the consortium, a variety of developers will benefit from a standard module form factor for sensor nodes and sensors, including sensor integrators, sensor makers, and module makers. It also supports the various software stacks needed by IoT sensor makers, and devices using the M2.COM standard will be able to use multiple IoT communication protocols and ARM's mbed operating system.
The module eases system integration and microsensor implementation through its design, which features a 75-position host interface connector. It also enables sensor developers to select the best data transmission approach, by allowing a sensor carrier board and the M2.COM platform to be developed separately rather than lumping all functionality into a single sensor. M2.COM modules can be developed to support a number of different sensors by module makers.
"In order to accelerate the change and new business opportunities created by the IoT, it's important to have a platform that saves development time and cost with a standardized sensor interface, like M2.COM, where developers can connect anything anywhere," said Texas Instruments' marketing director for wireless connectivity solutions/IoT Olivier Monnier.