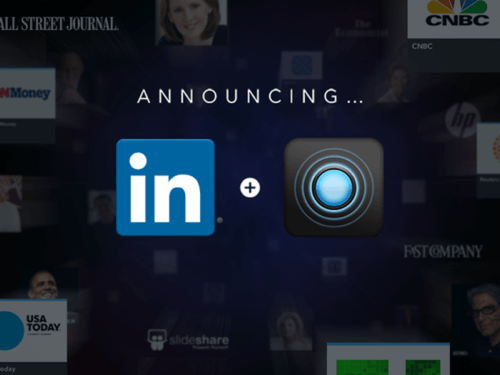 LinkedIn, the professional network people use to maintain an online resume, find jobs and job candidates, and network, is sending a clear message with its acquisition of news-reader Pulse: It's a media company, and it's not ashamed of that.
Pulse makes an app that allows readers to browse articles from a variety of online sources, including social networks. In that, it's similar to Flipboard and Zite, though it has particularly nice features for saving items to read later. LinkedIn is paying $90 million, mostly in stock, to buy the company, which has 30 million users and serves up material from 750 publishers. Pulse was started in 2010 by Akshay Kothari and Ankit Gupta, who met as students at Stanford.
All The Business News That Fits, We Print
Where does that fit with LinkedIn? Increasingly, LinkedIn wants to broaden how users think of it beyond job-hunting. Already, LinkedIn publishes articles by high-profile business figures like Virgin chief Richard Branson and Buddy Media founder Michael Lazerow.
"We believe LinkedIn can be the definitive professional publishing platform," LinkedIn product chief Deep Nishar wrote in a company blog post announcing the deal.
That means bringing in a wide variety of sources — a layer of original, exclusive, high-end articles on top; links to relevant business items from around the Web in LinkedIn Today; and user contributions in LinkedIn Groups and profile updates. The only problem LinkedIn has on its current website is that its tools for reading, saving, and sharing content leave something to be desired. That's where Pulse comes in.
A Familiar-Sounding Business Model
It's interesting, too, to consider how LinkedIn makes money. It sells subscriptions — high-end tools for professional recruiters, simpler offerings for job seekers and salespeople. It sells what used to be called classifieds ads in the form of job listings. And it sells ads to brands looking to target its audience of professionals. Pulse's apps expand the audience for that latter offering.
That mix of display advertising, classifieds, and subscriptions, all riding on top of one core product, reminds me of the newspaper business model of old, back when that was a highly profitable business.
Some technology executives have resisted applying the media label to their businesses. Stop the presses: LinkedIn is showing there's money to be made in media.
Update: An earlier version reported that Pulse's founders were brothers. They are not related.