LG has an extensive line of refrigerators but it has recently introduced a kitchen appliance sure to top them all in terms of a smart device that seemingly does it all except cook your meals. The LG InstaView ThinQ refrigerator is a technology marvel. Here is my product review of this smart refrigerator.
Unique Product Features
There are many smart connected refrigerators available. However, these refrigerators talk to an external virtual assistant like Alexa. What makes the LQ InstaView ThinQ refrigerator so different is that Amazon Alexa is built into it. Doing so makes it even easier to use the virtual assistant to do more.
The refrigerator helps you by making lists and shopping for groceries, checking and sharing weather forecasts, managing your calendar, looking up recipes, and playing music. It just means you have to get used to talking to your refrigerator as it operates on voice commands thanks to Alexa.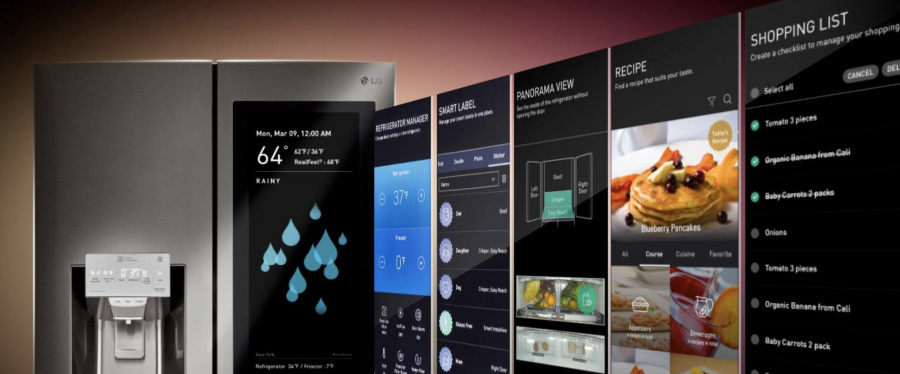 Another unique feature is the 29" HD transparent LCD touch-screen. With the screen, you can use WiFi-enabled features to set and check food expiration dates, see everything you have in the refrigerator without having to open the door, upload photos, and leave messages for your family.
The music sounds really good coming from this French-door refrigerator. That's due to the LG Bluetooth audio speakers that are hidden on top of the refrigerator. The speakers sync with your devices so everyone can use the refrigerator as a sound system.
The LG ThinQ Technology
Behind these unique features is LG's ThinQ technology, including its app. Everything about the mobile app is easy to understand and use. Just a few clicks help personalize the app to your preferences and needs.
It incorporates artificial intelligence so it can learn your habits and then adapt to suit those. The technology also monitors the energy consumption of your LG appliances to help adjust for the most efficient use.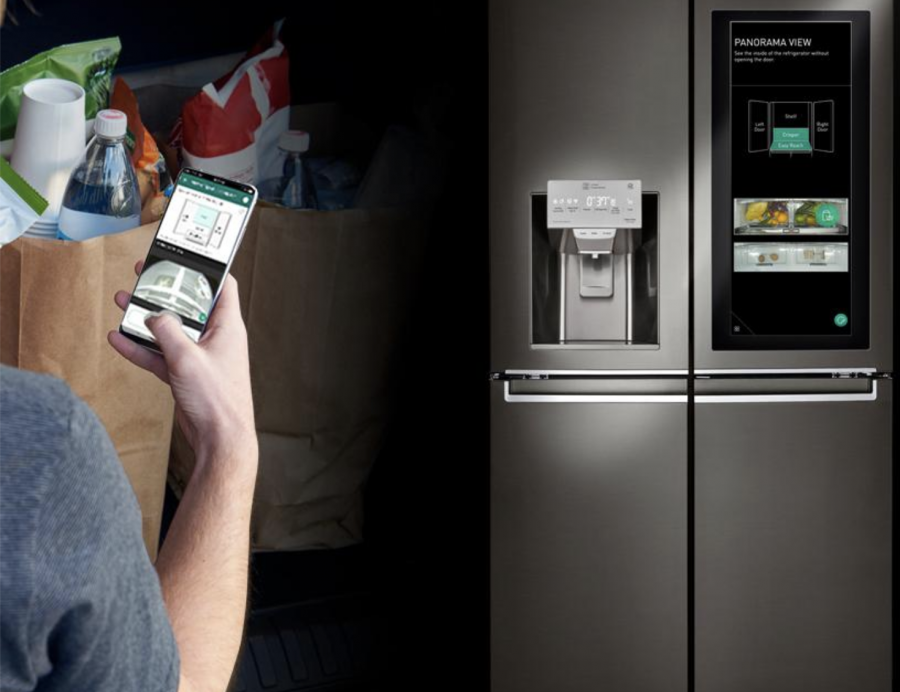 Notable Refrigerator Features
Besides all the connected technology the refrigerator holds, there are other refrigerator-focused features that make this an incredible appliance. It's a Super-capacity with 30 cubic feet with a significant amount of usable space to fill it full of food.
The refrigerator also has a Door-in-Door feature with ColdSaver Panel. This keeps cold air inside your refrigerator to help keep food fresher for a longer period of time.
The ice and water dispenser fits a wide range of container sizes. It measures 12.6 inches so you can even get a tall pint glass or drink bottle in there. The ice maker is powerful but doesn't take up as much room as traditional ice machines.
The refrigerator also uses Smart Cooling Plus technology. It features a Linear Compressor and Dual Evaporators that senses humidity and temperature levels along with vents throughout the refrigerator that further maintain the optimum environment for food freshness. The air filter also does a good job of keeping the air fresh and free of food odors.
Another convenient feature is the easy-to-reach compartments at the front of the refrigerator. These are the ideal spots for putting snack items as well as things you reach for often like sandwich supplies.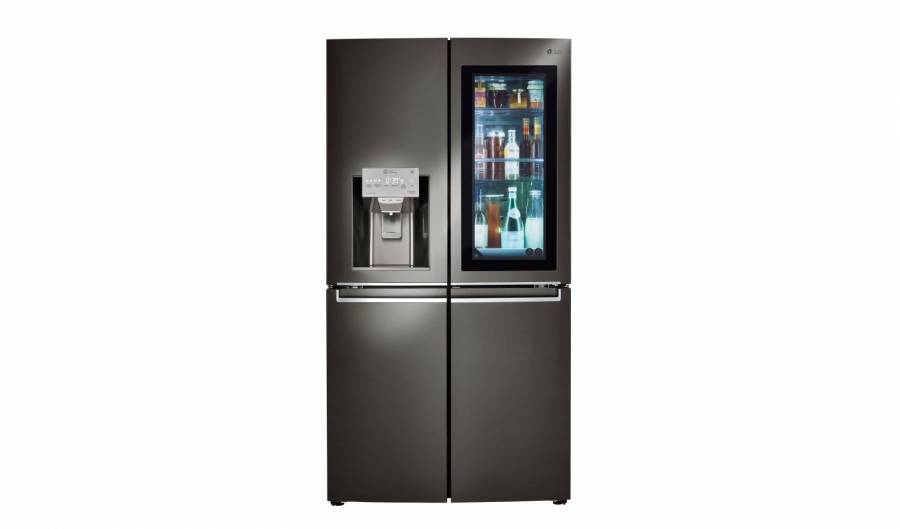 The Look
Another standout about this particular refrigerator is how it looks, elevating your kitchen to gourmet, high-end levels. Beyond the traditional choice of stainless steel, this refrigerator comes in what's called black stainless steel for a satin appearance minus all those smudges you see on regular stainless steel. Surprisingly, the color blends well with all cabinetry colors.
Energy Efficiency
The refrigerator qualifies for the ENERGY STAR rating. In fact, it exceeds federal energy standards. In the long run, you'll be able to get a significant return for this investment in terms of savings on your energy bill. Plus, it feels good knowing you are helping the environment by lowering your energy consumption.
The Price
The coolness factor of this refrigerator is going to cost you. It's over $6,000, which is considerably more than most people are willing to pay for a refrigerator.
Improvements Needed
As the first-of-its-kind, LG has set a precedent. However, with the advancement in technology also comes room for improvement. Recommended improvements include greater flexibility for connecting calendars and other apps as well as better streaming and WiFi capabilities. The menu is fairly basic for such a high-tech appliance, so it will be good to see what future models offer in terms of greater functionality and choice.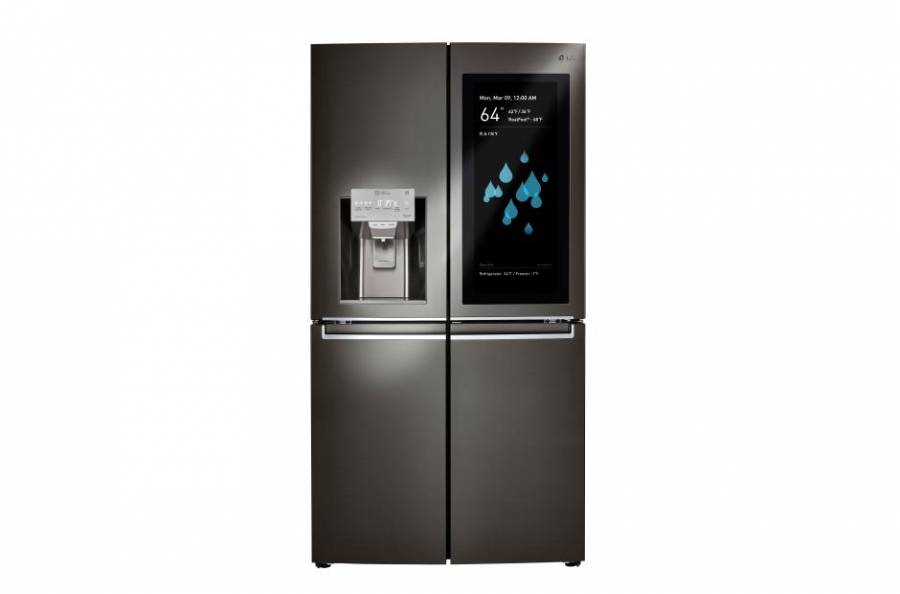 Warranty Information
The LG smart refrigerator model has a one-year warranty that covers parts and labor. There is additional warranty coverage of seven years for the Sealed System and 10 years for the linear compressor.
Where to Buy
You can buy the LG InstaView ThinQ Refrigerator at appliance stores like Home Depot, Lowe's, and Best Buy.
Overall Thoughts
The LG InstaView ThinQ refrigerator is a top-of-the-line smart appliance that is chock full of the latest technology with thoughtful design inside for more food storage and outside for a slim-line fit into your kitchen. The smart and connected appliance shows us what the future will look like. However, at the current price point, it's clearly not for everyone and is a significant investment that most people cannot make. Although there are improvements to be made with some of the features, overall, this refrigerator sets a precedent for what smart devices can do to change our homes and lives.
For those that have room in the budget, this high-end smart refrigerator is ideal for its energy savings, connectivity, convenience, and tech focus.