There are numerous holders and stands available for your mobile devices and the rest of your tech gadgets. However, one company caught my eye because of the full range of stands and holders they offer for everything from laptops and smartphones to tablets and Apple Watches. Plus, they even have holders for the car.
Although it was difficult to choose, I opted to test three of their products: tablet holder, smartphone holder, and gooseneck holder. Here is my review of those three products, which I tested over the course of a few weeks at my office and on the road.

Tablet Holder
Lamicall offers three tablet stands. The smallest is also adjustable (Multi-angle Tablet Stand A1). Then, there is the S2, followed by the S, which is the largest and the one I purchased.
The Adjustable Tablet Stand S is 5.3 x 3.3 x 5.5 inches and weighs close to 11 ounces. Color choices include black, gray, silver, and rose gold.
The tablet stand is made to work with just about every tablet out there, which gives it the most versatility among tablet holders available. It works with tablets that are anywhere from four to 13 inches. The tablet stand is great to include with your iPad 2017 Pro 9.7/10.5, Air Mini Surface Pro, Samsung Tablet, Kindle devices, and more. Any tablet that is larger than twelve inches can be placed on the stand horizontally to provide more stability. Frankly — half the time I also set my phone on this stand, though the phone holder is okay too — I can seamlessly text with the phone on this stand.
Another standout feature is just how light it is compared to other bulky tablet stands. It makes it easier to pack up and take with me. Yet, it doesn't compromise stability and provides multiple angles for easy viewing and binge-watching. Prices range from $13.99 to $18.99 based on the size and color you select.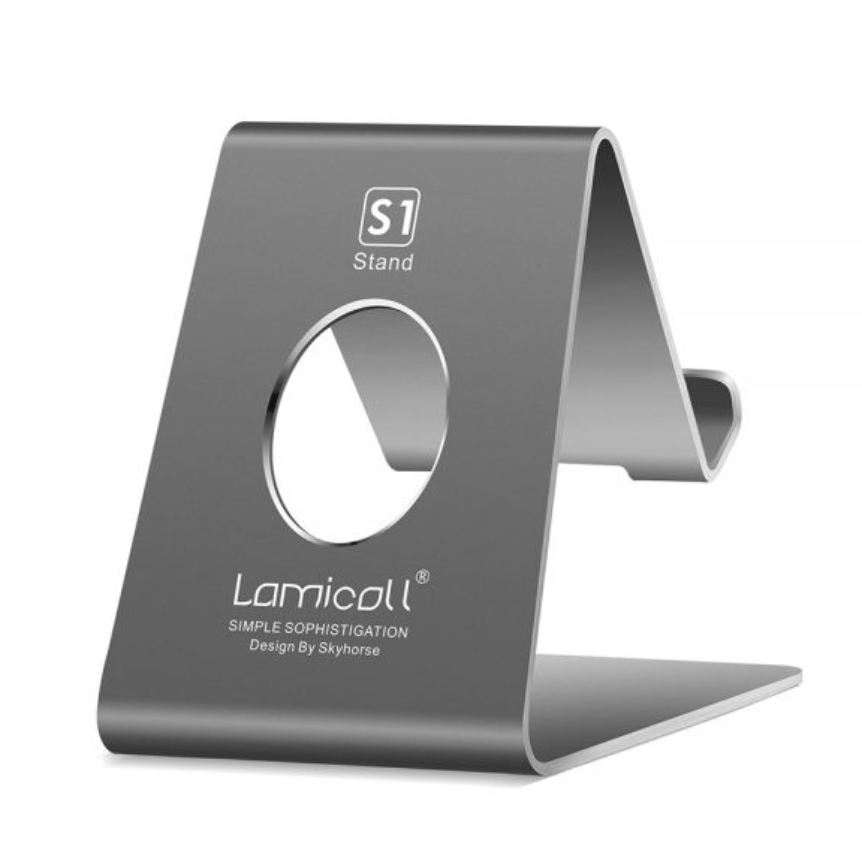 iPhone Holder
The Lamicall Cell Phone Stand S1 is made from an aluminum alloy material and delivers sturdy construction and workmanship, yet it weighs just under three ounces. It has rubber protection on the bottom to protect the surface it sits on. Plus, this helps the phone holder to not slide around.  You can choose from five colors, including black, gray, silver, red, and rose gold.
This particular phone holder and phone dock are compatible with Switch, all Android smartphones, and the iPhone 6, 6s, 7, 8, X, and 5, 5s, and 5c. The compact size makes it convenient for displaying on a desk, nightstand, and kitchen table. 
What I liked best about it was the height for using it for certain phone activities like Facetime and YouTube. It also makes it easy to read messages and other online content without picking the phone up. At $9.99, I thought the price was excellent for the quality and design it offered.
The only issue I had involved plugging in the charging cord. The angle at which you have to plug it into your phone means the cord gets bent at a weird angle. That has me thinking that I may end up wearing that cord out faster with a possible replacement in the near future. For now, it's charging well, but it looks strange. I decided to use this as a holder and not a charger because clients who come in the office think it's cool.

Gooseneck Holder
Lamicall gives you four gooseneck holders to choose from. The options include the bed phone holder mount, the phone holder for bed, and two tablet holder products. I selected the Gooseneck Tablet Holder LS02 for $19.99. This particular gooseneck holder is available in black or gray.
The gooseneck holder is by far my favorite of the three holders I've bought from Lamicall due to the design and functionality. It offers one of the best and most comfortable positions to watch movies on a tablet. This tablet holder delivers maximum flexibility. You can angle the tablet in many different ways versus the traditional tablet stand. The 360-degree rotating features facilitate that flexibility.
I also like how easy it is to clamp to a table and to adjust it to my viewing preference. Just be careful to not over-screw the gooseneck holder.
The gooseneck holder seems to work for just about every device we had around the house, including iPads, and Android mobile device, Nintendo Switch, several Kindle Fires, and smartphones like the iPhone, Samsung Galaxy, Lenovo, and Google Pixel.
Where to Buy
You can buy these holders and stands directly from Lamicall's online store. Other retailers that sell Lamicall products include Amazon, Best Buy, and Walmart.
More to Like
Other things I like about buying from the company is free and fast delivery. There is a three-year hassle-free warranty on their products. They will give you a full refund or a brand new replacement if you are not satisfied. You can also use PayPal or Stripe to pay for your purchases through the Lamicall online store.
Finally, the company satisfies expectations when it comes to service. I called them, and they were very responsive, personable, and eager to solve any concerns I had immediately. Lamicall seems to be a company that cares about its customers, which is just as important as the products these days.
Overall Thoughts
These holders and stands are high-quality, durable options that offer good value, convenience, and dependability. The stands worked great in my office — and traveled well. I also bought one of their vehicle holders for my commute, but I see they also have the holders that go over the seat for passengers to watch their tablets from the backseat. I just put the computer stand hanging over the seat to hold the iPad for a quick movie for a screaming child. It worked and held fine and out of the way of sticky fingers.
There are numerous stands and holders available for the tablet, iPhone, or gooseneck holder, as well as for other devices like the Nintendo Switch, Apple Watch, and headphones. The thing I really like most is that some of the stands fit multiple devices, so you don't have to buy one of each. And they work for multiple fast-fix-life situations. I'm leaving one in the car.