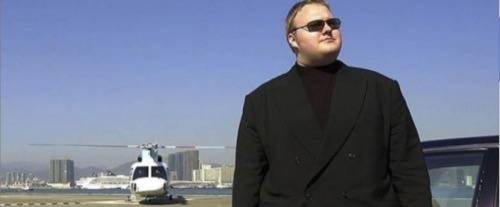 Megaupload, the hosting site that the U.S. government shut down last year over charges of copyright infringement and pirated content, is being reborn. Sort of. The new version is called Mega, an encrypted file sharing service built by Kim Dotcom, a man some call an Internet slumlord, others an online folk hero.
The new site will launch on Saturday, Jan. 19, almost a year to the day after New Zealand police raided Kim Dotcom's plush home in the suburbs of Auckland and arrested him along with three of his associates on a slew of charges.
The German-born Dotcom, nee Schmitz, is hosting the new site in his adopted New Zealand. (This after promising that country's government that he would not resurrect the site, and after they admitted to illegally spying on him. Phew.)
He's also planning a press conference a day later on Jan. 20 at his ritzy rented pad, where he plans to introduce the site as a protected means to securely store and transfer confidential data. He says Mega will be completely in the cloud, and will protect files from the prying eyes of the government through its encryption.
Backstory
In New Zealand, Dotcom gained popularity for his luck in seemingly outfoxing the legal system. Citing a paperwork error, New Zealand's High Court ruled that $750,000 in his assets could be returned in the raid on his home. That meant that his property had been seized without proper notice by Kiwis who worked jointly with U.S. federal prosecutors.
With the search warrants invalidated, the decision on his extradition to the States was tabled until March of this year. It has since been pushed all the way to August. According to Bloomberg, authorities in New Zealand have been alerted of the new site, and as yet, have raised no objections.
Dotcom is still considered a criminal by U.S. authorities, and the Department of Justice accuses him of copyright infringement, racketeering and money laundering.
U.S. authorities say Megaupload, which last year accounted for 4% of the Internet's total traffic, generated upwards of $175 million in profit from the flow of pirated content. If the U.S. gets a hold of him, tries and prosecutes him, the larger than life Dotcom could face 20 years behind bars.
Pirate Or Entrepreneur?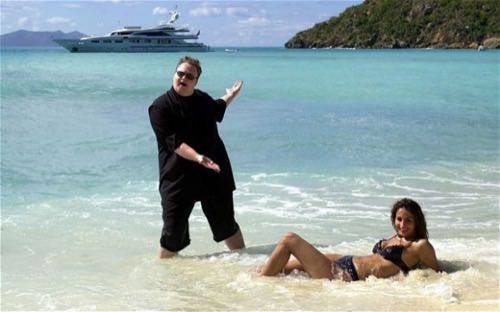 In some ways the new site seems like just another way to provoke authorities. But Julie Samuels, a staff attorney at the Electronic Frontier Foundation says there's a very real need and desire for a safe place to keep information. "There's a place for services that allow individuals to store their data, to store their files, without fear of government intrusion," she says.
Samuels says cloud-based storage services are the modern day file cabinet. And more often that not, they house largely legal and personal items such as work documents and family photos. People want to keep them protected, and thus encrypted.
"Of course there are going to be actors who may use it for purposes that we would not condone, purposes that we think are improper or illegal, but that's not the whole story here. And I think it would be really unfortunate if we failed to take a wider look at what's going on," Samuels says.
Photo Courtesy of Brinny D and Sam Churchill