Last week held the annual, IoT World Conference in Santa Clara, California. An event that packs in over 12,000 people from around the world to discuss, share, and plan for the next wave of the Internet of Things (IoT). The week was nothing short of insights from industry experts, hackathons, workshops, and global startups showcasing the latest innovations in IoT.
During the conference, I had the pleasure of participating in Project Kairos, IoT World's exclusive startup program. The program is aimed at providing early-stage startups with the education, exposure, and opportunities to have a successful conference. Throughout the week, 50+ participating startup founders & their team members took part in various activities such as Founder's Day with educational and interactive workshops, showcasing in Startup City, and pitching to industry-focused investors all for the chance at winning the Innovation of Things Award and company spotlight at that 2019 IoT World Conference.
Founder's Day led the week off with workshops from founders & investors sharing their knowledge about what it takes to build successful IoT businesses. Topics discussed ranged from Becoming a Global Business to Going Public vs. Being Acquired, to foundational business practices like When to Pivot and Raising Capital. Last year's Innovation of Things Award winner, Reality AI, shared their insights on the changing landscape of artificial intelligence (A.I.) and how their business has grown over since last year's conference. All valuable lessons for those who attended.
Over the remaining two days of the conference, more than 25 global startups choose to pitch in front of investors who represented five different IoT categories. The competition brought light to which verticals of IoT are being challenged by startups looking to disrupt. 
Each group was allowed one winner selected by the investor judges, who would go on to compete for a spot on the final stage. The winners for the hard-fought semifinals included:
1. MbientLab (Consumer IoT – Smart Home, Healthcare, and Wearables)
2. Nikola Labs (Enterprise Innovation & Digital Transformation Winner)
3. Parakeet (IoT Solution Providers Winner)
4. Lunewave (Connected Automotive Winner)
5. VINChain (Industrial IoT Winner)
Following much discussion from the judges, only three were named as finalists who then headed to the main stage for their last pitch-off. With only one round of pitches to go, the finalists gave their last presentation of the week with the winner named shortly after.
Congratulations to the 2018 IoT World's Innovation Things Award winner, Lunewave, who's cutting edge antenna and sensor technology for autonomous vehicles, wireless communications, and drones
Finalists Included:
mbientLabs, who builds a wireless sensing platform for R&D primarily used in sports rehab, therapy, clinical trials, and medical research. The platform includes motion, environment, and biosensors that are seamlessly integrated into garments.
VINChain, who has created a worldwide decentralized database of vehicle information that is 100% transparent, reliable and accessible by everyone. This database is blockchain based, which guarantees that information on it has not been faked, changed or deleted. The blockchain guarantees full transparency and builds trust in the system.
The 2018 IoT World Conference & Project Kairos were exciting shows yet again, and I'm looking forward to what innovations come because of it. See everyone next year!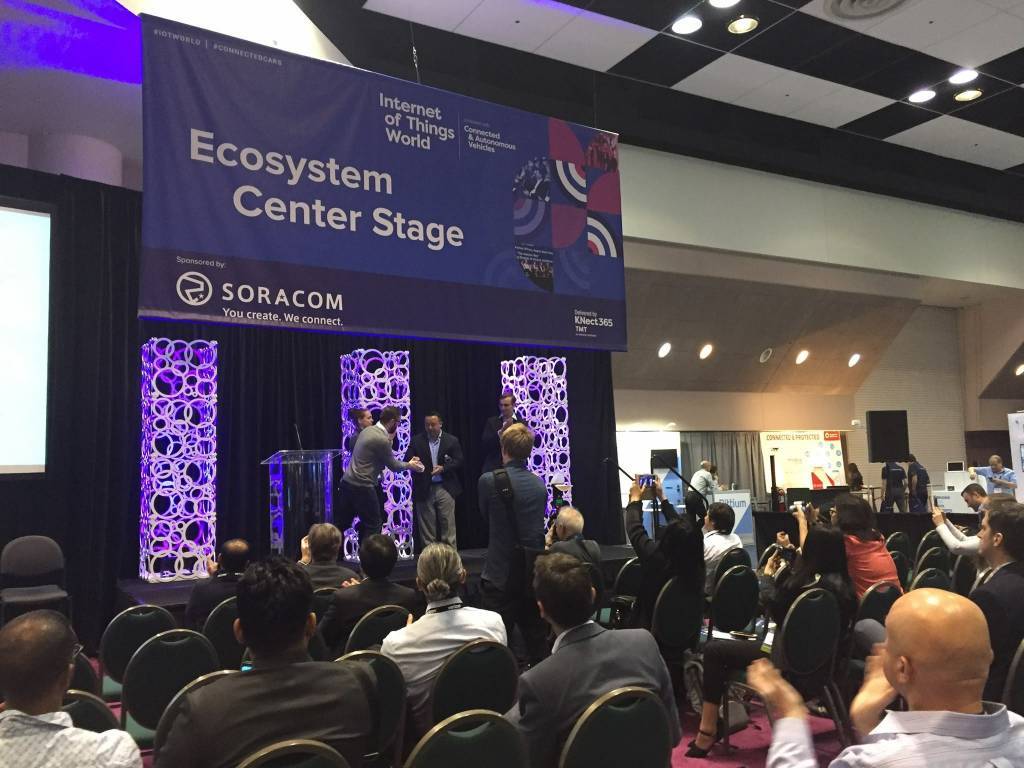 Disclaimer: ReadWrite Labs was a sponsor of Project Kairos.