There is a growing shift in the way consumers shop online, and social commerce is at the forefront of this change as it provides brands and consumers with a frictionless, and more convenient, commerce experience.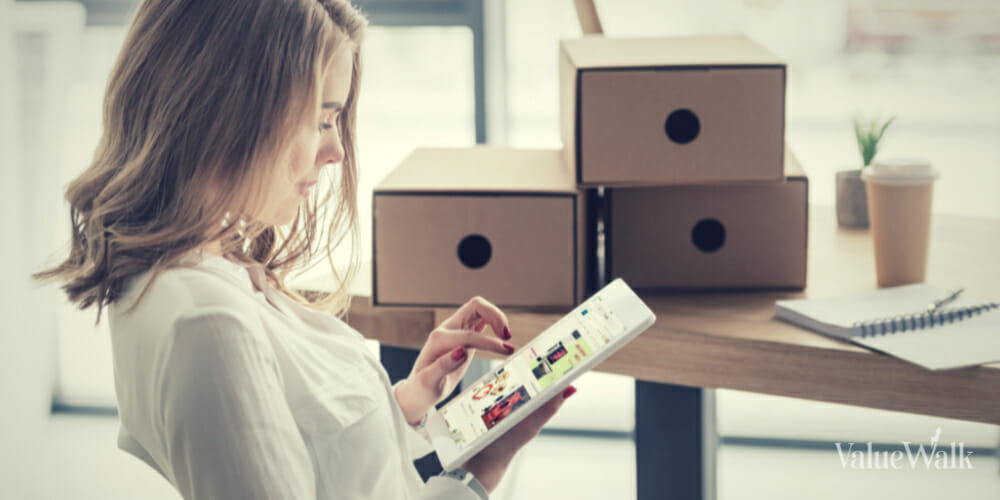 The steady rise of social commerce over recent years has provided brands an opportunity to deliver their goods and services directly to social media users, enabling them to interact and purchase their favorite items without having to leave the app.
Social commerce has experienced stratospheric growth. It's expected that by 2025, social commerce will represent 5% of all U.S. eCommerce shopping. Globally, market capitalization is predicted to swell to nearly $2 trillion by the same year.
After all, research suggests that on average, the typical social media user now spends around 15% of their life using social media platforms. What's more, it's been found that around 10% of American adults have an addiction to at least one mobile app.
With the power of social commerce taking shape, brands and small businesses can deliver an intimate shopping experience for their customers, by placing the right products and services in front of the right target audience. This delivers improved target marketing efforts, but at the same time enables brands to boost their online engagement and potential sales.
Investing time and resources to create shoppable posts on social media can help small businesses take better advantage of digital selling and the content economy.
A shoppable post can be considered an essential part of the overall customer shopping experience. Shoppable posts will allow social media users and loyal customers to shop through social media platforms, without having to be redirected to a webshop or online store.
Businesses should choose the social media platforms for their social commerce and shoppable posts that see the most frequent customer interaction. Instead of spreading it over several platforms, only to witness minimal sales, focus on one or two platforms that can generate substantial sales and customer engagement.
Facebook Shops
Back in May 2020, at the height of the pandemic, Facebook, now known as Meta, launched Facebook Shops, a digital integration on the social media app that allows businesses to market and sell their products via the platform to users.
Since then, Facebook Shops has grown tremendously, seeing more than 250 million monthly active users, and around one million sellers.
To get started, sellers will need to have a Facebook Business Page or sync other eCommerce platforms with Facebook. Using the sync option would mean that if a customer purchases an item via Facebook, it will automatically deduct it from inventory lists on other eCommerce platforms the business is using.
Creating shoppable posts will require sellers to tag the corresponding products from a shop or post in their content. The tags will allow viewers to automatically have access to the item, price, and other relevant information.
If a customer decides to purchase an item, they can click on the tag and will be automatically directed to a checkout, where they can insert their shipping information and payment details.
Roughly 19% of American consumers across several age categories begin their online shopping search on Facebook, making it one of the top social networks used for this purpose.
Instagram Shopping
Similar to Facebook Shop, and operated by Meta, Instagram Shopping has steadily become one of the top places for brands and small businesses to sell their goods.
It's projected that in 2023, around 35% of Instagram users will purchase on the platform. What's more, according to Instagram, roughly 44% of people use the platform for shopping at least once a week.
Instagram Shopping allows businesses to create and publish content, such as photos, videos, and reels, onto their profile and tag the corresponding products in each post. Additionally, there is a separate shopping tab available on the app, but the button for this has been removed from the on-screen navigation menu since February 2023.
Businesses can either create an Instagram Business account or integrate a product catalog from Facebook Business Manager, or those using Shopify or BigCommerce, they can integrate the catalog directly onto their Instagram profile.
When content is published, with tagged items, users can then be directed to the on-app store, and make use of Instagram Checkout to finalize their purchase. Instagram creates a frictionless shopping experience for users and gives brands more leverage to market products directed toward specific target audiences.
TikTok For Business
TikTok has completely changed the game of social commerce since its inception in 2020. Big box brands and small businesses have leveraged the possibilities of TikTok For Business to generate substantial traction for their goods and services.
Some businesses have seen generating more revenue through a single live shopping event than what it does in one week in its flagship store. Around 44% of TikTok users say they have purchased products after seeing them advertised or promoted on the platform.
The success of TikTok For Business helped inspire the hashtag, #TikTokMadeMeBuyIt in recent years, where brands and content creators are collaborating to provide users with engaging content, videos, reels, and promoted posts.
Using TikTok For Business is similar to other social media platforms, and will require users to switch their accounts from "Personal" to "Pro." Businesses can then either use the TikTok for Business Inspiration Center for content ideas, collaborate with influencers and other content creators, or follow a digital content strategy to help generate more engagement.
TikTok Shopping can be used with other eCommerce platforms such as Shopify, while others such as Square, Wix, Ecwid, and OpenCart are still in the process. Businesses will be able to link catalogs from Shopify with their TikTok accounts, which gives users the ability to explore more options.
TikTok is perhaps one of the most popular social media apps in the world at the moment, and small enterprises will need to leverage the opportunities of TikTok Shopping as an ongoing effort to increase their visibility and boost sales among users.
Pinterest Shopping
If Pinterest were a country, it would be the third largest in the world, with more than 450 million users every month using the platform to search for new ideas and help inspire their next purchase.
According to Pinterest Insights, roughly 80% of those using Pinterest, or Pinners as the platform calls them, have discovered new brands and products on the platform.
Although the platform sees more unbranded searches, it's perhaps one of the biggest social platforms users go to for ideas, inspiration, and creativity.
Small businesses that upload products on Pinterest can convert these uploads into Pins, which are considered Rich Pins. These pins will automatically compile and deliver all the necessary product information such as descriptions, prices, and availability for users.
To keep everything organized, brands can enable a "Shop" tab, which hosts a collection of product pins that correlate with the brand's eCommerce store or website. The platform is still busy testing out its Checkout features, which is in its beta testing phase for merchants in the U.S. such as Shopify among others.
Currently, users are redirected to the merchant's host website or eCommerce store to complete and finalize transactions.
While Pinterest may not seem like a general choice for social commerce, some brands are witnessing widespread success through Pinterest Shopping, and experiencing increased exposure.
Twitter Shops
In recent years, Twitter has started experimenting with social commerce, launching the Twitter Shops feature as recently as March 2022. Unlike other social media platforms, the Twitter Shops is still a work in progress, which means that sellers will perhaps have fewer digital native tools for their online store.
As part of the Twitter shopping family, there are two different commerce tools, one is referred to as Twitter Ships, which allows sellers to pick up to 50 products to showcase to users. The other is Shop Spotlight, which gives brands the option to pick five products that they can directly link to their profile.
Twitter Spotlight enables brands to create a more immersive shopping experience, and to highlight a catalog of several different products.
Other features include Live Shopping and Shopping Manager, which allows merchants to promote their products more openly, and have better support from professionals to set up and operate their online store.
Unfortunately, there is no native checkout tool, and businesses will need to integrate their websites with the platform to redirect shoppers to eCommerce sites to finalize their purchases or transactions.
There is a growing community of businesses and small startups that are now leveraging the possibilities of social commerce, enabling them to connect with their audiences and deliver more accurate and tailor-made shopping experiences for consumers.
Aside from the more general purposes of social commerce, there is also more room for small businesses to establish a brand voice and become authoritative figures within their marketplace. There is further growth in partnerships with influencers and other content creators, whereby brands can expand their public visibility to different audiences and possible customers.
Through social commerce, brands can create a more intimate experience with live shopping or product videos. Brands can also track and monitor customer comments, and utilize data metrics to help establish critical marketing strategies and better understand product development.
Final Thoughts
There is big business in social media for small businesses and startups that can utilize native digital tools to promote and sell their products. Social media helps businesses grow their audiences, but also, it helps them better understand who their target market is, and how they can put their products in front of them.
Published First on ValueWalk. Read Here.
Inner Image Credit: Provided by the Author; Thank you!
Featured Image Credit: Photo by Visual Tag Mx; Pexels; Thank you!