Looking for a competitive edge, many companies from multiple industries are investing in R&D. Standing for research and development; this activity ultimately creates winning opportunities for the companies leveraging it.
Let's find out the R&D investment meaning and the reasons why invest in research and development, following the example of industry-disrupting companies.
What is R&D investment?
Research and development is the process of creating innovations using scientific methods and data analysis practices. Investment in research and development, in turn, means allocating and using finances to support this process with technology solutions, scientific and tech talents, equipment, etc.
According to R&D investment statistics, several countries prioritize this activity — and they are also those that show stable economic growth. These are primarily China, the US, Japan, and Germany.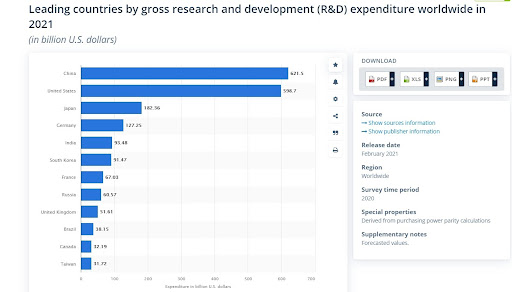 As for R&D investment ranking by companies, Amazon, Alphabet, Apple, Facebook, Huawei, Microsoft, and Samsung make the most significant R&D investment to optimize their business process, create products better tailored to customer's expectations, and develop innovative solutions to grow their businesses to the level of an industry leader.
The niches these companies operate in are also directly connected to the R&D investment by industry: high tech, media, and telecom are the top-second industries investing most in research and development.
The first place is taken by medical and pharmaceutical products, which are ongoingly researched and developed with the ultimate aim to improve the global population's health and find the cure to incurable diseases to date.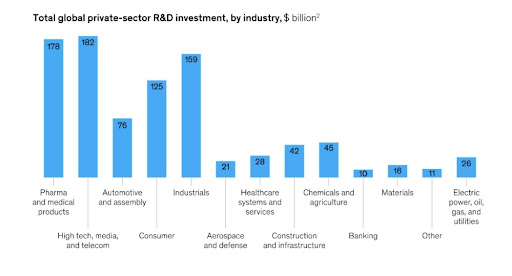 Benefits of R&D Investments for Business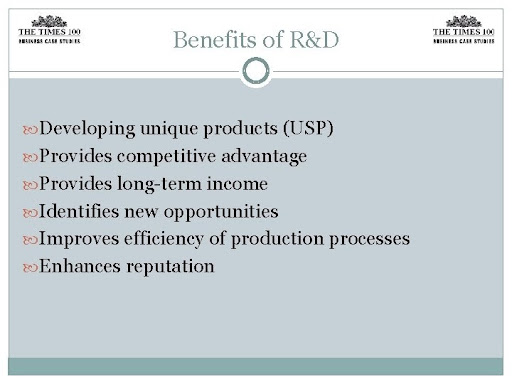 What benefits does a company get by investing in R&D? Below are the most prominent and valuable advantages the research and development can promise to the companies engaging in it with a clear strategy in mind.
Develop a unique product or service
Creating a better or even unique product or service is one of the top goals the companies pursue when they invest in R&D. What's more, for some industries, RD investment opens up the way to not only increasing profits but changing lives, for example, when researching and creating new solutions for healthcare and medical services.
Research and development also create a safer user experience, which is crucial, for instance, in the automotive industry.
Stay trends-aware
For those companies operating in a dynamic market driven by user behavior, for example, retail and eCommerce, staying trends-aware equals staying competitive by tailoring their offers to the specific demands and expectations.
User data analysis, which is an integral part of data-driven research and development, can help those companies keep pace with the times.
Gather and analyze up-to-date data
Data gathering and mining are essential stages of the research and development process. For example, if the goal of R&D is to improve the existing product or develop a new one, it makes sense to gather and analyze a massive array of marketing data.
For instance, sales statistics, user feedback, competitive offers, user behavior patterns, social media trends, and AI-generated market predictions empower this information.
After achieving the goal of a specific R&D iteration, the company still can get back to the data gathered and reuse it, creating additional opportunities for the users and business growth.
Improve brand reputation and recognition
Innovative companies that leverage data and scientific research in their business processes, as a rule, are well-known and recognizable.
Amazon, Apple, and other tech giants are globally renowned brands that have long established themselves as industry leaders. They stand out with their product's quality (both physical and digital). So, creating cutting-edge opportunities for the customers following the R&D path improves brand recognition, loyalty, and credibility.
Attract top talents
The research and development process would be impossible without top technical and scientific talents. What's more, such valuable specialists are also often willing to create innovations, drive the company's growth, and change the world for the better.
Increase income
As the logical consequence, the effect of R&D investment on products or services is their ultimate improvement and perfect tailoring to the customers' demand. Creating a perfect-fit product or delivering the highest-end service leads to profit growth anyway.
Decrease taxes
Also, the countries that prioritize R and D investment allow the companies engaged in it to pay fewer taxes or create additional convenient opportunities for them. The chart below shows the countries that support the most research and development initiatives of private companies.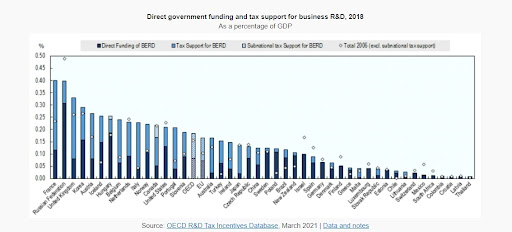 For example, the Candian companies can apply for a 43,5% refund for research and development costs if the R&D process landed in Australia.
R&D becomes especially important after pandemic since the users' shopping habits, behavior patterns, and even live paradigms are changing dramatically. The companies need to respond to these changes using the data-driven approach and suggest a better way to satisfy the new demands.
5 Reasons Why Invest in Research and Development
The R&D investment and company success are directly interconnected. Below are the top reasons to invest in research and development, plus make this activity an ongoing business process.
Become more competitive
Creating better products or services validated by market research and proven by science increases competitiveness by default. What's more, the revenue generated by selling them can be reinvested in further research and development to create an improvement cycle.
Attract investments
As we've mentioned, companies engaged in research and development often get financial support from the government, especially when their goals are society-oriented. Proceeding with R&D also creates an opportunity to get funded by private investors interested in solution development.
Create profitable partnership opportunities
The far-reaching goals of the companies investing in research and development sometimes overlap. For example, pharmaceutical companies can use data generated by hospitals and their patients to understand better how a particular medicine works and suggest ways to improve it.
In such a case, the companies from different but still overlapping industries (healthcare and pharmacy) can create winning partnerships and proceed with research and development together, promoting collaboration and sharing.
Become the industry leader
The statistics we have cited above prove this reason. The companies which make the most significant R&D investments are among industry leaders. While competing with them isn't an option for small and medium businesses, research and development still can promise an opportunity to firmly occupy a specific niche and become a leader in it.
Become better prepared for the market changes and challenges
The COVID-19 pandemic has shown that most companies aren't flexible enough to stay competitive and protect their employees from losing their jobs.
The research and development process improves the company's market positions; when powered with predictive analytics, it becomes a way to get better prepared for market fluctuations and altered users' preferences.
From this perspective, the essence of R&D is to take a look at the future, be guided by the historical and current market data, and come up with more relevant offers right when the market begins to need them.
For example, while the banking industry expects the growing demand for conversational AI apps, getting started with developing such a solution already now makes sense.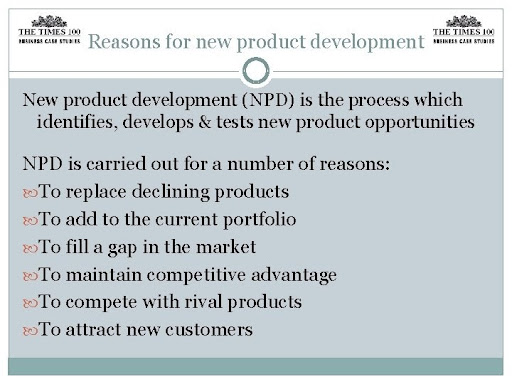 Consider Fayrix Your Trusted Partner
The process of research and development means leveraging the highest-end technologies and expertise to suggest, validate and create better solutions for your business.
Indeed, the companies face the need to access tech, science, and human resources, so partnering with a dedicated vendor can be an option. For example, Fayrix is an offshore software development company such as: (fayrixdotcom), with multi-domain expertise in innovation development and experience setting up research and development centers.
Final Thoughts
Investing in research and development is essential for companies that constantly improve their offerings, optimize business processes, want to be data-driven, and stay aware of the recent market trends.
To unlock the ultimate benefits the research and development process can promise to your company, consider partnering with a tech-savvy vendor able to help your business grow with innovative and validated solutions.
FAQ
What is an R&D investment?
Investing in R&D means funding and supporting the research and development strategy of a company. R&D is a goal-driven tactic that implies researching the specific knowledge domains to find better solutions to a company's problems or suggest options for improving its competitiveness and value proposition.
Why Is investment in R&D significant for a company?
Investing in research and development is essential since it allows for improving the existing product or service, finding ways to optimize crucial business processes, growing the company's income, becoming better aware of market trends and customer expectations, plus reducing the tax burden and attracting third-party investments.
How much should a company invest in R&D?
There is no fixed amount the company should necessarily spend on research and development. Depending on the company's size, financial capabilities, and the goal of research and development strategy, the amount to invest can vary. However, as a rule, the companies invest 3-7,5% of their revenue in R&D.
Inner Image Credit: provided by the author; Pexels; Thank you!
Image Credit: Anna Shvets; Pexels; Thank you!