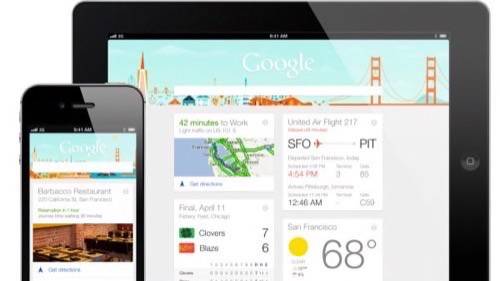 Today, Google's Googliest project makes the leap from Android to iOS. Google Now, announced last June at the company's I/O 2012 conference, is part smart search and part personal assistant — but don't call it Siri. The service will make its debut on iOS through an update to Google's core Search app, available in the App Store.
According to Google's blog post on the release, "Today, with the launch of Google Now on iPhone and iPad, your smartphone will become even smarter. Google Now is about giving you just the right information at just the right time. Together, Google Now and voice search will make your day run a little smoother."
Google Now for iOS will be nearly identical to the Android release, though it won't enjoy the same deep integration as it does on Google's own mobile platform. That means no homescreen widget, of course, and no "swipe up" gesture for instant, fluid access. The iOS version will also be missing a few of the cards you'd find on Android: For now, cards for boarding passes, nearby events, Fandago and Zillow will remain an Android exclusive.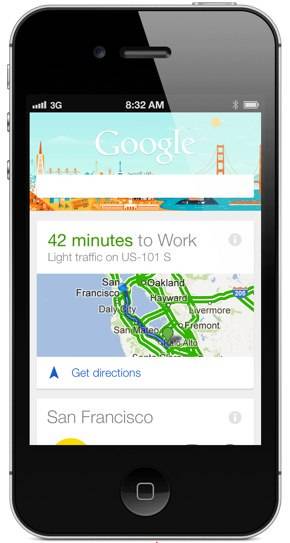 A 20% Project That Took Off
We spoke with Google's Baris Gultekin, co-creator of Google Now, about the product's migration to that other platform. According to Gultekin, Google Now is the latest product home run with humble beginnings as a year-long 20% project (Google encourages employees to dedicate 20% of their time to a pet project that interests them).
"In the early days it was all about keywords," Gultekin explains. "With Google Now, you don't even have to search. We're really interested in having computers do all the hard work."
For Google Now, the heavy lifting comes easy. A smart search app on steroids, it provides instant access to a spread of useful information, delivered via "cards". The cards are wholly dependent on context. As Gultekin puts it, "The product is different given the situation you're in." You might see a card for commute traffic around rush hour, or a card for your flight reservation the morning before you head to the airport.
Google Now Is Google, Now
Google Now is an umbrella project of sorts, tying Google's vast web of products together. Naturally, the product is also right at home on Google Glass, the company's futuristic eyewear that also aims to make this whole business of carrying the Internet less interruptive.
Google is betting big on Google Now, so it will be interesting to see if the service takes off in Apple's ecosystem. Google iOS ports like Google Maps are wildly popular, but will iPhone users take notice of Google Now?
From its perfect morsels of context-dependent info to its uncanny knack for knowing what you needed to know before you knew you needed to know it, Google Now is a powerful tool — and a fun one.
Try it out today in the App Store and have fun pitting it against Siri in voice-powered search time trials.
You know you want to.