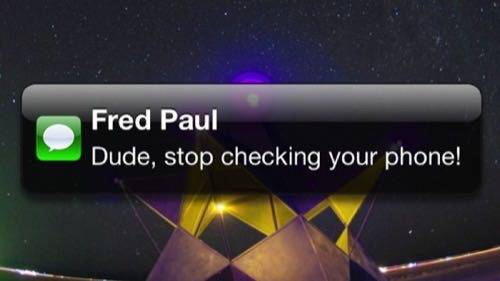 In rolling out its new Graph Search, Facebook CEO Mark Zuckerberg was quick to caution that "it's going to take years to index the whole map of the graph." That's great. It gives me time to completely remove myself from Facebook.
When I dropped off Facebook a few weeks ago, it wasn't in pursuit of some grand, moral crusade. I was simply trying to show solidarity with my 13-year old son, who had become obsessed (addicted?) to a massively multiplayer game played on Facebook. When I took away his Facebook privileges in an attempt to help him kick the habit, I decided that a hiatus from Facebook would do me some good, too, and would show him that I wasn't asking him to give up something that I, too, wasn't willing to abandon.
Little did I suspect the incredible relief that would come from cutting out Facebook and Instagram from my life. (I kept Twitter, however, as it has become a useful business tool for me.)
At the same time, to keep myself from slavishly staring at my iPhone all the time – again, not wanting to be a bad example for my son – I turned off all notifications. Then I did the same thing on my laptop. I wasn't attempting a Digital Purge, as John Paul Titlow describes in ReadWrite: I simply wanted to control how and when I'd use my devices and their applications, rather than having them constantly clamoring for my attention. I wanted control.
Peace At Last
It has been amazing. I've felt more peaceful and thoughtful than I have in years. (Regular readers of my column here may disagree, but we'll bracket that issue for now.)
This reprieve from the onslaught of social media and its attendant army of notifications ("Lonn likes your post. He really likes it!") couldn't have come at a better time, now that Facebook's Graph Search is set to make it even easier for random people that I've accepted as "friends" to search my interests and take action based on them. ("Hey! I like The Hobbit, too! Want to go to the community theatre's production of Bilbo and Me?" "You've eaten at Flour + Water. What should I get?")
Facebook was noisy before. Now it's going to be nosy, too? No, thanks.
Jon Mitchell is right: we need a unified search box, not a Facebook or Google or Apple walled-garden search experience. Google comes closest to this, but of course Facebook has siloed its "graph" such that Google can't index it. That may be great for Facebook's business, but it's terrible for the user experience.
Having said that, if I have to let people scour my random postings across social media, I'd prefer them to be my friends. I just wish Facebook more accurately reflected who those friends actually are. We can't manage more than 150 friends meaningfully, at least, according to Robin Dunbar's influential research.
I must be slow, as I don't even want to interact with those 150 friends when it comes to choosing a restaurant or a movie. There are few individuals that I trust on such matters: I either want an expert (Zagat) or the foolishness of crowds (Yelp). I don't want my brother, who might hype me on the new dish at Olive Garden. (A fate worse than death!)
In sum, I'm enjoying my life sans Facebook, and I imagine I'll enjoy it even more now that Facebook wants to make it even easier to invade my personal space without real value in return. Maybe it will be useful for dating, but I have zero interest in this.
I just want a place to hang out with real friends. It turns out that there's an even better place to do this than Facebook. It's called "the real world."