As more and more employees are choosing to remain working remotely — or only taking jobs that offer remote work options, it is more important than ever to ensure that the 8hrs+ per day you're spending sitting down are as comfortable and ergonomically correct as possible. Enter the E-WIN Champion Series chair.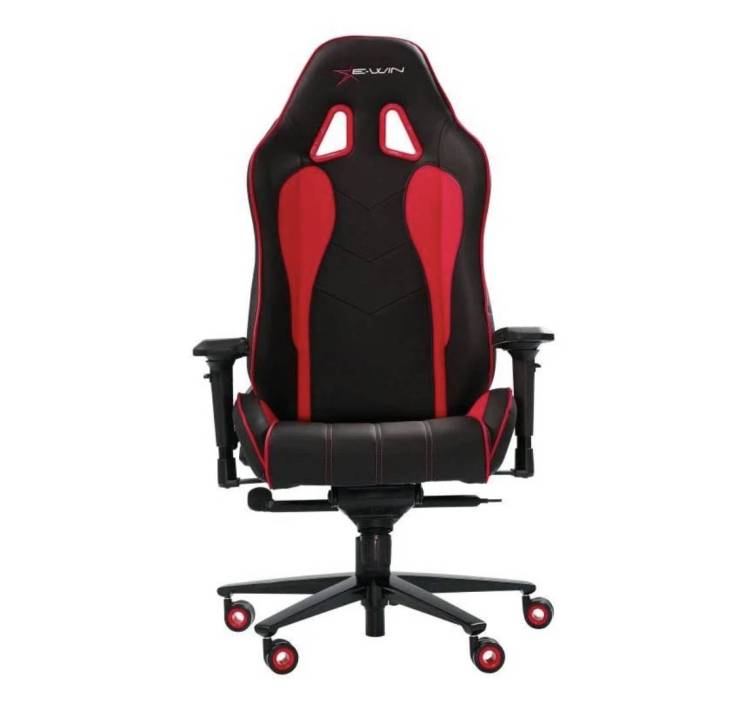 Priced at $359 at the time of this writing, this chair series is priced around the low to mid-range for ergonomic gaming chairs — but this one is definitely worth it. Boasting a 155-degree recline, memory foam-like cushion, and a 400lbs weight limit, it's hard to beat the comfort at that price. Also worth noting is that the E-WIN has an XL line specifically designed for more significant users with a max weight of just under 600lbs.
The Champion Series chair has SO many different color possibilities that you are sure to find your favorite color in the lineup. You also have the choice between PU leather and a piece of soft woven fabric to choose from. The seat is made of cold-cured foam, similar to memory foam, and is on the slightly harder or sturdier side and holds its shape for extended periods.
The E-Win includes heavy-duty wheels, padded and adjustable armrests, and a removable lumbar support cushion and neck pillow. The lumbar support is my all-time favorite and the reason I chose this chair — it's just better. However, I never imagined the neck support would be so great.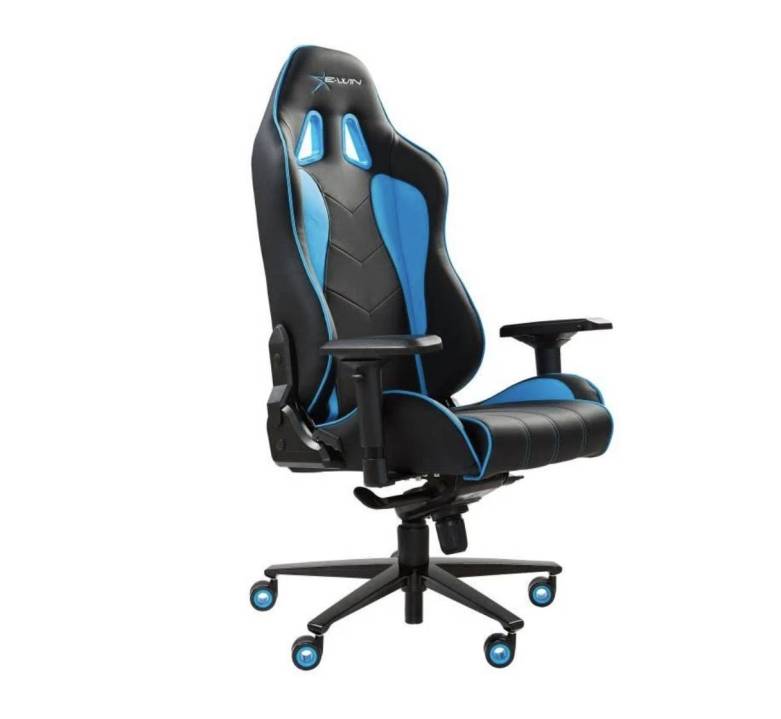 Putting this beauty together
Right off the bat, I was a little confused since the instructions were in Spanish, and the images were for a different model chair than mine. However, looking online, I'm pretty sure I received the Knight Series instructions. That being said, the chair was simple to put together, nothing too surprising or confusing. All told, it took around 15 minutes screwing and un-screwing pieces to fit together and ensure that everything worked as it should.
Half of that time was probably spent looking for the English directions to make sure I was doing it correctly — and, seriously, you don't really need directions — it's pretty self-explanatory.
Trying out my newfound love

Once it was put together, I was shocked at how comfortable it was. Officially E-WIN chairs are known for being very gamer-focused, but having used these chairs myself at the office and for office work at home — then turning right around and playing PC after hours, and I can safely say that I enjoyed the chair for all uses.
Initially, I was a little worried that the white-on-black logo would be too much, as most of my surrounding furniture is minimalistic. However, I'm happy to say that those fears were unfounded — my head generally covers up the logo, and it's not noticeable when the chair is tucked under the desk.
The chair has a nice look and feel to it, and the pillows are relatively comfortable for someone who spends 10+ hour days sitting in the chair. The lumbar cushion and neck pillow are easily adjustable or even removable if they aren't your jam, though I felt like the high-density cushion is exceptionally lovely to lean back on.

The Best

Perhaps the greatest thing I was impressed by is the chair's ability to lie back. Seriously, you can almost reach 180 degrees lying down (155 degrees to be exact). As someone who prefers the ability to recline and adjust while not missing a beat, this chair hasn't failed to impress. It's comfortable and easy to adjust, and lying back is an awesome and a new feature for me.
The Worst
Leaning forward has led to some frustration. The chair was designed to lie back, which it does very well. But if you lean forward too far on the edge of the chair, the whole chair will come with you. As you know, most office chairs have this same issue.
My biggest nitpick for the chair is the seat height higher than you might expect, even at its lowest setting. For me, it's not a problem at 5'6″ tall, but a little different story for the people who use my chair who are 5'3" – 5'4″.
While the website says that the chair is meant for users 5′ 3" to 6′ 1", one person's feet don't rest entirely on the floor at the lowest setting, and that person is I'm a couple of inches taller than the shortest E-WIN recommends.
The one using my chair beside me says, "Personally, I actually enjoy being slightly perched with a yoga block or similar tool under my feet to help with leg fidgeting — so the seat height isn't a big deal for me." But it may be worth noting for those who are vertically challenged.
Pro's
Low-mid price compared to similar
155-degree recline
Soft PU leather
Comfortable foam seat
Adjustable back and neck pillow
Con's
The bottom seat height may be high for short users
No option for genuine leather
Final Thoughts
Overall I was surprised at the quality of this chair, especially given the price. I've only had it a few months, but it has held up swimmingly to all of the abuse of 10+hrs per day of use, constant movement, constant adjustment, and constant "oh cool, I can watch tv lying down" giddiness.
The adjustability and ergonomic design of the E-Win Gaming Chair make it the overall champion (pun intended) among chairs. A great thing about our office is that we are a tech magazine — and now, in the office — we look high-tech. You'll love this chair.