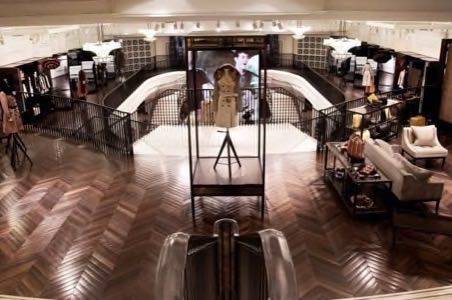 Burberry's London flagship store recently underwent a renovation that turned the 192-year old building into a digitally integrated showroom for the luxury fashion brand.
Last weekend, American Public Media's radio show, Marketplace Money, aired a feature about how some luxury brands are starting to hurt in the long-suffering economy even as inexpensive brands are thriving. One of the companies that saw a slide in earnings was Burberry.
Perhaps coincidentally, the company best known for its plaids and classic trenches wants to boost its status through digital interactivity. This week, after two years of renovation, the brand open the doors of its digitally integrated store, Burberry Regent Street, in London.
Burberry executives say they're "blurring" the line between the physical and digital, mimicking the online shopping experience in Burberry Regent Street. Many features on the site have a physical counterpart, from the live customer-service chats to interactive outfit suggestions.
Interactive signage greets shoppers as they walk in and displays key points in the building. Associates carry iPads with customer information, including past purchases and preferences. On the floor, certain articles of clothing and accessories carry RFID chips. These chips interact with store mirrors to show videos on craftsmanship or examples of what the items can be paired with.
At the end of the shopping trip, customers can check out through a mobile system a la an Apple Store, or go to a regular cashier.
Occasionally taking center stage in the store, quite literally, are "disruptive digital takeovers." At set times, thunder claps from all 500 store speakers, and on all 100 mirrors/screens, including those in fitting rooms, appears an iconic London downpour. (If you're a skittish shopper, may we suggest calling ahead to make sure you avoid these displays?) The rest of the time, models are shown walking from screen to screen, promoting the company's most recent line.
And, just in case you were wondering, the store does have WiFi.