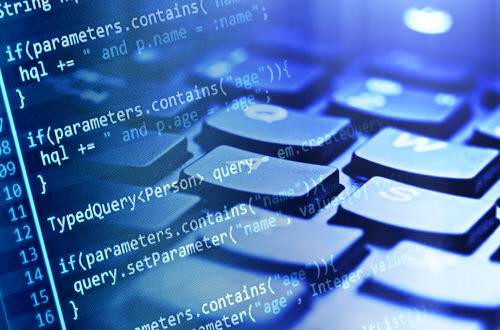 The meek may inherit the earth, but at this rate, DevOps will inherit the enterprise. At least, that's one lesson to take from a Puppet Labs survey of over 4,000 IT operations and development professionals. Whereas developers used to be second-class citizens within the enterprise, today they're taking on new authority and forcing a change in mindset as to how software is developed and deployed.
(DevOps, for those not in the know, is a relatively recent style of collaboration between software developers and IT departments intended to speed the deployment of new applications and services.)
This enterprise shift reveals itself in a number of ways. As 451 Research analyst Jay Lyman illustrates, DevOps communities around Puppet and Chef, two of the industry's most popular configuration management tools, have been booming, as have the commercial opportunities for Puppet Labs and Opscode, the two respective companies behind these tools. But there is one particular sign that DevOps is making waves in the enterprise, Lyman notes:
Further evidence of these tools and practices going mainstream lies in expanded integration and support for Windows management and Microsoft environments, which represent a growing number of customers for CFEngine, Opscode and Puppet Labs.
Small wonder, then, that Puppet Labs found a 26% increase in the rate of DevOps adoption by organizations of all sizes, compared to 2011, with 63% of organizations now indicating they use DevOps practices. This could be easily discounted — "Well, of course a DevOps-oriented vendor survey would find lots of DevOps adoption" — except that one would expect the numbers to actually be higher. Given that Puppet Labs presumably sells to the converted, why isn't the number 100%? Presumably because even among those interested in Puppet Labs configuration management tools, the ambition to deploy DevOps practices outpaces real-world adoption of them.
But that's changing at a 26% clip. More revealingly, such DevOps adoption translates into a 75% jump in job listings: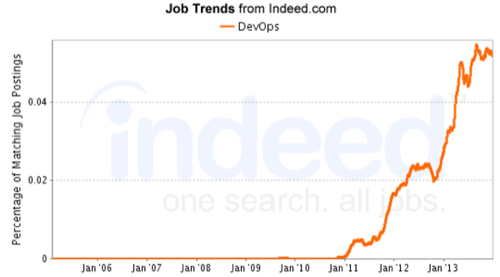 Why is DevOps reshaping enterprise IT? Quite simply, because it works. Because IT operations and development are better in collaboration than in competition. As the survey uncovered, high-performing, DevOps-savvy organizations deploy code 30 times faster with 50% fewer failures. And, strikingly, the longer DevOps practices are followed within an organization, the lower that organization's app failure rate and the faster its recovery from failure: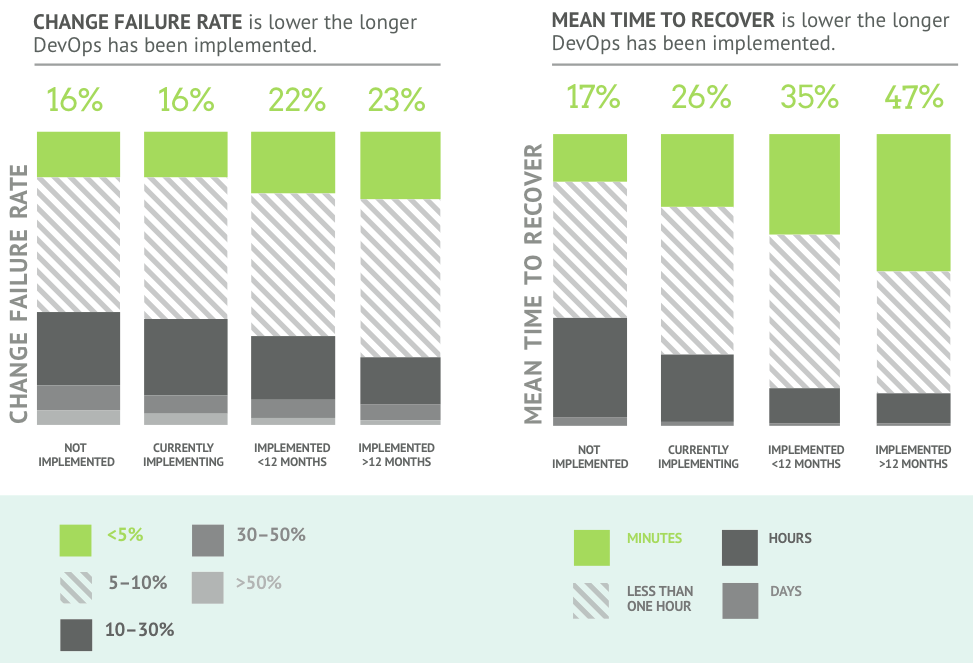 While some of DevOps' rise can rightly be credited to a startup ethos and the evangelism of companies like Puppet Labs, it also gets a boost from IBM, ostensibly the most fuddy-duddy company on the planet. RedMonk analyst Donnie Berkholtz notes:
IBM's people really get it. They understand trends that are happening at the frontlines of tech today in startups and in open-source development. IBM is way out in front on enabling DevOps in big enterprises….A lot of my experience with enterprises is that they're slow-moving and often lagging trends by years, to the point where it's nearly laughable, but in this case IBM is definitely a front-runner.
Embedded in that comment is perhaps the biggest reason for the rise of DevOps within the enterprise: it mirrors the rise of open source. Or, rather, follows it. Open source puts developers in charge of their IT. Hence, as we find a massive spike in demand for Linux professionals, and as we see the top job trends dominated by open-source technologies, we should expect DevOps to rise along with it, both in the startup and in the enterprise, with significant benefits for all.
Image courtesy of Shutterstock