One of the most common questions I hear about Google's new Chromecast gadget is, "What can I watch on it?" That's a fair question, considering that Google only mentioned a few streaming resources—primarily YouTube and Netflix—at its press event last week.
That's because only four services (see below) currently support the Google Cast technology that lets you beam streaming video straight to your TV from the Web, using a phone or tablet as a remote control. But you don't have to rely on streaming providers to adopt Google Cast. You can also stream to Chromecast from the Chrome browser on a PC or Mac, thanks to a process Google calls tab casting.
That expands your immediate horizons quite a bit. And app developers big and small are also looking to jump on the Chromecast bandwagon, which would further open things up.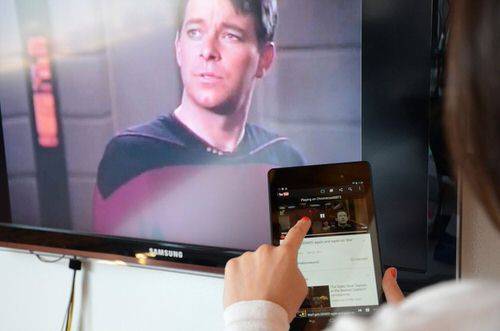 Your current options, however, vary depending on your tech setup and other factors, so read on to see the breakdown of what you can watch, and how, using Chromecast.
Streaming Resources That Support Chromecast
Google devised a creative method of streaming that, upon demand, enables Chromecast to pull in the requested media directly from the Web. For services that support this, the TV streaming action starts by tapping a "cast" button or link that sits directly in those websites and/or mobile apps.
Out of the box, the Chromecast works with a small group of "starter" services:
Netflix – mobile app and website
YouTube – mobile app and website
Google Play Movies & TV – mobile app (Android only)
Google Play Music – mobile app (Android only)
Since these streams flow in from the Internet, there's no major battery or performance hit for the originating smartphone, tablet or laptop. And those devices can control the playback, pause and volume rather easily.
(See also: 10 Things You Need To Know About Google's New Chromecast)
Google doesn't offer iOS apps for its own Play services, and oddly enough I couldn't find a "cast" option on their websites. I did, however, manage to stream them from my laptop via tab casting.
Resources That Work Via Tab Casting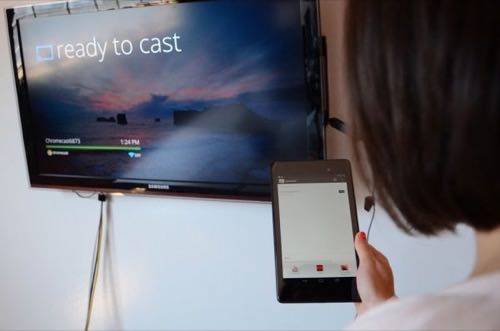 Tab casting, a beta feature, essentially lets the Chromecast mirror one of your Chrome browser tabs. This allows you to play local files, shared online playlists and other streaming media websites.
Via tab casting, in fact, you can watch (or listen to) a whole bunch of stuff, including:
Amazon Instant Video; ABC; AOL; CBS
Crackle; Fox; Google Plus photos/slideshows
HBO Go; Justin.tv; NBC
MLB.TV; Pandora; Plex; Post TV
Qello; Rdio; Revision 3; Slacker
Songza; Spotify; Vimeo
See also: The Chromecast App Drought Breaks, Sort of, As Hulu Signs On
And much, much more. Coincidentally (or not), many of these streaming services are looking at Chromecast integration similar to what Netflix and YouTube offer. Google spotlighted Pandora, and HBO is looking into Chromecast support. Meanwhile, Plex, Redbox Instant and Vimeo, among others, are hinting (often broadly) at their interest as well.
See also: 5 Cool Chromecast Hacks And Workarounds
While all that Chromecast integration gets underway, what you need to know about tab casting is that it works on most streaming sites, excepting videos that use the Silverlight and Quicktime plugins. I tried Apple's Quicktime-based online movie trailers, for instance, and the audio stubbornly stayed on the computer. It simply refused to pipe to the TV.
[T]ab casting only works on tabs from Chrome's desktop browser (for now); no mobile version on any platform can cast tabs.
There are other catches as well. Tab casting works best if the source computer has decent processing power and works off a solid Wi-Fi network. Otherwise, lags and stutters will likely plague the stream. In addition, tab casting only works on tabs from Chrome's desktop browser (for now); no mobile version on any platform can cast tabs.
Tab-casted streams aren't controllable via mobile devices either. You have to go back to the original computer to stop, pause or scrub the playback, and without benefit of a dedicated TV-oriented interface.
File types can also make a big difference. Here's what Google listed under "Supported Media Types":
All Google Cast devices at a minimum support the following media types:
Video codecs: H.264 High Profile Level 4.1, 4.2 and 5, VP8 Audio decoding: HE-AAC, LC-AAC, CELT/OPUS, MP3 Containers: MP4/CENC, WebM, MPEG-DASH, SmoothStreaming Level 1 DRM support: Widevine, Playready Subtitles: TTML – Timed Text Markup Language WebVTT – Web Video Text Tracks
If you're not well-versed in audio or video codecs, here's a general rule of thumb: In most cases, media that plays fine in a Chrome browser tab can be sent to and played by Chromecast. But also know that in some cases, audio playback could suffer somewhat.
If you have local files that Chrome won't open, and can only play it in a separate standalone computer program, you could play it and cast your entire desktop to the TV. But this an act of desperation. Screen casting doesn't pipe audio to Chromecast, and the stream can be buggy, especially if you don't have a powerful computer.
Still, if you're so inclined, it's something you can play around with. To try it, open the Chrome browser on your desktop, hit the "cast" extensions button, click the small arrow to release a drop-down menu, and choose "Cast entire screen (experimental)."
More Will Come Streaming In Soon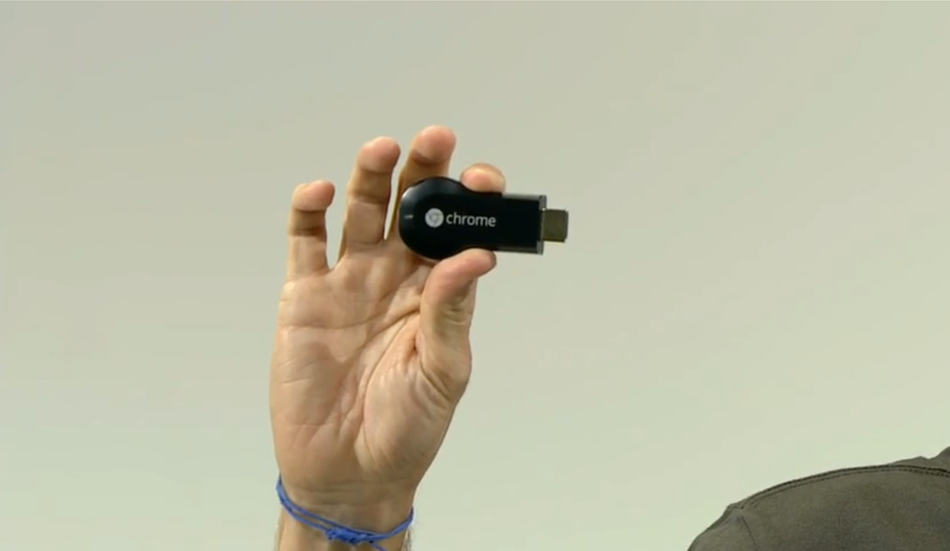 Casting from a computer is a stop-gap measure—some fill-in functionality to keep you going until more streaming companies support Chromecast directly. By the looks of it, a lot of them are interested in doing just that.
That's to Google's credit. When it unveiled Chromecast, it also debuted a Google Cast software developer kit. With this SDK, app makers can easily build in Chromecast support for new and existing mobile and Web apps, says the tech giant, in less than 200 lines of code. If Google isn't exaggerating things, that's pretty simple.
To recap, Google managed to release cheap streaming devices that are in high demand, and it appears to have paved the way for developers to climb onto the Chromecast bandwagon. So even if you're disappointed by what Chromecast offers at this moment, the odds seem good that more streams will be flowing your way before much longer.
Images by Madeleine Weiss for ReadWrite