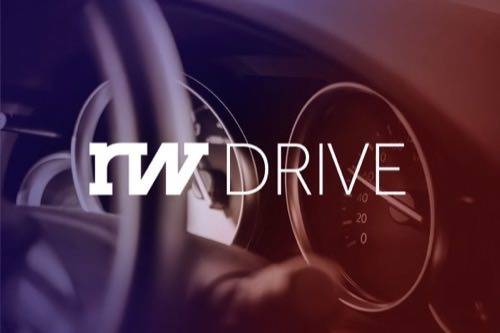 ReadWriteDrive is an ongoing series covering the future of transportation.
The world's first open source piece of hardware was the bicycle, according to the Open Source Hardware Association. To be more precise, it was the draisine, introduced as a two-wheeled human-propelled walking machine in 1817.
Technologists of the day added things like pedals, chains and rubber tires, as the bicycle became one of the world's most widely used and loved machines. Nearly two centuries and a couple billion bicycles later, entrepreneurs are applying computer controls, GPS and wireless connectivity to bikes to help save the world's cities from automobile gridlock.

The most recent innovation comes from Slovenia-native Niko Klansek. The Brooklyn transplant started making and selling ground-up electric bicycles in 2011, in an effort to help bicycle commuters arrive to work without working up a sweat. After struggling for two years to sell 300 units in Europe and the U.S., Klansek decided to literally reinvent the wheel—creating what he calls the FlyKly Smart Wheel. "It's really hard to convince somebody to buy an electric bike when they already have a bicycle," Klansek said. "It's easier to just purchase this, and put it on your existing bike."
The nine-pound bike hub houses a thin 250-watt motor providing up to 20 miles per hour of propulsion; a 36-volt lithium ion battery pack capable of 30 miles of range; Bluetooth 4.0 capability; and mobile apps for iOS, Android and Pebble. Four stages of prototyping produced a working model, partly utilizing components from a 3D printer. Klansek let me have a ride with the prototype, which was a bit rough. The motor was dialed back to only 10 percent capacity—for "safety" he told me—so it didn't have much oomph. Yet, it sounded like an F1 racer.

Nonetheless, on Oct. 16, FlyKly launched a Kickstarter campaign, with the goal of raising $100,000 for production of the first 166 units. A week later, more than 600 backers invested nearly $170,000 to get production going.
An Electric Wheel That Learns
Unlike electric bicycle conversion kits that require hours of work and a spaghetti of cables, the Smart Wheel swaps onto an existing wheel in less than a minute. Fire up the mobile app to set a top speed, start pedaling and off you go.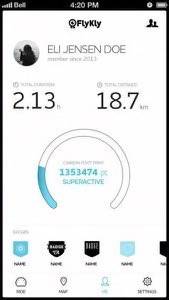 The FlyKly Smart Wheel can be locked and unlocked via the app. If your bike gets stolen, a text lets you know to track its location via GPS. What's more impressive is how the Smart Wheel works like a Nest thermostat in motion. "The wheel learns how, where and when you use it," said Klansek. "Eventually, it will know that you live on top of a hill. When you approach home, it gives you more boost. But when you go downhill, you recharge the battery."

FlyKly offers an SDK kit, so developers can add functionality for things like supplying calorie data to a Nike Fuel Band or creating of a wireless hand-controlled throttle.

Klansek wants to start shipping to KickStarter supporters, bike shops and web buyers, in early 2014.
Crowd-Riding
Meanwhile, across the East River in car-dominated Manhattan, a bike-sharing provider called Social Bicycles, incorporated in 2010, is taking a different approach to the connected bicycle revolution. "We are the first integrated bike with onboard computer, GPS, wireless connectivity, with mobile and web applications," explained Justin Wiley, Social Bicycle's director of business development. "There's wireless connectivity on 3G network through a partnership with AT&T, and an accelerometer so we know when the bike is moving."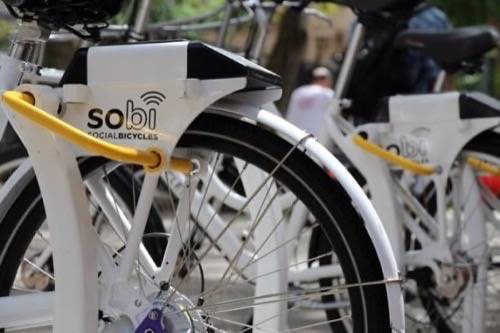 Social Bicycles was created when Ryan Rzepecki, the company's chief executive offer, left the New York City Department of Transportation, where he helped the city plan its bike sharing program. From that experience, he realized that putting all the technology to manage and track bicycles in kiosks was more expensive than necessary. Instead, by integrating the technology directly on the bicycle, the cost for launching a program could be cut to a fifth the price tag of conventional bike sharing docking equipment and kiosks, according to Wiley.

Social Bicycle units can cost as little as $1,000 per bike—while offering added benefits. Users can locate and reserve a bike via the web or a mobile app, or directly via a PIN on the bike's keypad. Operators of bike sharing programs can set pricing, and track all the units in real-time. Like the KlyFly Smart Wheel, bikes can be electronically locked and, if stolen, located by GPS.

While Social Bicycle can use predetermined hubs with inexpensive dumb bike racks, members have more freedom to roam. Dynamic pricing places an extra fee if members wander too far away from hubs. That money, around $5, can serve as an incentive, collected by the next rider if the bike is brought back to a desired location. Geofences can be created for even steeper fines if riders leave bikes in further flung locations.

In other words, the logistics of managing inventory location—such as making sure bicycles are near public transportation at rush hour—is socialized by the network.
Social Bicycle is in about five cities, including Buffalo, NY., where it is integrated with local car sharing. Students in Buffalo get access to these bicycles for as low as $10 as semester. SoBi is also at the San Francisco International Airport, where employees ride between terminals. Social Bicycle has raised about $1.3M to date in seed funding, from angel investors as well as SOSventures. It will expand to three more cities in Q1 2014.
Only The Beginning
The FlyKly Smart Wheel and SocialBicyles are only two examples of the brave new world of open-source networked bicycles. San Francisco-based Helios integrates a headlight and two LEDs into handlebars to offer turn signals—and by integrating via Bluetooth 4.0 to a smart phone, it can offer turn-by-turn navigation from Google Maps. The LED lights on either end of the handlebars indicate where to go.
And then there's Jack Al-Kahwati, an aeronautics engineer also based in San Francisco, who has been working on an intelligent ride-by-wire bicycle that uses a smart phone to modify the level of electric-assist, adjustable gearing via a continuously variable transmission and haptic feedback for increased rider safety. The so-called Velo bicycle project has morphed into Velo Labs, now in stealth mode, working on further re-invention of high-tech bicycle commuting.

All of these advancements should assist new riders in transitioning to the joys of riding and give veteran riders new tools to make riding even more enjoyable.