Microsoft has seen better days. The company, once a high flier, has spent over a decade on the skids, milking profits from Windows and Office while missing out on tectonic industry shifts like social, web and mobile. Not surprisingly, Microsoft's better days ended in 2000 A.B. (After Bill), when Microsoft CEO Steve Ballmer took over from Bill Gates. Perhaps more than anything else, this reflects a shift in the company from a technology-driven CEO to a business-oriented CEO.
The results have not been pretty.
With Ballmer announcing his retirement in 12 months, Microsoft must return to its developer roots. To do this, it must become truly involved in open source across its product line.
A Decade Of Stagnation
Of course Gates didn't disappear overnight, but as his influence over the company waned, so did the stock price: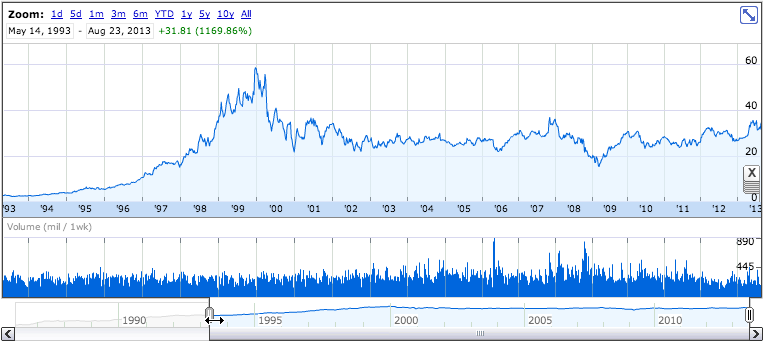 This despite churning out more profits in a quarter than most companies make in their entire corporate existence. But this is part of the problem: Ballmer has shown an exceptional propensity for milking the company's cash cows —Windows and Office—while studiously neglecting the future.
Listening To CIOs, Missing Out On Developers
The problem for Ballmer is that he doesn't know what the future looks like. While Tim O'Reilly advises us to look to the alpha geeks to spot the future of technology, Ballmer has spent the last 13 years gazing in the rearview mirror at the alpha CIOs. They tell him how to evolve Microsoft's existing tools to their needs, resulting in great but unexciting technology like SharePoint.
CIOs, inherently risk averse, have nothing to tell Microsoft about the future.
In the process, Ballmer's Microsoft completely missed developer trends toward server-side programming languages like Node.js, modern NoSQL database technology and cloud-based development and deployment. Each of these is a function of the biggest shift in technology over the past decade: the emergence of the open-source developer. Open source freed developers from the shackles of enterprise procurement, allowing them to experiment with new technologies without getting permission.
Ballmer, fiercely protective of his cash cows, fought open source vigorously… and alienated the very people that could have helped maintain Microsoft's relevance. The recent revamp of Microsoft's developer site, MSDN, is just one example of a company long on marketing and short on developer credibility.
Blinded By Profits
Instead of tapping into the rising developer class, Ballmer has spent the past 13 years living within this insular cocoon of CIO feedback and healthy profit margins. In so doing he has completely failed to appreciate his rising mobile and web competitors. Take, for example, this classic fail when Ballmer dissed the iPhone for being too pricey and not business-friendly enough:
Despite the fact that at that time Microsoft was, as he notes, "selling millions and millions and millions of phones each year," and had an early hold on business buyers, as soon as Apple released its iPhone Microsoft's phone business was dead in the water. It turns out the future of phones wasn't to be dictated by CIOs, but rather by ordinary consumers.
The Path Forward
See also Microsoft's Best Bet For Next CEO Currently Runs Another Giant Company
With Ballmer on his way out, Microsoft's best hope is to promote or hire an engineering-focused CEO, one with a keen appreciation for developers. And not just any type of developers: Microsoft needs to treat open source as a first class citizen. While the company has made significant strides toward allowing developers to work on its platforms, it has yet to fully embrace open source.
Take the Kinect, for example. While the company opened up the platform somewhat to hackers, it was also quick to assert that no one was actually touching the Kinect's proprietary code. "Tinkering," not "hacking," is what Microsoft was willing to allow.
This may be the extent that Steve Ballmer will allow, and it's a losing strategy for the 21st Century.