There is no doubt that Artificial Intelligence (AI) is driving the decisive and strategic elements of multiple industries today. AI-powered algorithms are residing at the core of every business model.
It wouldn't be wrong to say that very soon the rise of AI will usher disruptive changes in businesses and industries. Thus, it's essential for businesses now to be aware of the latest changes that AI makes to the business landscape. 
A study by Gartner predicts that 30% of all browsing sessions will include a voice search by 2020. Driven by Artificial Intelligence, Speech Recognition is a technology that can identify words and phrases in spoken language and convert them into readable text.
Facebook, Amazon, Microsoft, Google, and Apple — five of the world's top tech giants— can already be seen offering this feature on various devices through services like Google Home, Amazon Echo, Cortana, and Siri.
Today, 40% of adults in the U.S. use voice searches daily and this usage rate is expected to grow. Products like Amazon Echo and Google Home are also being adopted at a faster rate than any other technology in history.
As more and more interactions are taking place through voice commands, the market space is becoming competitive more than ever before. In the fight of "the survival of the fittest," you need to recognize and understand the impact of speech recognition on businesses now, especially its application in voice search.
Here's how speech recognition is driving business value for companies now. Explore information on real-world applications of AI-based speech recognition in business.
The blog speaks about the major benefits of Speech Recognition in business today and how voice technology works. Let's read this further.

Speech Recognition Technology – How Does it Work?

It's colossal business returns that drive the application of voice technology in business today. Before we commence our discussion on the impact of AI-driven Speech Recognition on businesses, let's have a closer at how the technology functions.
Voice Search has developed from technological advancements in AI, specifically natural language processing and speech recognition.
A speech recognition software first analyzes the sounds (explainthatstuff dot com) by filtering what you say thus digitizing it to a format it can "read", and then analyzes this sound to extract the exact meaning.
Then, based on the AI-driven algorithms and previous input, it can accurately recognize what you are saying. As speech recognition becomes more accurate and widespread, more interactions are enabled which helps your business to grow.
The widespread application of voice technology in business these days has completely transformed the market space. Here is some data to back the fact.
Research shows that the use of virtual assistants with speech recognition capabilities in the United States increased from 60.5 million people in 2017 to 62.4 million in 2018. 66.6 million Americans were projected to be using speech or voice recognition technology in 2019.

Benefits of AI-Driven Speech Recognition
If you're wondering about the benefits of Speech Recognition in businesses, reading further will surely help. In years to come, the future of marketing will be shaped by advanced technologies like data science and big data.  
A report on the future of marketing shows that 26% of marketers believe that AI will drive marketing trends. Another 21.23% recognize that voice search will specifically feature as an important trend.

In the near future, speech recognition and its application in voice search will play an important role in determining how users interact with a business. Here are some major benefits of Speech Recognition that lets you know why the use of technology is only going to grow. 
Voice commands are convenient and take less time to process as there's no need to type and enter a query.

The use of voice-enabled devices enables multitasking.

Home assistants help in boosting productivity as they take less effort and save time.

Implementation of Speech-recognition technology reduces the need for customer representatives which helps to cut down the cost of hiring.
The unceasing impact of AI-driven Speech Recognition on businesses today just can't be ignored. Here is more on important applications of AI-based speech recognition in business.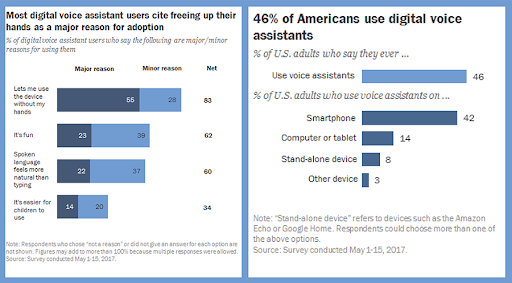 With the use of Alexa for business, users can give voice commands to begin video conferences, access calendars, print documents, and manage other common workplace functions.
"You no longer need to log into a meeting using a conference ID," said Amazon's Chief Technology Officer Werner Vogels. "Just say "Alexa, start the meeting", he added further.
Microsoft officials have specified a conference room where Microsoft's Cortana greets meeting participants, helps them in joining a scheduled meeting, transcribes meeting notes, assists in finding information, recommends documents, and reminds people of the names and titles of meeting participants.
Speech Recognition in Different Industry Verticals
With the advent of a number of voice recognition products in the market today, it's important to look at the business implication of voice recognition. Here, I bring on the table the major applications of AI-Powered speech recognition in business today. Let's read about the application of Voice technology in different industry verticals.

Voice Technology in Finance
To study the real impact of AI-driven Speech Recognition on businesses today, the finance industry would be the best sector to start with.
Banks have begun to realize the value of voice-based banking to reduce the need for human customer service representatives. This, in turn, helps to reduce the overall staffing costs. This is why the application of voice technology in business has become a trend now.
Moreover, having access to your very own digital banking assistant on your mobile phone helps boost customer satisfaction and retention. 
In early August 2017, the Royal Bank of Canada (RBC) announced that customers can now pay their bills using Apple's Siri. By providing bill payments through Siri, banks are offering convenient solutions to support their client's payment needs.
So, next time someone asks you, "How is Voice-Search technology beneficial for businesses now", I am sure Amazon's Alexa can certainly help you with this.

You can now check your account balances, hear about the payment due dates, obtain account transaction history, and make payments by speaking to an Amazon Alexa device. All thanks to Artificial Intelligence.
Voice Technology in HR and Marketing
A large part of HR work is transactional, repeatable, auditable, and documentable. Bots are great at doing all this. With voice technology, HR professionals can simply ask Cortana to update and manage recruiting databases.
The benefits of speech recognition are attracting marketing professionals too. Voice-assistants can help them with scheduling social media posts, creating reports, and so on. Moreover, AI-driven bots these days can help in advertising also.
Lately, Pandora Media has begun playing ads on Amazon Echo and Google Home smart speakers thus opening a path for advertisers to target people as they use voice-activated assistants.
These innovative uses of AI-powered speech recognition in businesses today are the key drivers of the technology compelling companies across the globe to leverage its advantages.
Voice Technology in Retail
Have you ever walked up and down every single aisle of a store grumpily only to end up at not having been able to find the item you're looking for? 
Well, I am sure, many of you have gone through the same. Right off the bat, it's clear and understood that retail is an industry that could capitalize on voice-integration.
Amazon has already made huge investments to improve their customers' online voice shopping experience. With Amazon's suite of Echo devices, you can easily ask Alexa to shop for you. If you tell Alexa to reorder your bin bags, she'll just go through Amazon and order them. 
In fact, users now can order millions of products from Amazon without lifting a finger ever. Amazing but true, Starbucks' new virtual assistant lets you order coffee through simple voice command and messaging.
Speech Recognition for Doing Routine Tasks
The impact of AI-driven Speech Recognition on businesses can also be seen more directly in your business processes. Here is how AI technology helps to manage routine work tasks:
Documentation:

Speech recognition enables users to dictate content for documentation purposes.

Managing Emails:

Employees can easily access, write, and send emails through voice commands.

Arranging Meetings:

Voice-enabled devices can be used to schedule a meeting, book a conference room, and notify participants. 

Joining Online Conferences:

An employee can issue a voice command to join a webinar or online conference.
This is how speech recognition technology helps in executing important tasks with less effort and time. Amazon's Alexa for Business is adept in managing office tasks. Businesses can give their employees digital assistants to use at home to allow them to attend meetings.
Wrapping Up
As more and more people interact with businesses using voice assistant devices, there will be more opportunities for your business to meet customer requirements. You as a business owner, need to keep customers satisfied and happy so that they stay hooked to your services. 
"In the last 60 years of computing, humans were adapting to the computer. In the next 60 years, the computer will adapt to us. It will be our voices that will lead the way; it will be a revolution and it will change everything." – Brian Roemmele, Founder of Multiplex Magazine.
The future is yet to see more intriguing and exciting applications of AI-based speech recognition in business. The advances in AI and big data have already begun to revolutionize the market space. Businesses need to be geared up towards greater use of voice search for online searches.