When you think of "Apple" and "maps" in the same sentence, you usually think of that unmitigated disaster back in late 2012 when Apple replaced Google Maps with its own homegrown solution as the default navigation app in iOS 6. Boy, did that go wrong.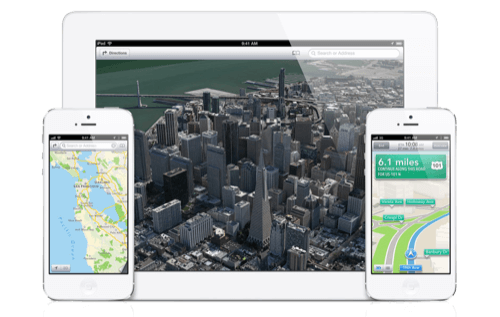 In the immediate aftermath of the "Maps" debacle—highlighted by an endless litany of bugs and laughable inaccuracies that directed traffic into rivers and onto airport runways—Apple CEO Tim Cook issued a sincere apology and the company fired the manager responsible for Maps in iOS 6, as well as longtime iOS chief Scott Forstall, in one big management shakeup.
Two years later, iOS has mostly stabilized, but iPhone and iPad customers still feel the ripple effects from iOS 6 Maps. It's still far behind offerings from Google and Nokia in terms of depth and breadth—but that might finally change this year with the release of iOS 8.
The Great Migration Back To Apple Maps
Two years ago, Apple Maps in iOS 6 was such a disaster that some reports at the time said the reintroduction of Google Maps to the iOS App Store later that year actually helped drive adoption of the controversial iOS update.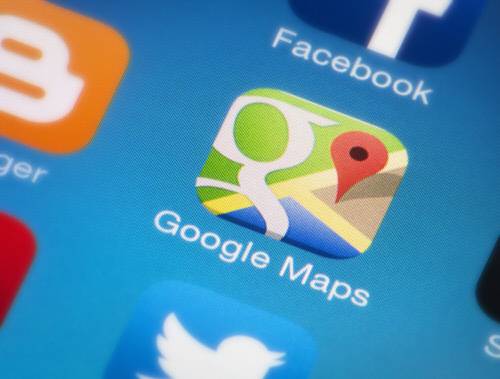 Google Maps was leagues ahead of Apple Maps two years ago—and still is, in many respects—but recent studies show Apple is catching up in a big way.
According to the most recent insights from ComScore, Apple Maps gained 35 million regular users from September 2012 to September 2013, while Google Maps users across iOS and Android dropped from 81 million in 2012 to just 58.7 million in 2013.
On the iPhone, the numbers are stacked in Apple's favor. Whereas Apple Maps gained 35 million new users in the last year, just 6 million iPhone users rely on Google Maps—and according to The Guardian, one-third of those individuals use Google Maps because they simply haven't upgraded to iOS 6 or iOS 7.
In other words, Apple Maps is finally becoming the default app for most iPhone users. Still, despite the boost it received in iOS 7, Apple Maps still has a lot of growing up to do.
What Are Apple's Cartographers Building In iOS 8?
Apple Maps has always looked pretty—especially with that 3D Flyover feature—but its navigation options have always left much to be desired. Apple Maps is great if you're driving in a car, but if you hope to take a bike or a bus, train, or other means of public transportation from Point A to Point B, you're simply out of luck.
Google Maps, among others, has Apple beat in terms of public transportation options, Street View and search functionality for local maps—but Apple is hoping to right many of these wrongs with this year's release of iOS 8.
Apple had a busy year acquiring mapping companies in 2013, highlighted by a two-month spending spree over the summer. In July, Apple acquired Locationary, which focused on crowdsourcing location data for local businesses, and HopStop, which aggregated data from several hundred transit agencies to help mobile users commute via subway, bus, train, taxi, walking or biking. In August, Apple picked up Embark Inc., which owned 10 different iOS apps in the App Store that helped users navigate major cities' transportation routes.
Months prior to its spree, Apple also dropped $20 million on a startup called WiFiSLAM, which allowed users to detect and navigate locations with pinpoint accuracy, including "step-by-step indoor navigation to product-level retail customer engagement to proximity-based social networking." And based on "evidence and chatter from sources," Apple may have also quietly purchased a mapping company called BroadMap, which prided itself on managing, sorting and analyzing mapping data.
If you're keeping score at home, that means at least one-third of Apple's 15 acquisitions in 2013 were for mapping companies. Clearly, Apple is serious about making its maps better—soon.
Areas Of Improvement
Apple Maps should see significant improvements in terms of more reliable data and more points of interest, but the one feature mobile users most crave is the ability to navigate from one place to the other via public transportation.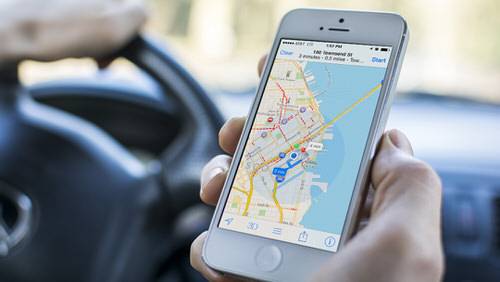 According to 9to5Mac, sources close to Apple say that in iOS 8, Maps will introduce public transportation options for buses, trains and subways for most major cities in the U.S.—including Los Angeles, New York and San Francisco—as well as highly-specific directions to and from major airports. Those same sources say users will also be able to choose if they want to get directions immediately, or if they want to receive directions for use at a later time.
Adding public transit options should help Apple better compete with Google Maps, which offers many similar options for planning public commutes either now or later. But two other areas Apple needs to improve on—local search and Street View—may also make an appearance in iOS 8.
Thanks to Apple's various acquisitions, the company should have no trouble injecting its maps with more points of interest, but sources add Apple has tweaked the design of Maps to make the streets more visible and generally cleaner. With any luck, Apple has also improved the search function so you don't need to type specific names of businesses to find whatever it is you're looking for.
Apple may not have Google's Street View—I don't see cars with Apple logos driving around the city, do you?—but Apple might be working on a unique workaround for that problem. According to a patent granted to Apple in 2011, Apple might build augmented reality functionality for Apple Maps to allow users to see visible points of interest nearby using the compass embedded in every iPhone.
In other words, Apple's version of Street View may look more like a 3D rendering of your town than photos of your actual town, but looking through your phone's display should still help you understand what's immediately around you just like Street View does.
And That's Not All
Later this year, six different car manufacturers will begin depending on Apple Maps this year thanks to the company's new integration with built-in car displays, called CarPlay. Originally dubbed "iOS in the Car"—promised as part of iOS 7—CarPlay can play music, make calls, receive messages, and most importantly, get directions.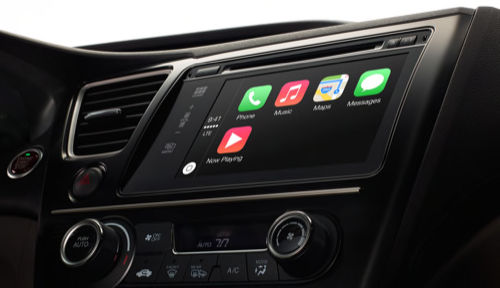 CarPlay support finally arrived on Monday thanks to the arrival of iOS 7.1, but automakers should feel more at ease with Apple's navigation platform once iOS 8 arrives later this year, since drivers will be primarily relying on that app for getting around, as well as finding local businesses. In fact, improving Maps for iOS 8 may have been the only way Apple was able to cut so many CarPlay deals in 2014.
This may be the first year Apple Maps finally appeases drivers and public commuters alike, but the new navigation app could also come with a few surprises. Apple might also use augmented reality to provide indoor maps for malls and buildings as well. Furthermore, Apple might also let other companies and apps integrate with Maps, which would not only provide additional visibility for Apple's maps app, but would also make it the clear navigation app for iOS users and developers alike.
Besides improvements to Maps, iOS 8 is also expected to introduce an application called Healthbook, which is said to provide users with health information to better manage their fitness activity. Though Healthbook is a sure hint at Apple's interest in wearable technologies (coughiWatchcough), integrating with Maps could allow users to visualize their fitness patterns throughout the day on a physical, interactive map.
It's clear that Apple Maps will finally get the leg-up it needs to better compete with the longstanding navigation apps. But what remains to be seen is how the mapping and navigation incumbents plan on improving their own platforms this year to keep Apple at bay.
Lead image by Madeleine Weiss for ReadWrite; lower photos courtesy of Apple and Shutterstock