Amazon released new Android and iOS software developer kits for its Amazon Cloud Drive service on Wednesday. For the first time, developers can bake direct access to Amazon's cloud storage into their apps, freeing users from having to log in to their Amazon account anytime they want to access their stored data.
Amazon Cloud Drive is different than the raw file-storage services Amazon has long offered directly to developers like Dropbox, who have then built their own interfaces to files stored in the cloud. It's a consumer-facing service, meaning this offering is more about giving developers access to the consumers who use Amazon Cloud Drive.
So far, Amazon notes that four Android apps and one iOS app have integrated the new mobile SDK: A+ Gallery, PhotoTime, TextMaker HD Basic, PlanMaker HD Basic, and Presentations HD Basic. Three more iOS apps—FiLMiC Pro, Vizzywig, and Cleen—will support Amazon Cloud Drive "soon."
However, it's pretty likely that more apps will start adding in Amazon Cloud support before too long as consumers begin to expect compatibility with whatever choices they've made in terms of cloud storage.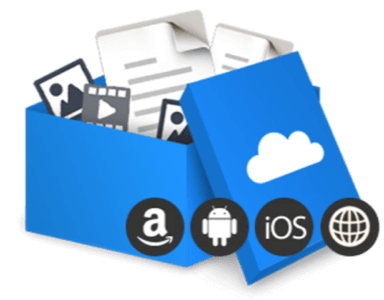 Cloudy Days
The good news is that Amazon's new SDK will potentially give users even more choices about the clouds in which they'd like to stash their data. As more apps support more storage options, users won't need to make decisions with regard to compatibility. Developers will likely begin to support as many of these different storage options as they can, giving users as few reasons as possible to eschew their apps because of lack of cloud support.
The bad news, however, is that this makes developers' jobs even harder as they have to choose which cloud storage services to support and leave out—or simply have to support all of them. It's wonderful that we're spoiled for options when it comes to storing data in the cloud—between Microsoft OneDrive, Box, Dropbox, Google Drive, Apple's iCloud, and Amazon Cloud, we've got an embarrassment of riches, and almost too many choices to deal with.
Take me: I feel guilty when I see my empty OneDrive folder on my Windows PC, since I decided to go with Dropbox as my cloud storage service. OneDrive might be great, but Microsoft Office on iOS and Android started supporting Dropbox not too long ago, so there was no reason to start storing files in two separate cloud services.
It seems a shame to have a perfectly good storage option going unused on my computer, and yet, using too many services will get crazy complicated. I've already got files split between Dropbox and Google Drive, not to mention locally on my hard drive. I don't need another option to muck up the situation.
So if consumers like me have a hard time choosing a particular cloud-storage solution, imagine the difficulties developers will have as their cloud choices grow.
That Amazon has thrown the doors open to its cloud service is a huge benefit to consumers who already use it. But too much fragmentation in any space can spell disaster. Every service a developer has to support adds time, cost, and complexity to their app. And if too few users show up for one particular service, it could potentially fold—meaning they've wasted that effort.
On the flipside, developers who don't support all the options that prove to be popular will frustrate users like me who have already made their cloud choices. In order to cast as wide a net as possible, then, it's incumbent on developers to support every option they can, which can be a major pain, too.
Choice is generally good. However, sometimes you can have too much of a good thing. A field crowded with too-similar choices might keep anyone from actually ever succeeding.
Lead photo by Olivier Noirhomme on Flickr; Amazon Cloud image courtesy of Amazon; Dropbox image courtesy of Dropbox