Living in California I've tested many air purifiers. Between the recent uptick in wildfires as well as the threat of Covid-19, peace of mind in breathing good air has saved my bacon more than once. Recently I got to try out the Aeris 3-in-1 Aair Pro — and color me impressed!
Aeris is fairly new to the US — and gaining in popularity. The Aeris brings to mind the mantra never send a small air purifier to do a big air purifier's job.
The high performance of the Aeris 3-in-1 leaves most other purifiers (literally) in the dust.
3-in-1 Aeris Aair Pro
The 3-in-1 Aeris Air Pro gets its name from the three layers of filtration Aeris has incorporated into its replaceable filter, in essence performing the job of three purifiers.
The first filter is a protective pre-filter, designed as the first line of defense against larger particulates.  The next layer is activated charcoal, designed specifically to capture gases and odors.
The final layer is its True HEPA filter that stops particles clear down to a tenth of a micron, protecting you from viruses that are on all of our minds these days.
Pricing
Coming in at just under $1000, the 3-in-1 is not the cheapest on the market, but the extra cost does bring some bang for your buck.
The unit boasts a 750 square foot cleaning area, which is saying something for its modest size. Standing just below 24" tall and about a 15×15" square, it takes up only a bit more space than other air purifiers.
Admittedly, the unit was heavier than I expected, coming in at about forty pounds, but it likely isn't something you're going to be moving too frequently. The filter itself, on average, lasts you about a year and is, at the time of writing, $199 to replace.

Pros
AQI
Something that I really liked in the Aeris is that it notes the actual air quality index rating (AQI). Most purifiers only give you a generic rating that will, at most, indicate general levels from "healthy" to "very unhealthy," often using colors for these blanket categories.
The Aair 3-in-1 actually shows you the indoor air quality rating on the unit while the app will display both the indoor and outdoor air quality.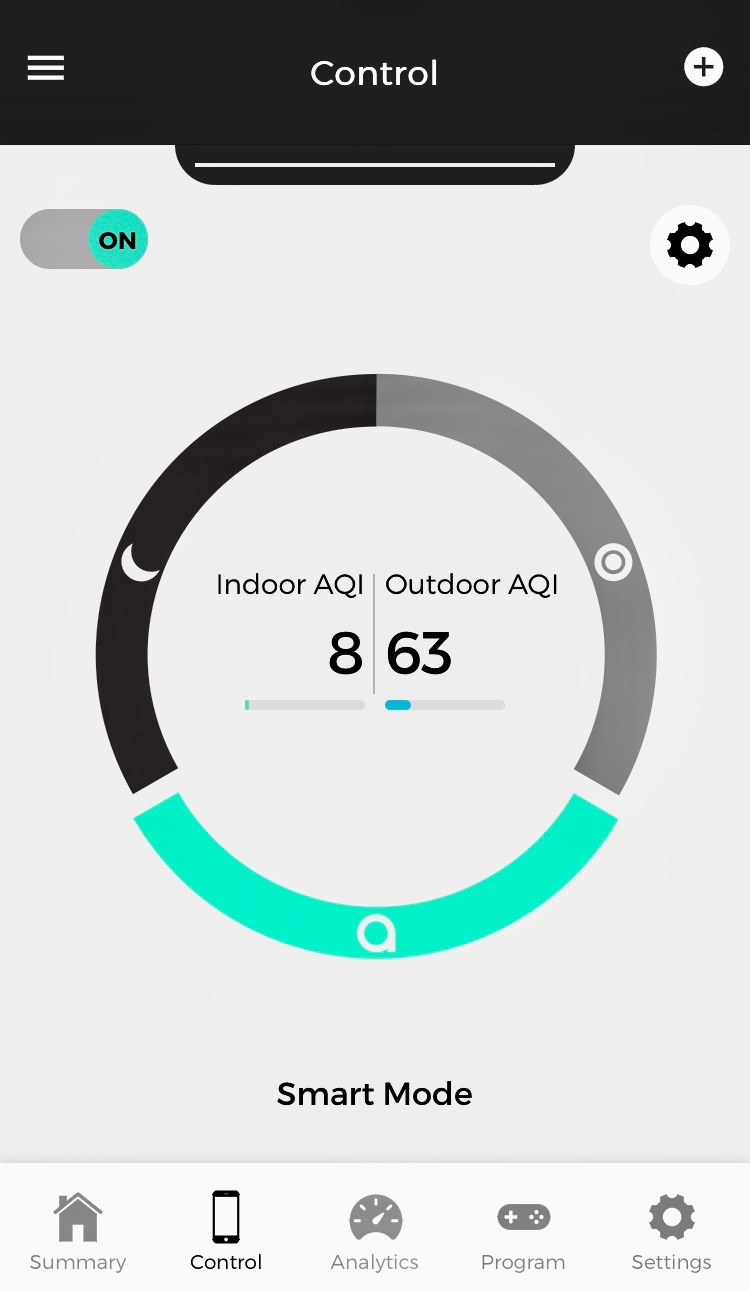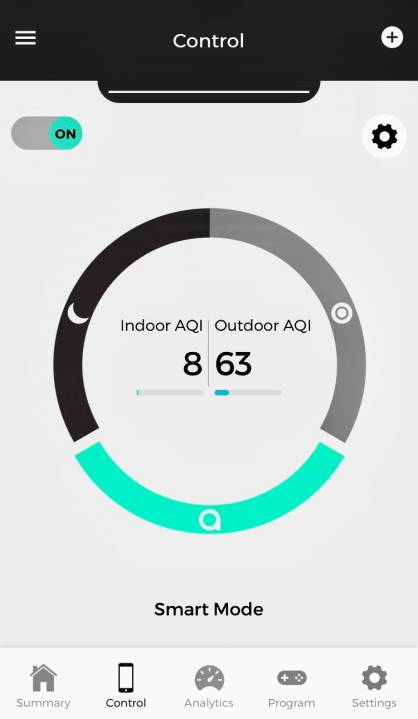 Covid-19
In addition to all the other particulates and pollutants that are removed from the air, it comes as some relief that the 3-in-1 Aair Pro has been tested specifically against Covid-19. Tests indicate that 94% of coronavirus was removed within two hours.
Side note: I was initially concerned that the testing noted "feline coronavirus." Upon further research, Feline coronavirus/Munich Strain is the alternative virus strain that is used as industry-standard testing because of its close relation to Covid-19, while being non-transmittable to humans.
AI
Aeris has also developed an AI that will learn with age. So, the longer you use it the better it will be at analyzing environmental patterns and household habits to boost its performance. While I haven't yet noticed a difference I look forward to seeing the improvements listed in my air-quality over time.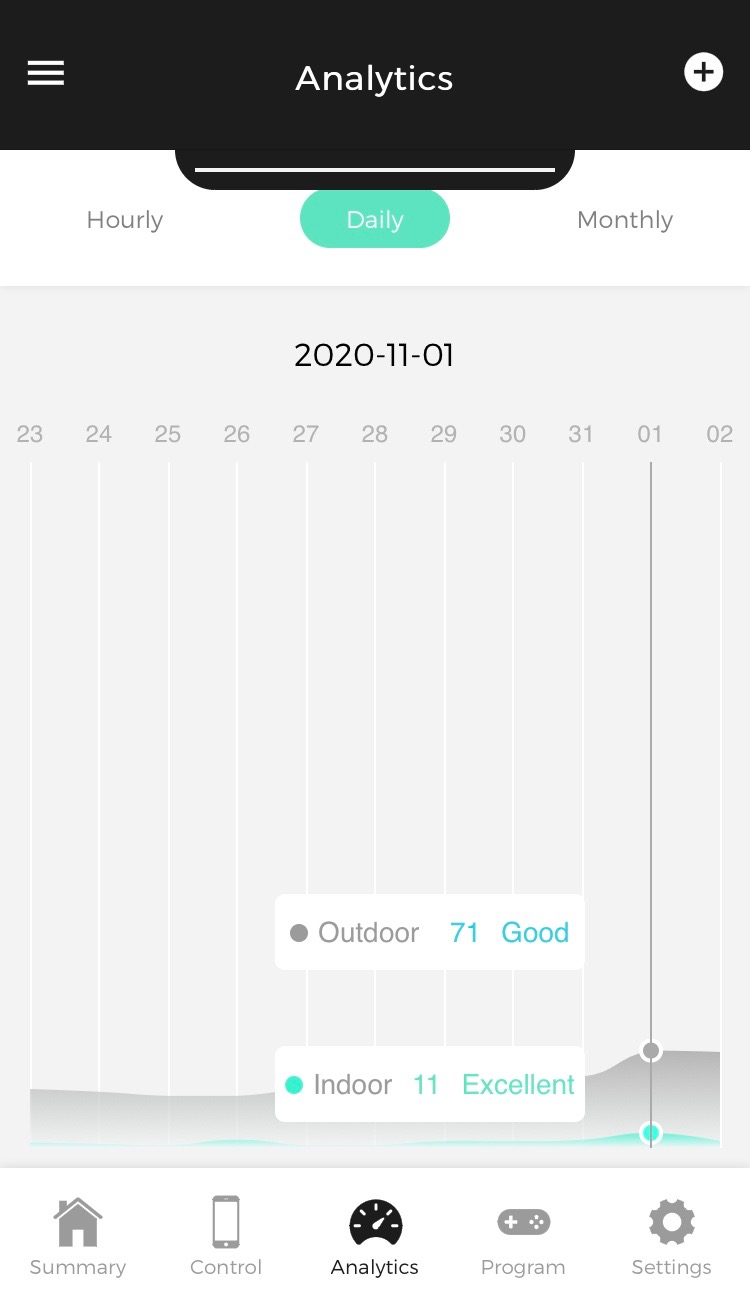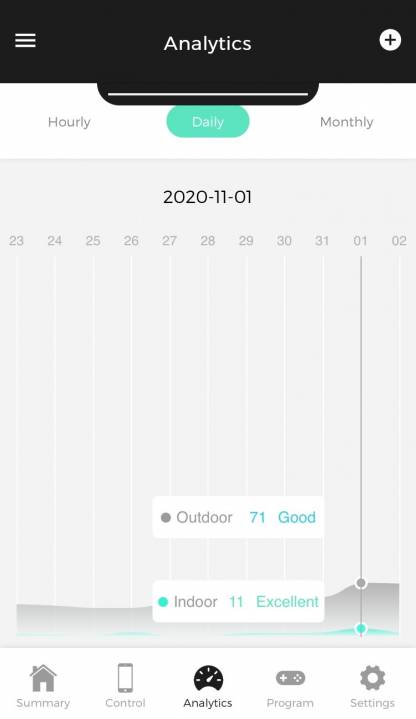 No Ozone
A large issue with many air purifiers is the generation and release of ozone. While these other purifiers may be purifying your air, removing pollutants, allergens, pollens, bacteria, mold, or other particulates — a hidden danger of air-purifying is the release of toxic ozone gases.
The Aeris 3-in-1 is designed to prevent the release of ozone. Having the quality of "NO-ozone" protects those in at-risk groups of asthma and other respiratory illnesses.
Environmental Changes
Of all the air purifiers I've used and tested over the years, I've never had one notice (and respond) when I'm cooking. It stands to reason that off-gassing and carcinogenic changes would be occurring while you cook — but this was the first time that an air purifier that did anything about it.
I took bread out of the oven, and within a minute of opening the oven, the Aeris sprung to life in the other room. The Aeris gave me just a small note — but that is really cool.
Cons
While there were many great aspects about the 3-in-1, there was one con that really stood out to me. At present, Aeris doesn't allow more than one user to be signed into the account through the app.
In the event that you try to log on from another phone or device, the app will actually kick off any user currently logged into the app.
I reached out to customer service and they were wonderful and quick to respond (A+ to their CX team). Sadly, it also doesn't seem to be an upcoming feature to change that anytime soon.
Only one signed-in user may be a real dealbreaker for many households who have multiple partners, roommates, or children who need to be able to access and control the unit's settings.
While you can increase fan speed and put into Smart Mode from the unit itself, it was a bit of a bummer to not be able to do so from the app on more than one phone.
One other minor thing to note is that the light of the unit does not turn off when in night mode which may make you reconsider putting the device in bedrooms — or remember you slumber mask.
Additional Notes
Modes: The device features a Manual, Smart, and Night mode. I generally keep mine in smart mode, with a few scheduled "Quick Cleans" now and then.
Noise: Smart mode's low fan setting is almost impossible to tell it's on. The Aeris is very quiet on the low settings. That being said, the unit can also pack a punch in the higher fan settings during Quick Clean.
Customer Service: A+
Unit Functions: You can see indoor AQI, raise or lower fan speeds, turn on Smart Mode, or power off.
App Functions: Indoor and outdoor AQI, change device mode settings (Night, Smart, Manual), view filter status. Analytics (Hourly, Daily, Monthly). Schedule modes, change account settings, contact customer service.
Connectivity: I was pretty impressed with the connectivity. I only had to connect the unit to the internet once, and it hasn't disconnected.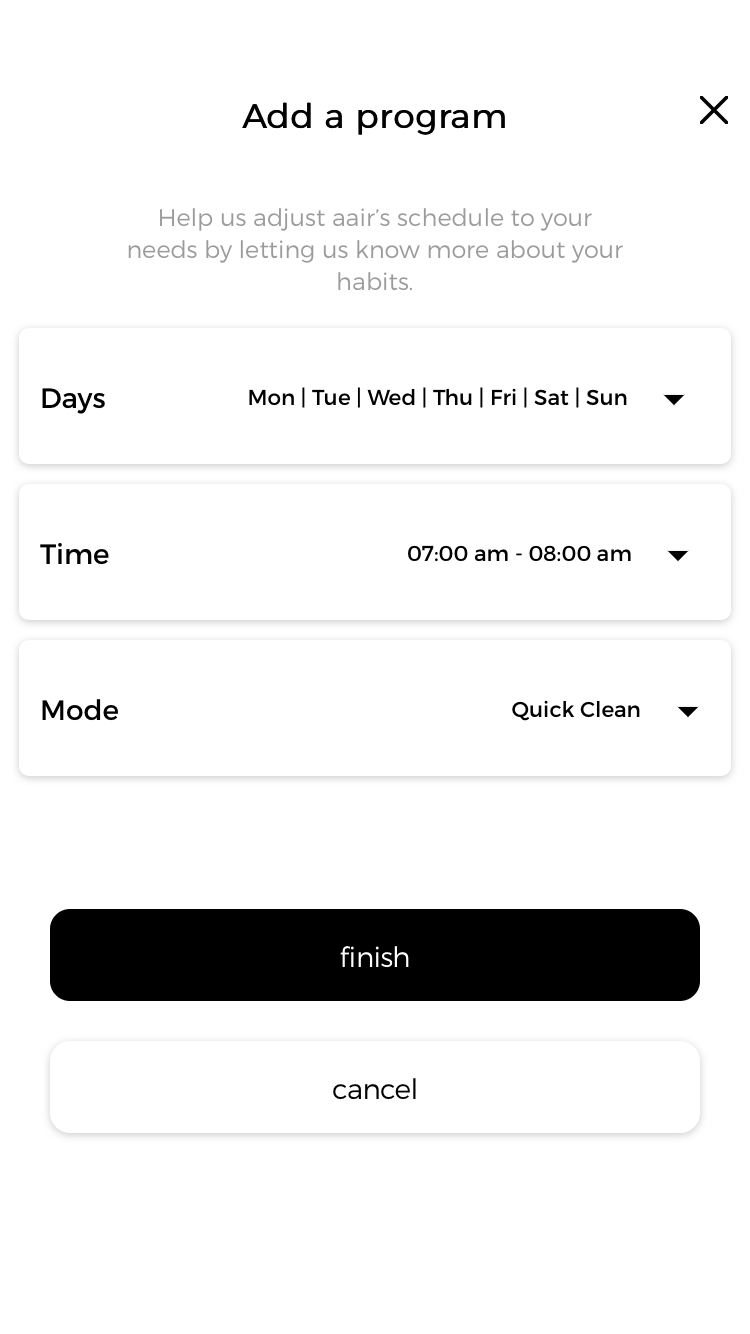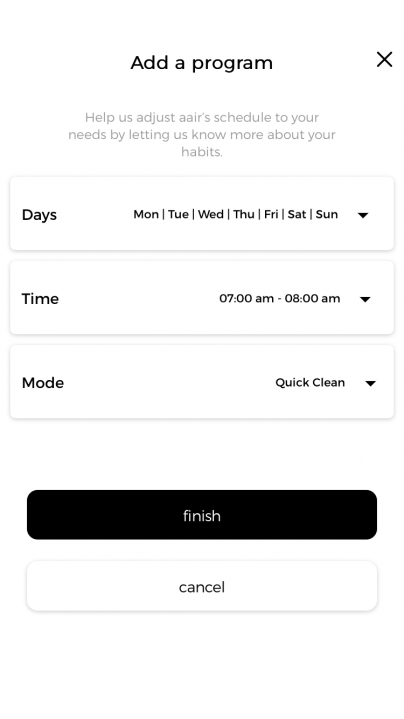 The Specs:
Room Size: 750 ft²
Fine Particule CADR: Up to 390 cfm
Gas-Phase CADR: Up to 115 cfm
CCM: P4/F4
Fan: EBM papst
Power: 25W (avg) | >50W (max)
Noise: 35 – 65 dB(a)
WiFi Connectivity: IEEE 802.11b/g/n
PM2.5/PM10 Sensor: aeris asense
Filter Class: F7 and H13
Gas Filter: Active charcoal and active alumina
Filter Layers: 3
Dimensions: 14.56×15.23×23.62 in
Weight: ~36lbs
Overall Thoughts
Overall, I really enjoyed this air purifier. The Aeris 3-in-1 Aair Pro is a big air purifier, with even bigger results.
Easily handling 750 feet squared areas, and giving you peace of mind in knowing your home's AQI. While it may be on the more expensive end of home air purification, this is one to seriously consider adding to your home.