Blogging for business has become a mainstream essential. All online businesses, irrespective of the size and industry, are using blogging to increase their brand visibility and leads. Here are six actionable content marketing tips to skyrocket your organic traffic.
In marketing, we popularly call blogging strategy "content marketing."
Even though it's a great channel to acquire leads, most organizations are doing it wrong. While they are able to publish content regularly, the "marketing" is where most of them get stuck.
According to a SEMRush survey, 52% of content teams struggle in creating content that attracts more traffic.  ngf4e w  So what is going wrong?
While there might be multiple reasons for failure, the inability to get organic traffic to articles is the major roadblock. Getting traffic from search engines ensures you get consistent traffic to your blog, unlike social media traffic that lasts for a couple of days.
In the past, I've helped multiple companies with their content marketing efforts, and it has been a steep learning curve.
Here is my best content marketing tactics to help you solve this problem.
In this post, I've majorly focused on B2B content marketing (blog posts), but most of the tactics work equally well for the B2C industry too. Let's dive into my favorite content marketing tips for 2020 –
1. Picking the right topic
While choosing the right topic might not directly impact your chances of ranking on Google, it's the most crucial part. The last thing you want is to bring irrelevant visitors through your blog.
Remember, it's not only about getting more organic visitors but attracting the right people to your blog too.
Ideally, you can divide the topics according to the different stages in the sales funnel.
1. Top of the Funnel
2. Middle of the Funnel
3. Bottom of the Funnel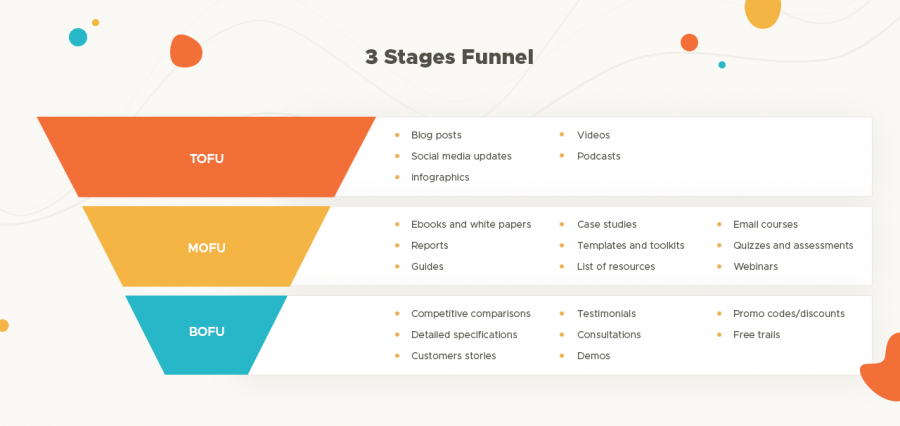 Source – SingleGrain
If there's a topic that doesn't fit in these three stages, chances are it's irrelevant for your company. So avoid writing about those topics.
To help you explain better, I've taken the example of Automate.io, a SaaS company that lets you integrate apps and automate workflows. I picked three posts from their blog from each stage to make my point clearer.
TOFU or Top of the Funnel Content

Any content that can help build awareness for your brand can be considered top of the funnel. The aim should be to attract as many relevant people as possible.
Example – 10 of the Best Email Marketing Strategies for E-Commerce Sites
Summary – If you see the above topic, it doesn't cover automation in general but still gives an introduction to automation in one of the points.
TOFU works best for brand visibility and might not necessarily get you quality leads when compared to other stages.
MOFU or Middle of the Funnel

With this type of content, your aim should be to influence visitors in the consideration stage to sign up for a trial or a demo.
Example – The E-commerce Business Automation Guide for 2020
Summary – The above topic targets Ecommerce businesses looking for automation solutions.
Remember to show the different advantages and features of your product when writing MOFU content. This will help convert more visitors into leads.
BOFU or Bottom of the Funnel

This type of content helps users to validate their purchase decision. Content types like a comparison post, buyer's guide, case studies (might not help get you organic traffic) are great examples.
Example – Mailchimp & Shopify Integration: How You Can Still Connect Them & Do More
Summary – The above post directly shows how Automate.io can help set up the integration.
2. Keyword Research is key
I can't emphasize the importance of keyword research enough when it comes to SEO. If you're looking to drive organic traffic you need to rank for terms people are searching on Google. Avoid selecting a keyword on the basis of your gut feeling.

The best way is you can do this is by using a keyword research tool like Google Keyword Planner or UberSuggest. Once you enter your keyword you'll see related keywords and search volumes associated with it.
For example, to optimise this post, I entered content marketing tips and I found the search volume to be 420 per month globally. In my search, I also found similar keywords like content marketing tactics, content marketing tactics 2020 and other related keywords that I could include in my content. Don't skip long-tail keywords.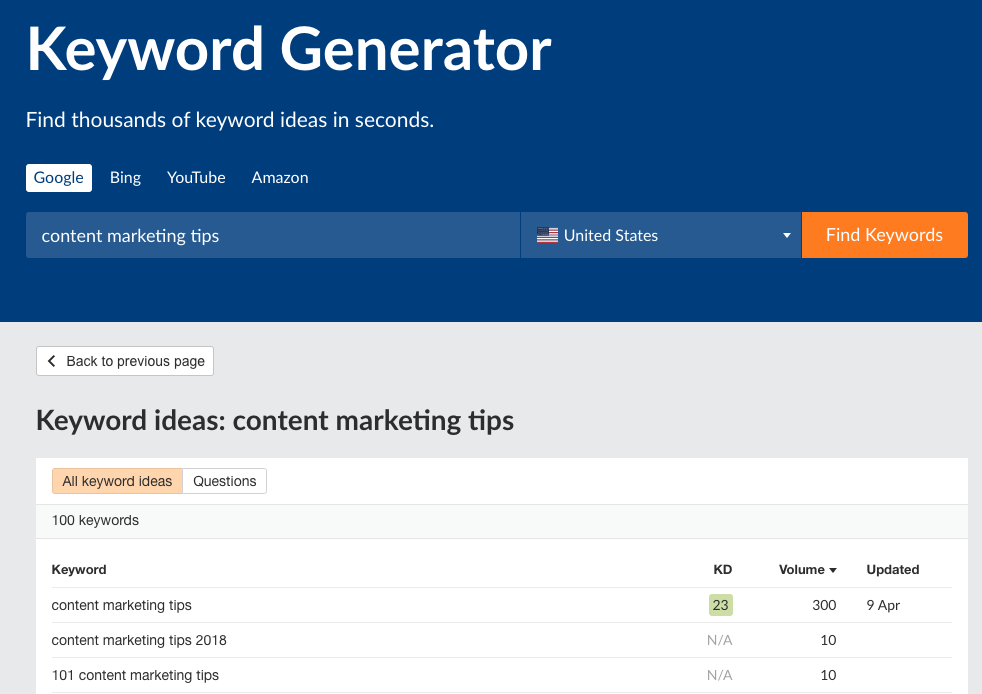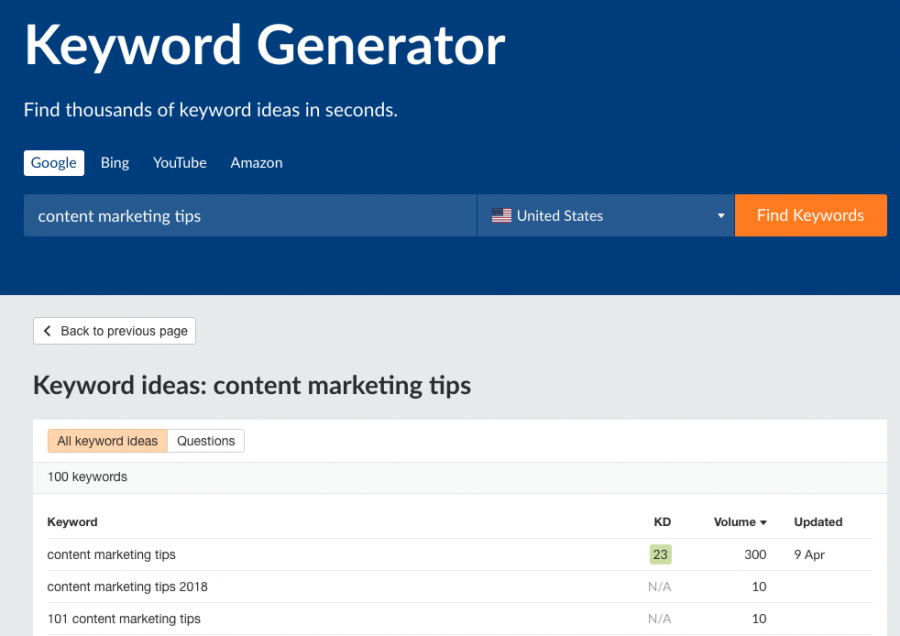 Source- Ahrefs
But your final keywords choices shouldn't be purely on the basis of volume. There are a lot of other factors like –
1. The difficulty of the keyword. Just do a quick google search and analyse the top ranking websites. I personally like to compare the DA of the top website with mine to see if I have a shot at ranking on the first page. If there's a huge gap, I usually skip that topic altogether.
2. If you're targeting a specific country or region, make sure to check region-specific volumes. Sometimes there can be a big difference between the global and country-specific search volumes.
3. If you're writing a blog, ensure that the keyword's intent is informational. In case you see a lot of product pages ranking for a keyword, it might not be the right keyword to target.
4. Apart from the volumes, check the keyword traffic estimation also. Read this article to know how you can calculate it.
3. Make it better than your competitors
You can only outrank a post by doing a better job than your competitors. Including more words is not enough. If you're planning to create content that generates a ton of inbound traffic, then you need to spend a lot of time in research and crafting it.

Here's what you need to keep in mind when writing content – 
Focus on making it in-depth whilst keeping the intent of the audience

Cover all the necessary information that the user might need 

Make it easier to skim by structuring the article well. Use a

page builder like Elementor

to add content boxes, tables and more. 

Add infographics, statistics, and videos to make it enjoyable and actionable

Try to be as original and authentic as possible
4. Promote, Promote and Promote
Let me ask you a question: how much of your efforts are spent on writing content vs content promotion? 
For most teams, it's 80% in writing content and 20% on promoting it. This is a huge problem. Remember, promoting content on social media and to your newsletter subscribers is not enough. You need to find other creative ways of promoting your content to reach your target audience. 
Here are some promotion techniques you should try – 
Community promotion – Try to promote your content in relevant communities and groups on Facebook, Slack, and other places. You can also look at online communities (like

GrowthHackers

) and other promotion platforms (example –

Zest.is

). Just ensure to engage first before posting your article.

Reddit and Quora –

These are clearly one of the most underrated channels when it comes to promotion. But if you use them strategically, you can see great results.

For example, Reddit can drive a ton of traffic and links to your post. You just need to be smart with your messaging.
Influencer promotion – Find relevant influencers using a tool like Buzzsumo and outreach them over email or twitter with your content.
Content repurposing – Even if your content is just text, it shouldn't stop you from converting it into a video and publishing it on YouTube. You can take a similar approach to repurpose into other content formats like audio, slides, infographic, a downloadable etc.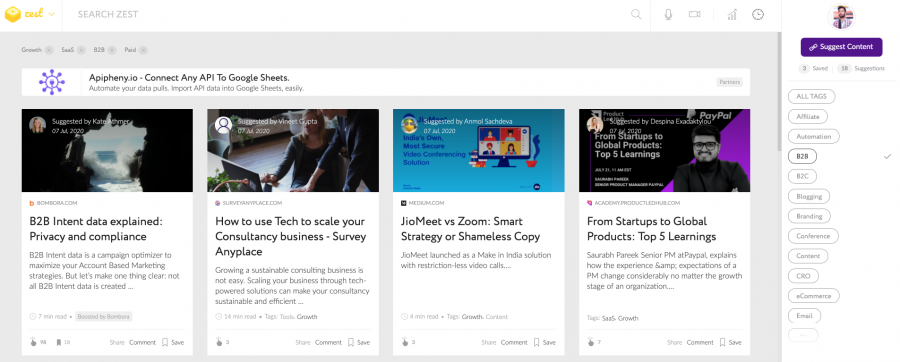 Source – Zest.is
5. Creating high-quality links
Honestly, writing and promoting your content is not enough to rank it on the first page of Google. In most cases, you need to create manual backlinks to improve the SERP rankings.

While there are many techniques to generate backlinks, here are few that has worked for well for me – 
Guest Posting – Even with all the rumor saying "Guest Posts are dead," it still works like a charm. Just ensure you're reaching out to the right site and pitching them relevant content ideas.
Focus on providing value, and you'll see great results with your efforts.


Here are some search queries that will help you to find sites that accept a guest post in your niche.
keyword intitle:"write for us"
keyword intitle:"write for me"
keyword  intitle:"contribute to"
keyword intitle:"submit" + inurl:blog
keyword "submit a guest post"
Reaching out to resource pages – Search for relevant resource pages on Google and outreach blog owners with your post. Make sure to give them a compelling reason as to why they should consider your post. A lot of times you just need to fill up a form to submit your resource. A blogger outreach strategy can be incredibly effective when done right.

Here are some search queries you can try –
Keyword +  intitle:resources
Keyword +  inurl:links
Keyword +  intitle:resources inurl:links
6. Keep updating the old articles
I know updating old posts can be a huge challenge, especially when you're working on an article that hasn't been written by you. But with so many changes happening in the world, at some point in time — your article will inevitably get outdated and lose rankings.
To prevent being outdated, you should make it a practice to update old posts. You can do this by adding relevant content, additional information, and internal linking it with the new pages. This work will directly help boost the authority of the article.
To identify such posts, I usually create a report every six months. You can change the timeline depending on the number of posts you publish every month. Regardless, if you see traffic for a post drop, it's a good signal for you to work on updating it.
I understand for most of us when it comes to increasing organic traffic, our focus is on adding new posts to the blog. But one shouldn't overlook the power of updating your existing posts to increase traffic.
Over to you
I hope the above content marketing tactics inspire you to ramp up your content efforts.  I feel it's all about changing the mindset and following a framework. Forget about your competitors. Remember, to equally distribute your efforts between writing and promotion. 
I understand implementing these changes might seem difficult at the start. But trust me, once you start focusing on driving organic traffic to your blog you'll see amazing results. Just align your activities with the goal of ranking on Google. 
Image Credit: austin distel; unsplash