3D printing, now effectively six years old, should be a blockbuster hit. It's science fantasy made real, a futuristic technology that would put devices akin to Star Trek replicators in people's homes.
Its pioneers believe that 3D printing—which uses a variety of techniques to build physical objects from digital designs and a variety of plastic liquids, sheets or powders—can do for manufacturing what 2D printers did for publishing. In short, they anticipate a desktop revolution that puts fabrication capabilities once reserved for big corporations directly in the hands of creators of all types (ordinary people, too).
See also: How An Army Of Makerbot Replicators Will 3D-Print The Future [Video]
Unfortunately, high costs, required technical skills and utter failure to convey its benefits have stalled the movement before it really got started. Now, though, several distinct trends seem likely to bust those barriers (though there are also caveats, of course; see below). Here's how it could all unfold—like a grand master plan for making widespread adoption of 3D printing a reality.
Step 1: Drop The Price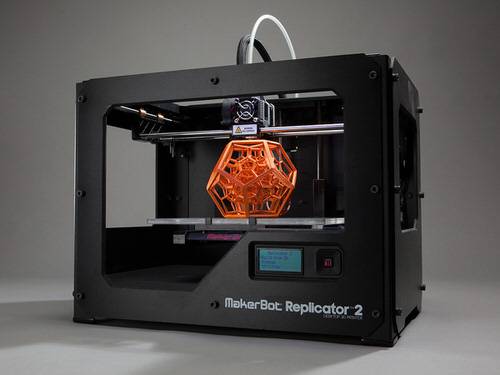 History makes one thing clear: Price can make or break new products. Just ask the Chromecast or the Surface RT.
MakerBot, which is now owned by commercial 3D printing firm Stratasys, charges far less for its Replicator than the tens of thousands that high-end professional printers fetch. But not everyone can afford $2,199 for a Replicator 2.
3D Systems' minimalist Cube 3D costs $1,299. Even less is the $499 Solidoodle, which was the cheapest unit I'd heard of … that is, until I spotted Pirate3D's Kickstarter campaign. That $347 Buccaneer printer is potentially a game-changer. The beautiful, compact machine (that's it pictured at the very top of this post) broke its $100,000 funding goal in the first 10 minutes. And by the end, it nabbed a cool $1.4 million in pledges.
Of course, you get what you pay for. The Replicator 2 outputs bigger, more refined objects (up to 410 cubic inches) than the Buccaneer, whose build volume maxes out at 114 cubic inches. But if the MakerBot is the professional laserjet, then the Pirate3D unit is the home inkjet— a petite hobby printer whose Applesque beauty makes it a deskworthy appliance.
Step 2: Make It Easy To Use
3D printers work in a similar fashion to their 2D cousins, just with different materials and techniques. Modern 2D printers expel ink, line by line, until a document or image appears. Likewise, 3D printers extrude PLA or ABS plastic material, layer by layer, until a physical object takes shape. Or they lay down polymer powders or liquids and fuse them into position, again layer by layer.
In both 2D and 3D printing, something needs to act as the print job, to tell the machines what to output. For 3D printers, that's a design or blueprint.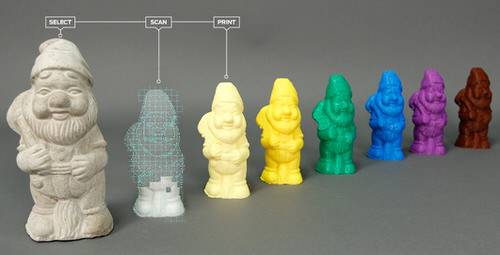 This is where things get sticky. Animators and architects may know computer assisted design, but the rest of us don't. And most of us never will, so user-friendly solutions are paramount. There's already some simple software that dumbs down professional design programs, but a few companies are going a step or three further.
MakerBot's Digitizer, unveiled last March, works like a photocopier. Users place small objects in the machine, and it scans and automatically creates a digital blueprint. The company also jumped on Microsoft's new native 3D printing support for Windows 8.1 recently. Its new drivers enable direct plug-and-play support with PCs, so people can use their favorite programs to create and print directly to Replicators.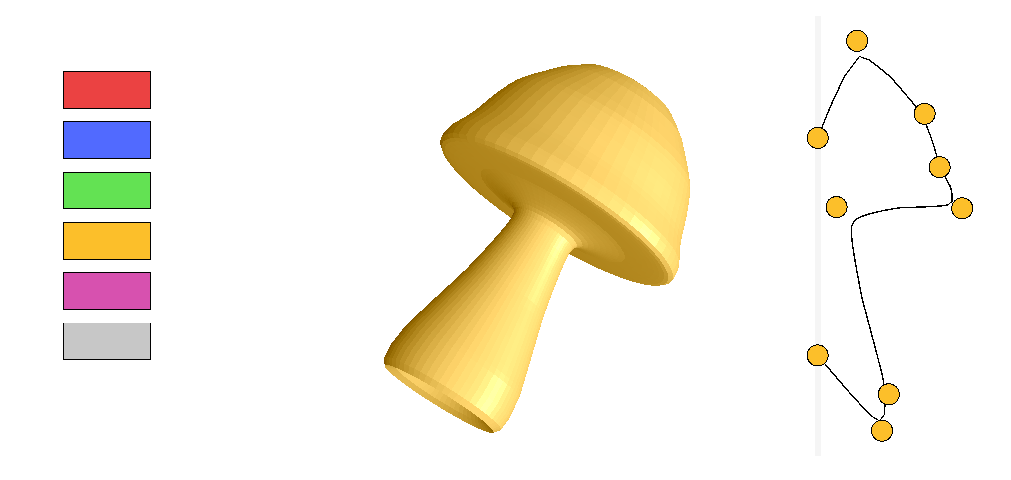 Pirate3D has a different approach. It offers a browser-based tool that uses drag-and-drop editing of "Smart Objects." Starting with a stock object, users can manipulate shapes and dimensions by clicking and pulling on the top, sides, etc. (For a demo, click here.)
Step 3: Show It Off
Despite the bad press over the possibility of 3D-printed guns, 3D printing's overall profile in the media has been positive. MakerBot stopped by The Colbert Report in 2011 before hitting Fashion Week a year later to offer 3D-printed sunglasses for menswear designer Asher Levine's new line. Doctors now save lives using 3D-printed surgical implants, and NASA's investing $125,000 to research printed food fit for space travel. (Looks like chocolate has been nailed. Next up: Pizza!)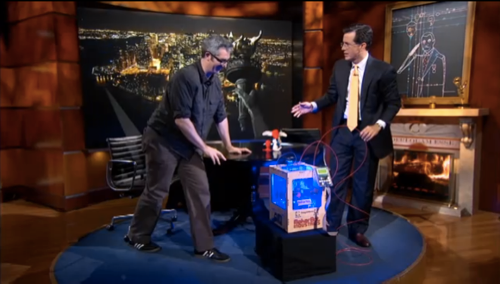 As the hype spreads, so do access and availability. Staples shoppers can now check out the Cube 3D in person, see the unit, ask questions and possibly even catch in-store demos. Microsoft will carry the Replicator 2 in its retail locations and online as well, joining MakerBot's own website and brick-and-mortar storefront in New York. And e-tail giant Amazon now carries the machines in a special section of its website.
See also: It's Cool That Staples Now Sells 3D Printers—But You Don't Need One
Other retailers, like Britain's Tesco, see another opportunity: 3D printing services akin to photo printing at the local drug store. This type of arrangement could be a magic bullet for the technology. It would give people a way to experience it without a large upfront investment. [Update August 2, 2013: 3D printing services have also come to UPS.]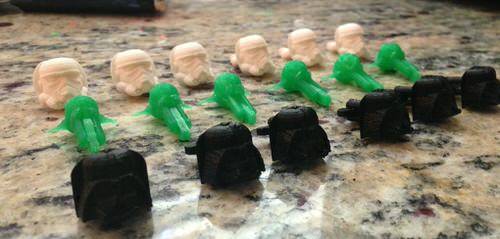 The Remaining Challenges
There's one more area the industry needs to focus on, and it's a simple, yet crucial one: Creating customer demand. That's an easy sell for creative niches like inventors, modelers and other artists who want to see real-life renderings of their concepts. But not everyone wants to design their own objects.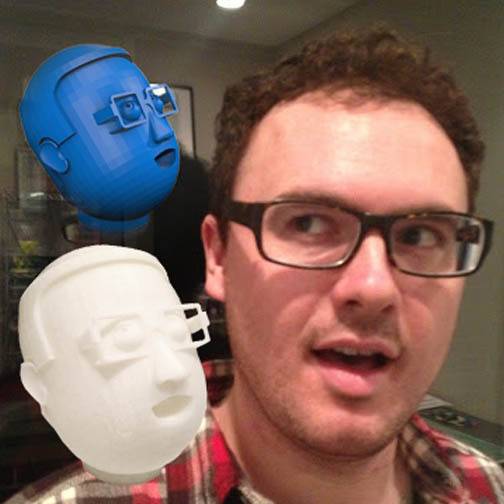 To appeal to mainstream consumers, companies should be promoting the heck out of MakerBot's Thingiverse, 3D Systems' Cubify.com and other 3D blueprint catalogs. People love to shop, and these sites are bursting with downloadable free and paid designs—including customizable jewelry, cups, keychains, smartphone cases, tablet stands, lemon juicers, Star Wars cufflinks and much more—that render faster than FedEx could possibly deliver.
One More Caveat
There's yet another potential roadblock to 3D printing, although its outlines are still unclear: Possible health concerns. A recent study out of the Illinois Institute of Technology (published in the journal Atmospheric Environment) found that commercially available 3D printers emit substantial volumes of potentially harmful nanoparticles.
On one level, this finding isn't a complete shock; 3D printers, after all, use industrial processes scaled down for home use. On another, though, this is clearly an issue the makers of 3D printers will have to address head-on—potentially with new designs incorporating safety features, should further studies confirm these potential health risks.
These blueprint stores could be the key. They are to 3D printers what app stores are for mobile devices. They're an alternative to online craft marketplaces like Etsy. And they could give a distinctly real-world spin on social sharing that trumps Likes and badges by giving people an easy way to create, transmit and share physical items, even over distance.
This is the final piece of the puzzle. More affordable pricing, ease of use and hot marketing hype have laid the groundwork. Now, it's up to the companies to capture the imagination of average Joe or Jane Customers. If they can do that, the consumer tech revolution the industry so badly wants may finally be poised to take off.
For more information about 3D printing, check out The Shapeways Blog or Make Magazine'sUltimate Guide to 3D Printing, or for more ideas for practical use-cases, visit this recent article from The New York Times.
Image of Star Wars cufflinks, Cartoon Character Maker and Citrus Juicer: Courtesy of Thingiverse users belch,sethmoser and walter, respectively
All other product/software images: Courtesy of companies as mentioned.
UPDATE August 1, 2013: Today another supporter joined the cause: The 3D Scan-to-Print Web App hopes to make 3D printing even easier for end users. Its mission, as listed on Kickstarter: To "create a printable 3D model of any object using only a depth camera and a web browser!" For more, click here.