This post appears courtesy of the Ferenstein Wire, a syndicated news service. Publishing partners may edit posts. For inquiries, please email author and publisher Gregory Ferenstein.
There's a new global ranking of startup ecosystems, with the top three spots all from America—Silicon Valley, Los Angeles and New York, according to tech company benchmarking firm Compass Startup Genome.
The company ranks global regions based on how well they foster top tech talent, host profitable businesses and expand into foreign markets. Tech startups looking for a place to call home may be deeply interested in its latest report—though perhaps they won't find it surprising.
See also: What Startups Can Learn From Jet.com's Awesome Video
According to Compass' findings, Silicon Valley is pretty much the standard by which the rest of the world compares itself.
Bay Area Bounty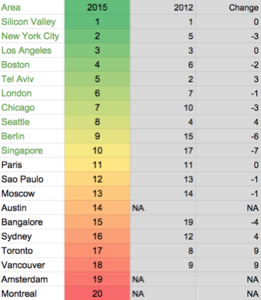 Over the last two years, the tech region just below San Francisco accounted for nearly half of all startup company "exits" (read: acquisitions or initial public offerings), capturing 47%. London came in at a distant second, with 10%, and LA struggled to get noticed, at 6%.
Silicon Valley tech companies' total GDP (gross domestic product) comes to a whopping $535 billion, besting the GDP average for North America, at $430 billion. The area plays host to between 14,000 and 19,000 active startups compared to the American metro average of 4,000.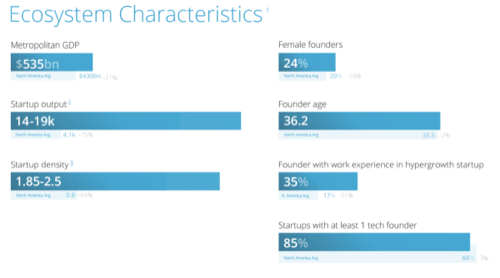 However, living near Google and Apple isn't cheap. Companies must also cough up more for salaries per employee in this area, averaging around $118,000 per year, compared to $91,000 for the North American average. But the region has nearly twice the national average of founders who already have experience in fast-growing startups (at 35% vs. 17%).
Looking Beyond The Valley
There's good news for tech businesses beyond the California and New York, too. When it comes to the industry as a whole, the pie is expanding at an impressive pace all over the globe. And some areas are even outpacing Silicon Valley's growth.
"… we see Silicon Valley growing at a 45% rate over the last two years, whereas many other ecosystems further down the index are growing at much faster pace," Compass wrote. "London has quadrupled in the same timeframe, and Berlin has grown 20 times (due primarily to the two big IPOs of Rocket Internet and Zalando)."
Berlin jumped 6 spots from 2012, ranking number 9 in 2015. Amsterdam and Montreal bring additional international flare, coming in at 19 and 20th, respectively.
As for other American cities, when you consider all the factors—such as talent pool and number of successful startups—places like Austin, Texas, begin to look even more appealing. The home of music and tech conference mecca South By Southwest, Austin is new to the list and ranks 14th worldwide.
In other words, the Bay Area may be the most prominent locale in the startup world. But if ambitious tech folks don't want to run the gauntlet there—or can't afford to—they may want to take a closer look at the options. Other regions seem to be ramping up and growing fast. Someday, they might even give Silicon Valley a run for its money.
Readers can view the full report here.
For more stories like this, subscribe to the Ferenstein Wire newsletter here.
Lead photo by Patrick Nouhailler