Reddit rolled out some rules on Tuesday targeting "viral" websites like BuzzFeed that traffic in listicles and other material plundered from Reddit users' posts.
Want to cut and paste that amusing post about the dude who trolled a crying kid by buying all the McDonald's apple pies and guarantee some quick clicks on your website? Need more examples illustrate your goat parkour photo essay? That's cool, according to Reddit. Just ask first.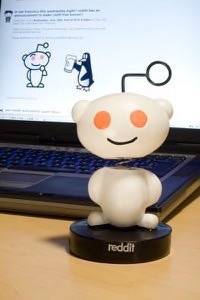 The new Reddit guidelines, pointed out by the New York Times' Mike Isaac, are directed at journalists who use the "front page of the Internet" as a source for trending news, information and photos.
The guidelines, called "pressiquette," short for "press etiquette," request that reporters ask the original poster—the "redditor," or Reddit user," in the site's distinctive language—for permission to use anything posted on Reddit.
Journalists are also advised to search the Internet to make sure it's an original photo. "Reposts," or posts of someone else's work that's been uploaded by another individual are quite common on Reddit, and it can be difficult to determine who owns the actual photo. One more complication: Reddit doesn't host photos, just links to them, so the company suggests asking people directly through the image-hosting sites they use, such as Imgur.
If you see an interesting story or photo on Reddit, message the redditor who shared the piece to ask for their permission prior to using it in an article or list, ask how they would like it to be attributed, and provide them a deadline before you move on to another story. Please respect redditors who may wish to stay anonymous, or to not be featured in an article.
Notably, these rules arrived shortly after BuzzFeed—which built its media empire on cute animal content cut and pasted from online communities such as Reddit—received a $50 million investment on its future.
It's unclear how Reddit will enforce these new guidelines, but if reporters do abide by the new rules, it will be quite time consuming to write blogs like "21 Questionable Back To School Shopping Items."
Image via Flickr user Eva Blue