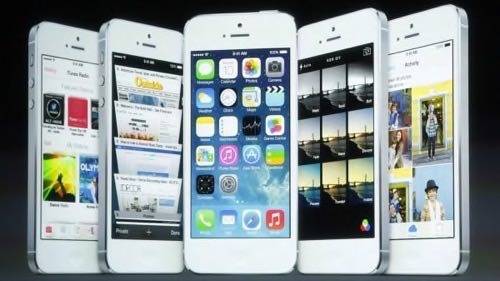 Social applications on mobile devices live or die on ease of use. Speed, performance and efficiency matter. So what do Apple's iOS 7 and new devices like the iPhone 5S bring to the table for the social user on the go?
Shoot More, Share More
Updates to the iPhone 5S camera announced today will no doubt appeal to amateur photographers and videographers. Users can now take better quality photos and videos with their iPhones. New camera features such as built-in image stabilization and standard filters will make for faster taking, saving and sharing of images.
More users are posting photos and videos online, and Apple is catering to those users by integrating Flickr and Vimeo into iOS 7. Users will be able to sign in to the photo- and video-sharing networks via the built-in settings application, which means easier access to the services similar to what iPhone users already enjoy with Twitter and Facebook. Apple ditched its native YouTube video app almost exactly a year ago, and Vimeo is a logical replacement given that it's YouTube's most serious competitor on the Web.
Flickr integration will make it easier to share and save photos with a single click. With the new integration, we'll probably see instant login-in options for a variety of App Store apps, like Instagram, using Flickr.
Both of these applications could see user growth as a result of being a standard social application on Apple's mobile devices.
Twitter Integration
When Apple launched iOS 5 back in 2011, its social network of choice was Twitter. Apple fully integrated it into iOS, simplifying the process of sharing photos, videos, and articles. Mobile Twitter signups immediately tripled. The launch of iOS 6 in 2012 included Facebook integration, making it easier for users to share directly from their devices.
But with the release of iOS 7, the two social networks are once again on an uneven playing field. Twitter is receiving a slew of updates that Facebook won't get, at least not yet. It's not clear whether preferential treatment is Apple policy or not, but for the moment, Twitter is clearly getting some additional love.
For instance, in iOS 7, Safari will feature Shared Links, a list of articles shared by people you follow on Twitter that are suggested by Apple and Twitter. Siri is getting Twitter integration as well, allowing users to verbally search what people are saying about topics and she (or he) will show users the resulting tweets. Siri can also post directly to Twitter, giving users a hands-free social experience.
Twitter also made its way into the new iTunes Radio, a Pandora-like service for Apple devices. The radio application features over 200 genre-focused stations, one of which—"Trending on Twitter"—plays the most popular songs on the social network.
Speed Up Your Social Life
Additionally, Apple announced a new 64-bit processor for the new iPhone 5 that will make posting, saving and sharing faster. Although the processor is geared towards gamers, general users will see an impact on the load times of their favorite apps.
The new background application refresh option makes sure social media feeds are kept up-to-date, even when you're not actively using them. This eliminates the time suck and annoyance of waiting for feeds to refresh when users want to see the latest posts from their favorite social networks immediately.
iOS users on devices other than the iPhone 5 can expect to connect to friends quicker on iOS 7. Social applications will load 11 percent faster on the new operating system, according to a report by application testing start up Appurify. The company took a look at the most popular social applications on the App Store and compared performance of the apps on iOS 7 to iOS 6 and determined that users can expect up to three seconds shaved off load time for many of their favorite apps.