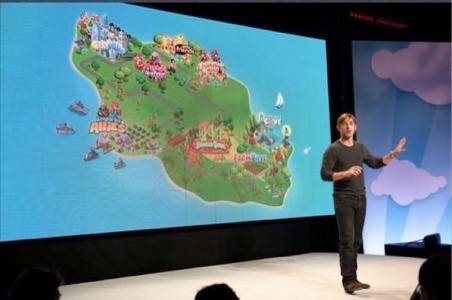 If this were a certain social network, Zynga and Facebook could probably agree that their relationship status is: It's complicated. Two new SEC filings on Thursday revealed that the social game-maker and the social network are putting a little distance between themselves, amending some rules of their multi-year agreement to give both companies a bit more autonomy.
What's Changing In The SEC Amendments?
According to the filings, Zynga's exclusive relationship with Facebook is dissolving. Loosening Zynga's collar means that the social gaming company can ramp up efforts on Zynga.com, and redouble its push into mobile, as CEO Mark Pincus suggested in a gloomy earnings call earlier this month. The company's own browser-based gaming HQ, code-named Project Z, launched this March. Project Z lays the groundwork for a more independent Zynga that could expand beyond the confines of Facebook's walled garden, and maybe even stop its slide. Zynga will also look to invigorate its flagging performance by trying its hand at real-money gambling titles.
Zynga games will continue to clog facebook News Feeds of course (isn't it time you fed those pigs?), but the game-maker will no longer be required to employ Facebook credits for micro-transactions or display Facebook ads on its games. These amendments also open the door for Facebook to nurture other gaming partnerships, or even develop its own games, though the company claims to have no immediate intentions to do so.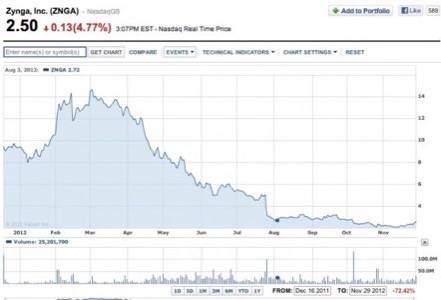 Zynga's Stock Takes A Hit… Again
Zynga's symbiotic relationship with Facebook is a troubled one. Now that the honeymoon is over, the social media giant seems happy to throw Zynga to the wolves. In its third quarter earnings call, Facebook noted that casual gaming was booming, but drew a distinction between the underperforming Zyngaverse, with its revenue down 20% in the third quarter of 2012, and the rest of Facebook's gaming ecosystem, which is seeing healthy growth. On the heels of Thursday's SEC filings, Zynga's stock took a roughly 5% dip down to $2.50 a share. The latest fall is just a drop in the bucket compared to Zynga's ongoing woes – the company has lost more 70% of its value over the course of 2012.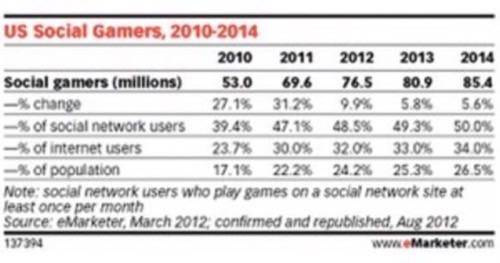 Breathing Room – And Room To Innovate?
Facebook might be the big dog here, but Zynga is still the biggest social game maker around. As we learned with Facebook's IPO, Zynga accounted for a whopping 12% of the social network's revenue in 2011. But if casual gaming rose sharply between 2010 and 2011, its fate is looking a little less certain at the end of 2012. Social gamers, many new to gaming, appear to be burning out on Zynga's cadre of candy-colored, cookie-cutter titles – which even Zynga itself admits don't innovate enough to keep gamers engaged.
But as social gaming slows, arguably into maturity, mobile gaming continues to explode. Projections from eMarketer estimate that mobile gaming will boom 19% in 2013, while social gaming will level off with around 6% growth in the coming two years. With a little more slack on its leash, Zynga needs to think fast – and think different – to break out of its social gaming rut.
But is mobile the answer? There's certainly growth there, but revenues are less certain.
Want to dig into the SEC filing yourself? Read the full text of the respective filings from Zynga and Facebook.
Lead image from Zynga.