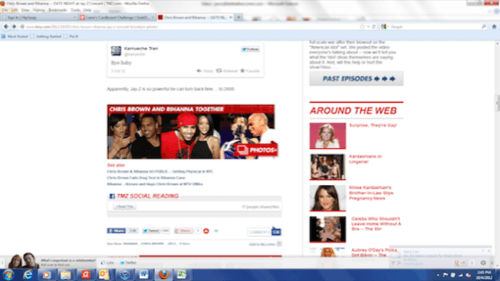 At one time, social readers – those spammy Facebook apps that broadcast everything you look at to everyone in your friend list – were a key component of the social network's strategy to keep members in the walled garden. Only one problem: users hate auto-sharing. Now a third-party company says it may have solved Facebook's dilemma.
So significant is yesterday's announcement by Janrain that is launching a transparent, one-click sharing app that Facebook joined the PR push. The social network's minions shared the happy news with reporters and tech bloggers who, like me, typically cover Facebook but may not be familiar with Janrain.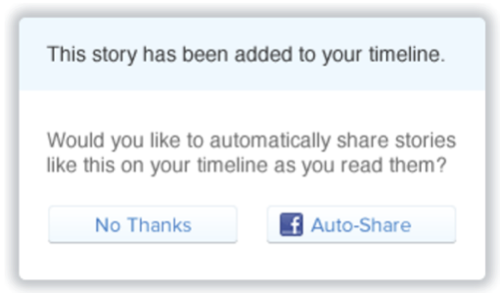 Social readers help keep a user on Facebook, allowing them to easily share and read content without going to a third-party site. But there has been user backlash as people ended up sharing articles they didn't want to share with friends and family. In May, in response to the user complaints, Facebook scaled back the amount of social reader articles being shared in newsfeeds.
The Janrain app, according to press materials distributed this week, still allows for seamless sharing of articles viewed in a social reader but gives users a sense that they have more control over what they share and how they share it. Users who opt in to autosharing of all content will still have a second chance to make sure they don't share it with all of their friends.
"Unfortunately, the current crop [of social readers] has seen a backlash from users who don't always understand that they are giving a website access to post about their activity online to their Facebook wall," Larry Drebes, CEO of Janrain, said in a press release.

How It Works
Janrain's one-click sharing works like most other social readers: Users can choose to share stories one by one or opt in to autosharing. The key advantage is that when they opt in to autoshare all articles, they will see a timer on their screen that counts down before sharing the link on their Facebook timeline. That gives users a chance to think about whether they really want to share "Tips to Spice Up Your Love Life After 60."
Janrain and Facebook did not release screenshots or offer a demo of the product before the release was made official at 8 am ET Thursday. But Ben Foster, Senior Vice President and Digital Strategist at PR and marketing firm Ketchum, said that if the clock is prominent, it will be a big advantage over previous social readers, which have alienated both users and their friends.
"The countdown timer could be the key product innovation here," Foster said. "It's easy to forget that you've enabled auto-sharing, and if that timer is designed well and easy to use, then users can both express themselves to their friends and also consume interesting content that they don't want their friends to see."