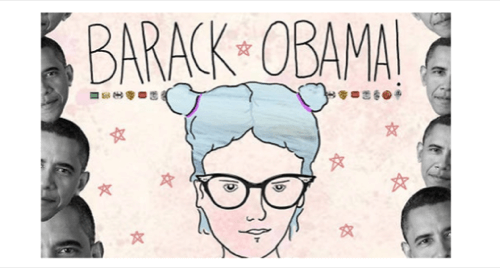 "Dear @BarackObama: Our homework's done, our rooms are clean, we did our chores. How about you do something for us now? #obama4grownman" tweets Rookie Magazine, the year old online teen publication Friday.
Rookie Magazine, which has attracted a readership of all ages and genders, is best known for its "Ask a Grown Man" YouTube series featuring celebrities fielding questions from teen girls on everything from relationship, fashion and school advice.
Banking on the President's penchant for unusual outlets as part of his "under the radar" and "unusual" campaign media strategy- from local radio hosts to the President's recent and historic Reddit AMA – the teen magazine has taken its campaign to Twitter with the hashtag #obama4grownman.
"I just decided to start a Twitter campaign to ask Obama to do Ask a Grown Man with no expectations beyond that it would be fun for me and our staff and that it would be funny and that it might get us five new Twitter followers," said Rookie editorial director Anaheed Alani in an interview with the Guardian about the Twitter campaign.
Twitter campaigns, believe it or not, have a higher than expected success rate. Just two weeks ago, Twitter personality and Community superfan @rare_basement appeared on The Late Late Show with Craig Ferguson after repeatedly tweeting at him. "Honestly, I didn't think this would work" said rare_basement on-air to an exasperated Ferguson. (Rare_basement happened to be in the neighborhood, as she was hanging out with the cast on the Communityset – a feat also set up through Twitter.)
But it did work, and chances are, Rookie's #obama4grownman will work too. Its founder and editor-in-chief, after all, is the sixteen-year-old Tavi Gevinson, the child prodigy of our digital age.
Gevinson's original blog Style Rookie – started when she was 11 – propelled her to Internet fame and caught the eye of top designers who courted her with front row seats at various Fashion Weeks by the time she was 14. Rookie Magazine was founded in 2011, and has left many a seasoned journalist in awe.
It's not hard to believe that Malia, Obama's oldest daughter at 14, probably reads the site and would think her dad cool for doing Ask a Grown Man. #justsaying.