Earlier tonight, Facebook CEO Mark Zuckerberg appeared on American TV news program 60 Minutes where he was interviewed by Leslie Stahl. In the interview, Zuckerberg talked about his life, his company, now worth an estimated $35 billion, and the Hollywood portrayal of Facebook's beginning's in the critically praised film "The Social Network."

60 Minutes also got a sneak peek at the new Facebook profile pages, which are being rolled out gradually, according to a post on the official Facebook blog. The new profile pages will be available to all of Facebook's 500 million users by early next year, says the company.
In case you missed tonight's interview, you can watch it here, courtesy of CBSNews.com.
Facebook's New Profiles
As for the new profile pages, Facebook says it made a number of improvements to make it easier for users to tell their story and learn about their friends.
The revamped Facebook profile includes an updated introduction section, with the basics of where you're from, where you went to school and where you work. However, on these new profiles, it's photos that take center stage. Now, the recently tagged photos of you and photos of your closest friends (as chosen by you) are highlighted, the latter in a section called "Featured Friends."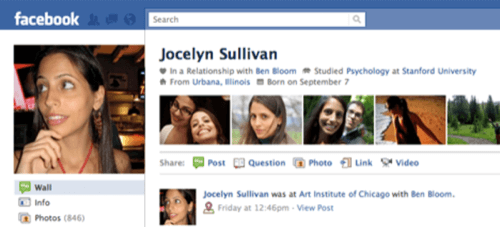 There's also more flexibility in how you can share your interests and activities, says Facebook. "You can list the projects you worked on at your job, classes you took in school, your favorite musicians and sports teams, and more," says Facebook's Josh Wiseman, one of the project's leads. "You can also share your life philosophy by connecting to the religions, political affiliations, and people you follow and admire," he said. All of these interests are represented by images now, which you can rearrange to showcase those most important to you.
Facebook sped up browsing photos through a new "infinite scroll" feature and improved its people search, allowing for more search filters including name, hometown, school and more.
You can read more about the changes on Facebook.com/about/profile, on Facebook's blog or you can preview them for yourself in the video below.
In addition, Facebook has posted an FAQ which answers users' top questions about the new profiles, including a juicy little tidbit about how you can upgrade early by explicitly opting in.