Siri has been getting a lot of hype over the past year. It's an as yet unreleased product that aims to be a "Virtual Personal Assistant" (VPA). At the recent SemTech conference in San Jose, I sat down with two of the founders of Siri: Dag Kittlaus (CEO) and Tom Gruber (CTO). I was informed that the product will launch end of summer U.S. time – starting out as an iPhone app, but later other platforms will be supported. The iPhone app will go into private beta July/August time period, then launch in Q4 2009 or Q1 2010.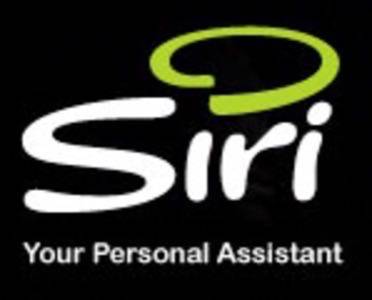 Siri has been preparing for this for some time now. While the product is still more promise than substance, I at least got to look at some real-life iPhone demos in San Jose.
Before we go any further: there is bad news for international users. Siri told me that the product will be US only for some time, which they claimed was due to the ecosystem of services it will utilize (Yelp, Google Maps and similar services). For international users, including this author, sadly we won't get to use Siri until the end of 2010 at the earliest!
What Users Can Expect (U.S. Ones at Least…)
Siri wants to enable a "person-centric world," rather than the device-centric one we have today.
Last October it raised $8.5 million and in November ReadWriteWeb named it as a Semantic App to watch, purely based on the promise of the app. Siri was spun out of SRI International and its core technology is based on the ambitious CALO artificial intelligence project. Siri is aiming to be a "personalized assistant that learns."
I asked Kittlaus and Gruber what specifically is in store for users of Siri? They told me that Siri will start as a mobile application, but it will become available over IM, email and other communication platforms too. Kittlaus added that you will be able to "access your assistant in the manner you choose." The iPhone app will be the first one launched, at the end of summer, however the pair were button-lipped about which device would be next.
Siri also sees a future for their product in smart devices, for example VCRs – where they could replace the instruction manual. The overall message is that Siri will be "a systems play in everyday systems." Later in the interview, Kittlaus and Gruber described Siri to me as an "intelligent interface".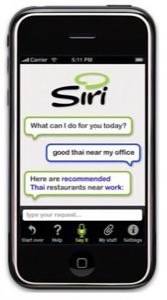 Siri wants to enable a "person-centric world," rather than the device-centric one we have today. In other words, they want Siri to serve the user and act as an intermediary between the person and the device. In the demos I saw, you could type or speak instructions into an iPhone – e.g. "What is a good movie about to start near my current location?" – and the product would deliver a textual and graphical answer.
Siri vs Chandler
I asked if there are any similarities between Siri and another 'Personal Assistant' product, the Mitch Kapor inspired Chandler – an open source project which re-defined the phrase 'scope creep' for the web 2.0 era (it finally reached version 1.0 status in August 2008, after more than 7 years development).
Kittlaus and Gruber replied that Siri will be very task-focused and will be much more pragmatic than Chandler. They claimed that Siri will "focus on domains we understand," such as movies and restaurants. They also noted that the time and place for a personal assistant product is now, due to rise of the Mobile Internet. So Chandler suffered from bad timing too.
How Will Siri Make Money?
As noted above, one business model for Siri will be partnerships with companies that make personal appliances such as VCRs. What other ways will Siri make money, I asked?
Siri will have affiliate agreements on transactions, such as movie tickets.
Kittlaus and Gruber told me that they will have affiliate agreements on transactions, for example movie tickets. What's more, their model will be CPA based – where advertisers define what they want Siri to do and pay for the outcomes. An example might be Netflix paying for every new customer.
Browser Technology to the Fore
We spoke a bit about the problems of designing Siri for many different devices. Siri is looking for browser technology to come to their rescue, pointing to WebKit's progress in the mobile browsing world. Siri is also looking for upcoming browsers to integrate functionality such as speech, which Siri will be able to leverage; inputting commands into Siri by voice is expected to be a big use case. As a lot of Siri's processing is done in 'the cloud,' and browser technology will be an important factor in the success or otherwise of Siri.
I think this is a pretty good bet by Siri, given all of the competition and advances in the browser space right now – check out what IBM is doing in a browser-related project called Blue Spruce, as just one example.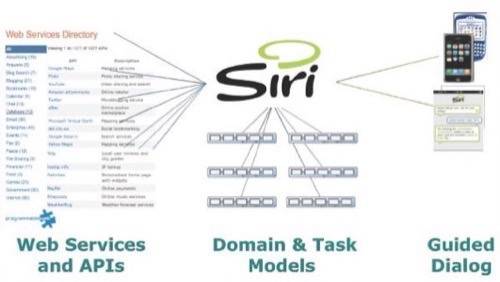 Mobile a Big Part of Siri's Vision
Mobile will drive a lot of Siri's vision. Gruber mentioned that mobile gives developers "a sensible closed world." Then the pair commented that a number of Siri's use cases are distinctly mobile.
The demographic that Siri is targeting initially is 18-35 urban and social.
The demographic that Siri is targeting initially, 18-35 urban and social, are early adopters of the iPhone and mobile in general. This user base is also a multi-tasking one. That again plays to Siri's goal to deliver personalized information in context, which these days usually means on a mobile device.
The proof – as always – will be in the pudding when Siri is launched at end of the summer to U.S. users. We think it's a great shame that international users won't be able to enjoy this product too, until probably 2011. In any case, you can see Tom Gruber give a demo of Siri in this SemTech video (slides here):