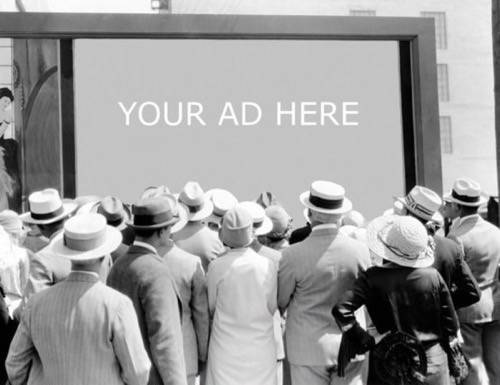 If we needed an event to wake people up to the power of native advertising, it's surely Yahoo's $1.1-billion purchase of Tumblr.
We'll be talking about this a lot at AdNatively, a one-day conference I'm emceeing in New York on Thursday, May 23.
So what is native advertising? A quick, simple definition: It's an ad whose form and delivery is identical to the content environment in which it is served.
The opposite, in other words, of interruptive advertising: billboards, takeovers, and big banners that take up space on the page but don't otherwise relate.
Tumblr's Real Value
So why did Yahoo buy Tumblr? People talk about the hip, cool vibe of Tumblr's network of millions of blogs. Or the younger demographic Tumblr has attracted, which Yahoo desperately needs.
But Yahoo doesn't need blogs and young'uns for their own sake: It needs them because marketers need them. And the only way marketers can reach Tumblr users is through Tumblr posts, which advertisers will pay to feature on Tumblr users' "dashboards" – the stream of posts from accounts they follow.
That's more theory than practice at this point. Yahoo hopes to turbocharge Tumblr's revenues through its large sales force, which has been itching to have more native advertising formats to sell.
Tumblr investor Fred Wilson of Union Square Ventures is delivering a keynote address at AdNatively. I'm keenly interested in what he'll have to say.
Wilson is also an investor in Twitter, which has a similar native model: Advertisers can pay to promote a tweet so it's seen by more people, or on Facebook, where sponsored posts get more prominent play in users' News Feeds.
Fuck Yeah, Native Ads
Native advertising is not without its controversies. A big one is the learning curve: Marketers must master each potential advertising environment and learn its intricacies, from Tumblr users' love for animated GIFs and the phrase "fuck yeah," to Twitter's peculiar language of retweets and replies to Facebook's maddening algorithms.
It's no wonder that some give up and just buy banner ads, which can be bought and sold by machine, almost like stocks. Native-ad environments are catching up, opening up their ads to automated buying and selling through application programming interfaces, but there's no question that native ads add complexity.
Native ads seem inevitable, though, as content consumption goes mobile and social. Back in 1994, when Wired's HotWired website sold the first banner ad, that little rectangle was arguably a native format adapted to the new medium of the Web. But Web browsing has evolved. If we're changing how we design interactive experiences for touch interfaces and screens of all sizes, shouldn't we change how marketers fit in, too?
Full disclosure: ReadWrite and its owner and publisher, Say Media, are actively thinking about the native-advertising question. ReadWrite runs ad formats, like sponsored posts, which some observers include in the native-advertising mix. So we're not just curious bystanders. But I promise you that ReadWrite will do its best to cover native advertising objectively and disclose when we have a stake in the game.
The conversation at AdNatively promises to be a rousing debate. If you're in New York for Internet Week, please join me, Fred Wilson, and others – ReadWrite readers get a 50% discount on attendance.
Image courtesy of Shutterstock.