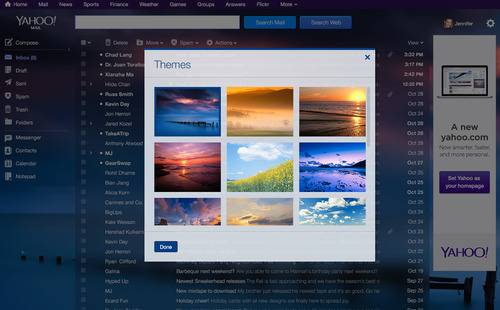 As CEO Marissa Mayer promised last month, Yahoo mail is finally getting a new look along with some additional features that mirror some of Gmail's offerings.
In an attempt to appeal to more users, Yahoo is introducing conversation threads for emails; one-click actions for searching, starring and deleting emails; and a collapsable toolbar. The company also introduced new features previously reserved for premium "Mail Plus" users who paid $19.99 a year, such as disposable email addresses, enhanced filters and automatic messaging and a full terabyte (that's 1,000 gigabytes) of storage.
Yahoo, by the way, is also renaming Mail Plus, which henceforth shall be known as Ad Free Mail. Sparing users from the sight of ads doesn't come cheap, though; Ad Free Mail will set you back $49.99 a year—a 150% increase over Mail Plus, although existing premium customers will get grandfathered in at the old rate.
Yahoo Mail users who want to dress up their inboxes will now be able to, thanks to Flickr integration and new themes. Gmail offers features similar to those Yahoo introduced today, although the terabyte storate dwarfs Gmail's 15GB.