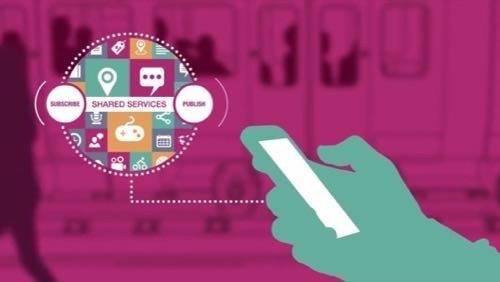 There's a new wireless technology in town, courtesy of the Wi-Fi Alliance. The group just announced a new Wi-Fi Aware certification program, which lets wireless devices discover each other, communicate and share basic information directly—no external network or additional hardware necessary.
Users might get an alert that Facebook friends are in the same coffee shop, or a warning about how long the queue is at the airport gate. Developers can also offer more nitty gritty privacy and availability settings on an app-by-app basis.
Think of it like proximity technology, but one that doesn't rely on GPS or your actual physical location—only where your phone is in relation to another Wi-Fi Aware device. And, the organization claims, the new approach offers a few distinct advantages compared to other location-based approaches.
Raising Awareness
Developed over the past three years by the Wi-Fi Alliance, a nonprofit organization backed by Microsoft, Apple, Intel and hundreds of other tech companies, Wi-Fi Aware shares a few similarities with Bluetooth settings, like those offered by beacons.
Both offer proximity-based functionality, and the ability to communicate without being on the same network. However, Wi-Fi Aware doesn't rely on pre-installed transmitters and, since it's based on Wi-Fi standards, the new technology has a longer range than Bluetooth. It also lets applications offer or seek services on nearby devices and exchange basic information, without having to first making a full connection to those gadgets.
"Devices form clusters and exchange small messages about services available nearby, enabling immediate discovery," the organization wrote in a press release. "Once an interesting service has been discovered, an app can easily initiate a Wi-Fi connection for follow-up activity such as sharing photos or playing a multiplayer game."
Kevin Robinson, Wi-Fi Alliance director of product marketing, told ReadWrite via email that "Wi-Fi Aware improves on existing proximity offerings by delivering a here-and-now contextual awareness solution that works well indoors and in dense environments."
He wouldn't discuss Bluetooth specifically, but noted that "a disadvantage of many existing proximity technologies is they only offer one-way conversations," he said. "So you can discover proximity to a uniquely identified service or device, but the benefits stop there." Wi-Fi Aware, however, allows for two-way conversation with no need for Internet or GPS connectivity.
That makes it seem like a successor to Wi-Fi Direct—which lets a device create its own Wi-Fi network for other gadgets to join. It's not. The group considers Aware a complement to Direct, not a replacement. Think of it as the technology that makes the introductions and exchanges bits of basic information, but lets Wi-Fi Direct establish a fuller connection when more information (or a connection to peripherals, like printers) is involved.
Forget Long Lines, And Short Battery Life
Plenty of proximity technologies can let users know they're near an airport security checkpoint. Apps that support Wi-Fi Aware, however, can let people know the current wait time at the checkpoint, or find other checkpoints with shorter wait times.
The organization makes special mention of the benefits that proximity-based or "personalized" experiences can bring to social media apps like Facebook, Twitter, Tinder, Snapchat and others. People can find friends easily, share photos at a concert or initiate a mobile gaming session at a crowded clubhouse. Interference should be no issue; in fact, the Wi-Fi Alliance promises that Wi-Fi Aware shines in crowded settings.
All that communication might sound like a power drain, but the group promises minimal cost to battery life. Once two or more devices are connected, it says, they adopt a common "heartbeat" where pings are synchronized to save energy.
The certification program has only just launched, but several chipmakers have already pledged support, including Intel, Marvell, Broadcom and RealTek. Meanwhile, app updates from the likes of Facebook and LinkedIn are also expected, possibly arriving by the end of the year—which could make for an extra social, contextually aware holiday season. If it can help beat back long checkout lines, then maybe it will be a merry season indeed.
Image courtesy of the Wi-Fi Alliance