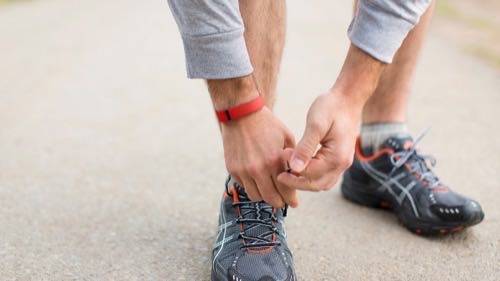 It's getting more and more difficult to tell the difference between a fitness tracker and a smartwatch. In September, Pebble added activity monitoring features to its devices, while both of the new trackers Fitbit launched in January can tell you what time it is.
Then there's the upcoming Apple Watch, which is first and foremost a smartwatch but comes with a slew of health and fitness features too. Is there any real distinction between these product categories any more? Or are we headed for a future where every wrist-worn wearable can track activities, display smartphone notifications, and show the time as well?
See also: Fitness Trackers Are Still Waiting For Their "iPod Moment"
Against this rising trend, bands that simply measure steps, heart rate and sleep may seem increasingly irrelevant. But they're not, and here's why.
Less Is More
Smartwatches have already won a loyal fanbase, attracting users drawn by the appeal of checking texts, previewing calls and snoozing emails from their wrists. But for some people, a flurry of alerts in such close proximity can be even more distracting than a smartphone.
In that regard, the stripped-down feature set of a fitness tracker is a benefit, not a drawback. These devices keep an eye on our health and fitness without any flashing lights or loud pings (though admittedly many of them buzz every once in a while).
They're useful in a passive, unobtrusive way. Let's hope the manufacturers remember that for the sake of people already up to their eyeballs in notifications and alerts.
Lightweight And Invisible
In most cases, the more discreet and invisible a wearable device is, the better (as Google Glass has discovered). Fitness trackers are about as discreet as wearables come right now, and in the future it's not difficult to imagine them becoming as thin as a rubber band—indeed, you can clip trackers like the Jawbone Move and the Misfit Flash can onto clothing or drop them in a pocket, and no one's any the wiser that you've got one on.
If you find yourself heading to the pool, taking part in team sports, going out in bad weather or climbing a rock face, a thin and sturdy strap is preferable to a delicate bit of gadgetry costing several hundred dollars (not even considering the tethered phone). For those who find Android Wear, the Pebble and the Apple Watch too flashy and too delicate, the fitness band still has a role to play.
The Battery Doesn't Give Up
When I first got my hands on my Jawbone UP24, it lasted a week between charges; a subsequent firmware upgrade has boosted that to a fortnight. With no display to illuminate and continuing improvements in power efficiency, these lightweight bands can go a long, long time on a single charge, an issue smartwatches still struggle with.
See also: Apple Watch Battery Supposedly Lasts Only A Few Hours Under Heavy Use
Whether it's getting off the grid, going on vacation or being away from a power socket for a prolonged period of time, longevity is important in all kinds of scenarios. Wearables are built to be worn around the clock, not removed for prolonged periods of charging or dropped in a drawer when they run out of juice—and here again, the humble fitness tracker has the edge.
They're Cheap
Not everyone wants to pledge a few hundred dollars to see if step-tracking can make a difference to their lives. The aforementioned Jawbone Move and Misfit Shine will set you back $50, while Xiaomi is trying to shift its band at the rock-bottom price of $17. As sensors and components get cheaper, that price could fall further.
Of course there are more expensive fitness trackers around, but $50 is a much lower ticket price to join the wearable revolution than the $350 base price of an Apple Watch. That low outlay is appealing for users (whether buying for themselves or others), but also for businesses who want to keep an eye on their employees as part of a wellness campaign.
Oh, and one final point: opting for a fitness tracker means you can wear a normal watch, too.
Sony, Jawbone and Fitbit are among the big players who still have a faceless fitness tracker in their product lineups, so these devices are going to be around for a while yet. Smartwatches may be grabbing headlines, but their wearable forerunners are still going to play an important role for —whether that's providing a cheaper entry point for newcomers or offering an alternative for those who want health monitoring without the bells and whistles.
Header image courtesy of Fitbit