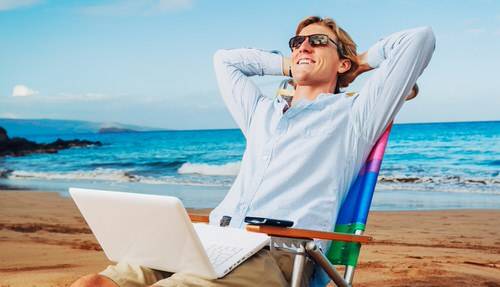 First Yahoo. Then Best Buy. In the last two weeks, two high-profile but seriously troubled companies have made very public crackdowns on employees who telecommute or work remotely.
(See also Forget Trends, Is Yahoo's Workplace Policy Right For Yahoo?)
Telecommuting Is Never The Real Problem
I'm not saying the moves weren't necessary to help the struggling companies recover, but everyone knows that telecommuting per se is not the problem here. The problem, in both cases, is a company culture of negativity, "coasting" and lax management.
How can you tell? Easy.
Lots of companies – probably including yours – have sensible policies allowing telecommuting for certain workers under certain conditions. Heck, increasing numbers of companies are run totally virtually, with no central offices at all – people work from wherever they are, and get together whenever and wherever they need.
In those kinds of companies, people mostly work remotely to avoid long commutes or to work for companies where they don't happen to live. Companies save money on office space and other fixed costs and get access to talent they might not otherwise attract.
It's a win-win situation for everyone. And they have productivity studies and management consultants by the bushel to prove it.
That's what happens in a well-run company, one with a future, and one where the vast majority of employees are committed to the company's success. No doubt, that's what it was like for Yahoo and Best Buy. In the beginning.
Telecommuters Get Blamed When Things Go Bad
But Yahoo's and Best Buy's fortunes soured and management clearly lost control over their increasingly disillusioned workers – who often wanted nothing more than to spend as little time as possible at the office. According to a New York Times story on Tuesday, many Yahoo telecommuters were working harder on side projects than their actual jobs. The Times claims that new Yahoo CEO Marissa Mayer "made the decision not as a referendum on working remotely, but to address problems particular to Yahoo."
That's exactly it. "Problems particular to Yahoo." And Best Buy. And whatever company announces a policy like this next.
(See also Another Reason Best Buy Is Doomed – And Why That's A Problem)
If your company starts to make noises about banning telecommuting, you can be competely confident that it's not about telecommuting at all. You can also be confident that your company has some serious cultural and productivity problems that it feels powerless to fix without drastic action.
They Had To Do Something
Do Yahoo and Best Buy know that their Draconian new policies will turn off some of their best workers unfairly targeted by telecommuting bans? That they won't be able to hire some valuable people who desire or require more workplace flexibility? That the polices will make them look technologically backward and borderline incompetent? That the policies actually mean they are technologically backward and borderline incompetent?
Of course.
But they've decided that things are so bad that they don't have a choice. That if they don't do something about their real problems, things will only get worse. These companies aren't in trouble because they banned telecommuting. They're in trouble because they had to ban telecommuting.
You could look at this as smart management taking required corrective action. Or you could look at it as a giant, lit-up red flag that the company is reeling out of control, sacrificing its long term reputation and success for a short-term shakeup.
Either way, one thing is certain: If your company bans telecommuting, your company is screwed. After all, do you really think a little thing like banning telecommuting is going to fix a company so messed up it had to actually ban telecommuting?
Image courtesy of Shutterstock.