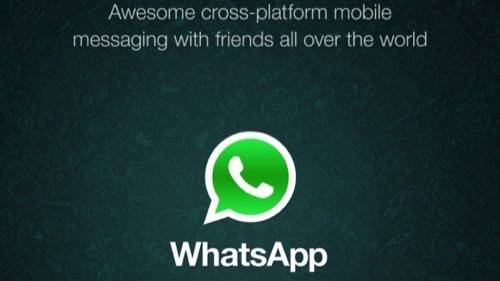 Hit mobile messaging app WhatsApp denies that it's in talks with Facebook, but that doesn't mean the idea of the social behemoth gobbling up an SMS-alternative app is crazy.
WhatsApp reached out to ReadWrite to deny the rumor, stating: "The reported story is a rumor and not factually accurate. We have no further information to share at the moment."
Still, an acquisition like WhatsApp would make perfect sense to help post-Instagram Facebook move into more of mobile's exploding markets – which is exactly the direction Zuckerberg says he intends to steer the company.
Facebook Is A Mobile Company (Now)
In spite of its massive resources, Facebook has a downright rocky mobile track record. Despite many improvements, Facebook's apps for Android and iOS are still known for being buggy and clunky, and its iPad app didn't even materialize until last Fall. This year, Facebook finally rebuilt its core app, ditching HTML5, which Zuckerberg admitted was a mistake to build on to begin with. Facebook for mobile is mercifully faster now, but it's not exactly inspired. The mobile version of Google+ offers a vastly more sophisticated and engaging mobile translation of a social app than Facebook.
At TechCrunch Disrupt this year, Zuckerberg went so far as to declare that Facebook had evolved into a mobile company altogether, noting that mobile users are more engaged – and arguing that makes them more naturally monetizable.
The Next Instagram?
With Zuckerberg alluding to big mobile plays in the company's future, aggressive mobile acquisitions might be just over the horizon. Just as Instagram made spin-off app Facebook Camera altogether redundant, WhatsApp would replace another in-house social app: Facebook Messenger. No one makes much of its lesser-known apps, made for sharing photos and messages respectively, but Facebook could do worse than to raze and rebuild them as it rallies around mobile.
What Else WhatsApp Has To Offer
Facebook and WhatsApp couldn't have a more different approach to making money. While Facebook is all about advertising, WhatsApp is stubbornly ad-free in favor of charging for its app. WhatsApp is currently sitting pretty in the Number 2 top paid iOS app slot, as users seem happy to shell out $.99 for the multiplatform messaging service. On Android, WhatsApp is free for the first year and $.99 thereafter. It wouldn't hurt Facebook to get some experience on how to successfully charge users for things.
Beyond improving its mobile experience and gobbling up a considerable chunk of users, WhatsApp also holds international appeal for Facebook. The app has carved out an SMS-alternative space in North America, Europe and Latin America, though the Asian market remains tough, with competitors like Kakao Talk and Nimbuzz, which are trying to make inroads stateside too.
Whether it's WhatsApp or another service – competitor Kik springs to mind – Facebook should be on the prowl for its next Instagram. Like photo sharing, non-SMS messaging is a white-hot space that Facebook needs to dominate if it really is as serious about mobile as Zuckerberg claims.