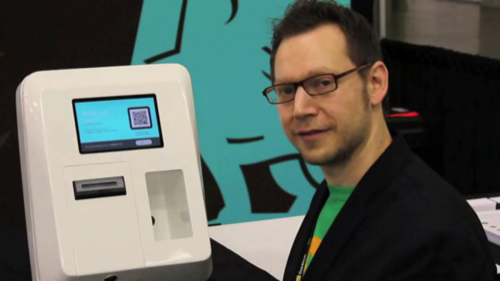 Choosing to use Bitcoin has always been about valuing privacy, innovation or deregulation over the convenience of fiat currency. But with the arrival of Bitcoin ATMs, users may no longer have to sacrifice one advantage over the others.
The Lamassu Bitcoin ATM claims to convert currency into Bitcoin in seconds.
Lamassu, Inc.'s video demo shows CEO Zach Harvey turning cash into Bitcoin by scanning his Bitcoin wallet QR code and then feeding bills into the machine. The machine transfers the money digitally. Since the machine doesn't have a way to spit bills out, the process is not reversible.
"We designed our machine to be usable by anyone and lower the barrier of entry for those who are simply curious about Bitcoin," said Harvey.
Priced at $5,000, Lamassu's ATM is not a financially solid investment for individuals. But the prevalence of such machines could significantly improve the convenience—and safety—of curious first-time Bitcoin users.
An Inconvenient Truth
For enthusiasts, the appeal of Bitcoin lies in the increased privacy and decreased regulation the digital crypto-currency provides. The drawback, of course, is Bitcoin lacks the convenience of government-backed currency, which is available at banks and ATMs around the world.
There are several ways to convert cash to Bitcoin today, and each has its shortcomings.
If you want to deposit bitcoins to your online wallet using a service like Bitstamp, you need to identify yourself using photo ID and proof of residence, which is hardly private. Obtaining bitcoins over an exchange like Mt. Gox can take weeks. Daily Bitcoins will send free bitcoins to your wallet, but only in tiny amounts. Buying in person with Local Bitcoins is billed as the most convenient way to exchange bitcoins, but only if you don't mind talking to strangers.
Andreas Antonopoulos, one of the hosts of Let's Talk Bitcoin, is a regular seller on Local Bitcoins. On a recent episode of the podcast, he discussed the reasons some new buyers could benefit from an ATM over face-to-face transactions.
"When I was doing Local Bitcoins… I offered a safe and secure environment for people to buy Bitcoin," he said on the podcast. "As a result, most of my buyers were young females who came by themselves to buy bitcoins. People who worried about this being a dodgy transaction. You don't want to be doing Craigslist-style purchases from strangers… Some people, for very good reason, would be more comfortable with a machine."
If a Bitcoin ATM were placed in a high-traffic area, Antonopoulos told ReadWrite, it could eliminate some of those safety concerns.
"I think Lamassu is very promising," he said. "They are approaching this the right way and they will be successful because they solve a real problem."
Lamassu is in the process of shipping 15 of its ATMs to various places around the world to see how they do. Harvey told Time Magazine that the machines will go to 13 countries including the U.S. Inside the U.S., one will be in Atlanta, Georgia, and the other will go to a yet unspecified location on the West Coast.
The second location will depend heavily on whether Lamassu can skirt California's strict regulations that govern money transmissions, which view the ATMs more as money-laundering machines than exchanges. Regulations can be laxer depending on the state, but all Bitcoin ATMs have to get around Federal anti-money-laundering laws, which are causing a chilling effect among Bitcoin ATM manufacturers in the U.S.
As Lamassu and other ATM manufacturers continue to place these machines around the globe, the Bitcoin barrier to entry could come crashing down. An influx of new users could mean more publicity for Bitcoin, as well as a shedding of the crypto-currency's alleged relationship to illicit use. But this could also be its "Eternal September" moment, instigating all the questions, concerns and faux pas that come with a huge newbie population.
ATMs may solve Bitcoin's convenience problem. But that's just one of the cards stacked against the burgeoning new currency.