Guest author Alberto Torres is the CEO of Atheer Labs and a speaker at Wearable World Congress, ReadWrite's signature annual conference in San Francisco on May 19-20. The event will feature key players who are shaping wearable technology and the Internet of Things.
Once a small hobbyist movement, the wearables industry looks poised to ignite mass consumer interest. Innovators and investors now flock to this space in droves, propelling the market for wearable devices in new directions—one of which leads straight into the workplace.
Technologies like smartwatches and smart glasses could offer major benefits for organizations looking for unique insights into their operations, potentially even saving them billions of dollars, according to consulting firm Accenture. But with all that potential comes a rather large caveat: The proposition of businesses managing and deploying body-worn devices to track or monitor workers can set off major privacy concerns.
Buy tickets now: Wearable World Congress, May 19-20
Organizations need to give due consideration to those issues in advance, to head off problems before they start.
Putting Wrists On The Clock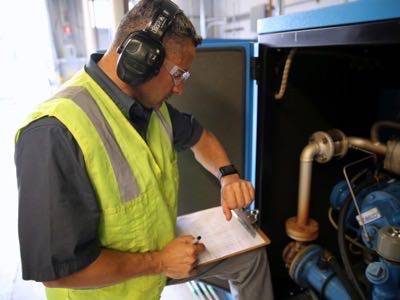 According to a recent report by Forrester Research, 68 percent of global technology and business decision-makers consider wearables a priority for their organizations. Meanwhile, only 45 percent of US consumers expressed any interest at all.
The wearables category may have been defined and led by fitness trackers like Fitbit and Jawbone, but in the enterprise, smart glasses and smartwatches lead the way. Such workplace wearables might even follow a similar adoption trajectory as mobile phones, which arrived on job sites a decade before replacing household landlines.
Venture into any office building or construction site today, and you'll see everyone from C-level executives to foremen doing work on their mobile devices. The smartphone revolutionized communication across the enterprise. The smartwatch has the potential to do the same. With technology's giants—including Apple, Google and Microsoft—making major investments in wrist devices, all signs point to them becoming the next major wave of mobile computing.
The launch of the Apple Watch, in particular, puts the spotlight on smartwatches in a big way. Using devices like that or similar ones from Android Wear or Pebble rivals, employees can carry out many of the same fundamental tasks they do on their phones right on their wrist—including checking calendars, reserving time for important meetings and setting alarms. On the job, the smartwatch can also put important notes at just a glance away. That could encourage employers to supply smartwatches, just as some provide smartphones.
See also: 11 Things About The Apple Watch That May Surprise You
There's another potential benefit that could outweigh individual productivity gains: Thanks to their connectivity, GPS hardware and sensors, smartwatches could deliver operational insights about a company's processes across industries like healthcare, oil and gas utilities, manufacturing, warehousing and logistics. For instance, companies could potentially track thousands of new data points about how employees work across warehouses or out in the field, to identify problem areas in the pipeline and retool them for greater efficiency.
But that doesn't mean widespread enterprise adoption will be swift or easy. Think of how long it's taken IT departments to embrace the cloud—and they're still not 100 percent of the way there. That's not the only obstacle. Turns out, one of the biggest challenges with work watches also happens to be what makes them so valuable: those tracking capabilities.
Company-provided wearables could trigger privacy concerns. Employers would have to address those head on, and be prepared to answer an array of questions—for starters, what data will be tracked? How will the data get stored? Who in the organization will have access to it? How will the information be used?
Organizations thinking about supplying smartwatches need to develop well-structured, fair protocols and well-managed procedures around those critical issues.
Eyes On The Job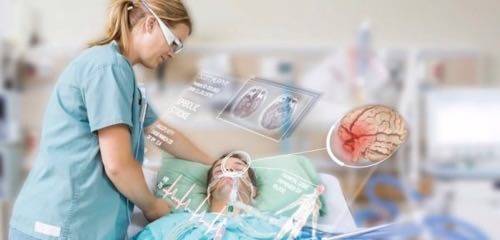 The value smart glasses or goggles bring to companies goes well beyond location tracking and basic computing functions.
Fundamentally, since they overlay digital information on top of users' fields of view, they can put key information directly into their lines of sight when they look around at the real world. This "augmented reality" could help employees perform tasks faster and safer, bringing computing and communications to places where traditional computers or mobile devices aren't usable or practical.
That's the promise Google sought to bring businesses with the original Google Glass, and when version 2 launches, the updated model will likely pick up that mantle.
See also: Google Glass Moves On From Google X, Lands In Tony Fadell's Nest
The medical sector, an early adopter of many technologies (like tablets), has been especially quick to embrace gadgets like Glass or Epson's Moverio. Those devices put critical information in view for doctors as they treat patients, and may even visually lay out a complicated procedure as they perform surgery.
The vision for AR as a hands-free experience has inspired numerous players—including my own company, Atheer, as well as Microsoft with its HoloLens—to actively work toward that by developing gesture-based interaction technology.
Smart glasses can boost efficiency for documentation and record keeping as well. Instead of relying on subjective descriptions, such as "swollen" or "enlarged," to document patient interaction, healthcare providers could capture patient interactions in real time with perfect accuracy.

See also: Holograms! Also, What Else Microsoft Announced At Its Windows 10 Event
Medical personnel wouldn't have to sift through filing cabinets or databases to retrieve electronic health records (EHRs). Instead, patient records could transmit in real time, as doctors make rounds or conduct examinations, with the relevant data possibly called up with a simple tap, voice command or mid-air gesture. Smart glasses could have a phenomenal impact on patient care, and that's just scratching the surface.
Once again, however, those scenarios could bring up privacy concerns, especially as they would relate to health records. For instance: During a patient visit, what can doctors capture and what should they avoid? Have patients given express permission to be recorded? How are the media files stored or shared, if at all? And with whom?
With every new technology comes an entirely new set of challenges to overcome. For wearables in the enterprise, privacy may sit near the top of the list. But it is by no means insurmountable, if companies are willing to ask the right questions and deeply consider how to address them. The benefits, they may find, may well be worth the work.
To hear more from Alberto Torres and other innovators and experts, register for Wearable World Congress 2015, May 19-20 in San Francisco.
Lead photo and technician with smartwatch photo by Intel Free Press; doctor with smart glasses photo courtesy of Atheer Labs