A introduction China's famed DJI (Da Jiang Innovations), the world's largest producer of drones world wide. This video features the history of the company, its founder, their financial statistics, and much more.
Below you will find the outline for the power point featured in the video:
An Intro to China's 100 Most Influential Tech Companies
1, Company History
Founded in 2006
Began sales in local market in 2008, expanding internationally a year later
In 2012, it developed stabilization tech to allow for high quality drone footage
In 2015, The Economist named DJI as being at the forefront of the civilian-drone industry
2, Meet the Founder
Frank Wang (汪滔 / Wāng Tāo) born in 1980 in Hangzhou
Received a grant of just over $2000 USD from his university, Hong Kong University of Science & Technology, as a grant to develop drone technology
DJI was founded out of his dorm at HKUST in 2006
Became the youngest tech billionaire in Asia
3, Financials
Private Post-Series B Company
$30 million Series A from Sequoia Capital
$75 million Series B from Accel Partners
Currently raising $500 million-$1 billion in Pre-IPO funding @ $15 billion valuation
Revenue of $2.7 billion in 2017
Growth of 65% year on year
4. Drone Line-up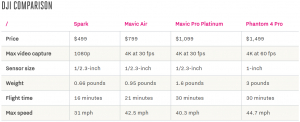 5, Maintaining Monopoly Status
70% global market share for consumer drones
70% market share for agricultural drones
China exports 70% of the world's supply of drones
6, Wrap-up
Preparing for an IPO
Expanding drone market, Chinese Ministry of Industry and Information technology:
40% growth for next two years
25% years after
ReadWrite, Spoke Intelligence, and LeaguerX entrepreneurial investment all made this video possible. To see more content like this, have a look at the previous video from the "100 Most Influential Chinese Companies" series on Tencent.
If you are an entrepreneur outside of China looking to explore the Chinese market and see the potential for your business to expand please reach out to us at LeaguerX. We specialize in bringing cross border technology companies to China and are now accepting applications for our acceleration program to help companies expand to the Chinese market.