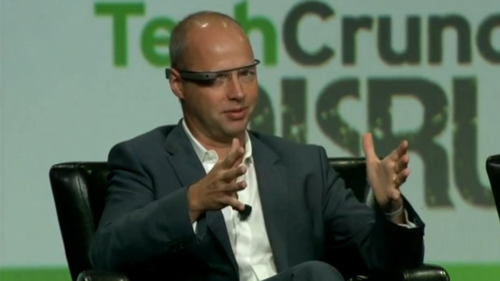 Massively Open Online Courses were upheld as the future of learning during a panel on new models in online education at the TechCrunch Disrupt Conference yesterday in San Francisco. But in reality, the program is getting low marks on its actual implementation in the state of California.
The TechCrunch Disrupt 2013 panel discussion united Sebastian Thrun of Udacity, an online course provider, and California Lieutenant Governor Gavin Newsom to talk about Udacity's radical partnership with California's education system. This year saw the largest scale MOOC experiment in the country, as San Jose State University partnered with Udacity to offer five courses to 2,000 plus pioneering students.
Thrun said MOOCs, or Massively Open Online Courses, are the inexpensive key to including more disenfranchised students in higher education.
"He's not talking about a lecture and putting it online. He's talking about a whole new model of education that takes the latest in terms of how we learn and incorporates it into a new platform of engagement that arguably will make learning more interesting, meaningful and life long," said Newsom of Udacity's education model.
It's a nice sentiment, but according to the numbers, MOOCs aren't there quite yet. The Udacity offerings were certainly affordable at $100 to $150 per course, but whether they worked for students is a different matter entirely.
During the spring semester starting in January 2013, Udacity offered three online mathematics classes to 300 San Jose State students. But students flunked in large numbers, with no more than 51% of students passing any of the three courses. In a traditional setting, the average pass rate is closer to 74%.
The experiment improved slightly during the summer semester, when Udacity offered two more mathematics courses. Eighty-three percent of students in elementary statistics earned a C or better, and 73% in algebra earned a passing grade. It would sound like a huge improvement from spring, except when you take in the fact that a whopping 40% of summer students opted to drop out (compared to 17% in spring).
Udacity's South By SouthWest panel pitch not only acknowledges the failings of MOOCs, but admits that some have up to 90% dropout rates (these courses do not necessarily reflect Udacity offerings). But during Thrun and Newsom's chat, the cold facts were disregarded in favor of an optimistic future.
"Look, this is not about replacing or changing campus education," said Thrun, "but that doesn't mean we shouldn't stop innovating."
It's no wonder that MOOCs have tenuous support among academics. But in Silicon Valley, Udacity is finding a lot of support for its innovation, despite reality's buzzkill. During the talk, Thrun announced the Open Education Alliance. Udacity is being joined by companies like Google, Cloudera, Autodesk, and fellow education providers Khan Academy and Georgia Tech to "[assist] in the curation and development of a new 21st century curriculum."
It's hard to get on board with this rosy view of the future when the present isn't quite so bright.
Watch TechCrunch's video of the entire discussion here.