Late last week Twitter rolled out a new image search function that previews photos at the top of queries. This improvement has been in the works for some time, and is a step towards a head-to-head battle between Twitter and social image giant Instagram.
Twitter says the move was made to "highlight the photos, videos and news shared on Twitter, all wrapped up in more social context," according to Tian Wang on the Twitter blog.
Search, Post, Share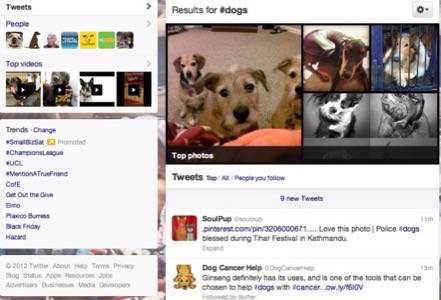 Right now, image results are only for selected terms. The use of hashtags before some words can determine whether or not the search function works or not. For example, dogs does not illicit results, but #dogs does (same for canine rivals cats and #cats). More terms will be integrated as the tool gets further refined.
Since its 2006 debut, Twitter has built a base of 140 million users and dominated the micro-blogging world. Up until recently, this content has been far more textual than image based. However, rear-view mirror competition has precipitated change. A slew of recent moves point to Twitter effectively declaring war against rival Instagram:
The addition of highlighted video news.
Image previews for articles and stories.
The new photo search.
Rumors of adding filters to images.
Despite Twitter's attempts, though, Facebook's Instagram, with a reported 100 million users, has kept its stranglehold on social photography. And it has moved to keep Twitter out by making it hard to tag Twitter profiles in Instagram posts (here's how to share your Instagram photos on Twitter).
Social media strategist Nick Cicero says Twitter's latest move is a fight to own social images. "It's really becoming a battleground for social image and rich media in general," Cicero said. "Twitter is putting an emphasis on sharing rich media, not just 140-character messages. Twitter and Instagram have millions of users with camera phones in their pockets, so the playing field is level. The goal is making the most attractive platform for people to spend the most time sharing their experiences through pictures."
Image courtesy of Shutterstock.