Twitter OAuth – oft promised but lagging in delivery – had begun to take on a mythical status, leaving many to wonder if it would ever be released. Now, that naysaying could be coming to swift end. It appears that Twitter OAuth has been released into the wild as part of a limited beta.

Why is this important? It means that Twitter applications now have a way to verify user identity without asking for a username and password. Those credentials remain the private property of the user – but he or she still gets access to the tool and his or her Twitter account. (For more on the topic, listen to Chris "@factoryjoe" Messina talking to Twitter lead API developer Alex "@al3x" Payne about OAuth and Twitter.)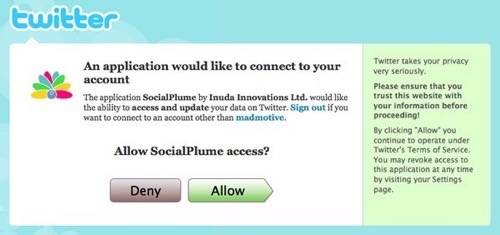 The team at inuda – Jonathan "@madmotive" Markwell specifically – reports that 150 other developers have been selected to participate in the OAuth private beta.
And then there's the Twitter OAuth page, that allows developers with registered apps to review their applications using Twitter. Chris Messina shares the beta user view, as well.)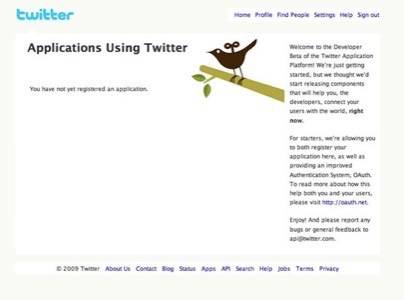 How do you know if you're in the beta? According to the Twitter Development group:
"If you're one of the 150 or so people included in the closed beta your settings page (http://twitter.com/account/settings) now contains a 'Connections' tab. In the sidebar is a little information and a link to register your very own application."
Needless to say, the news was well received by the Twitter development community.
Granted, Twitter OAuth is only in limited beta, but given Markwell's tweets and the inuda post it appears to be a straightforward implementation:
"We managed to get a prototype up and running within a few minutes with no problems so we think it's fair to say that you should never give your Twitter password to anyone ever again. In a few weeks all developers of Twitter applications will have access to OAuth and they'll have no excuse other than laziness for not using it."
Could we be seeing the end of apps that ask for your Twitter password? Will OAuth make an appearance in tomorrow's release of Tweetdeck? We can only hope.
If you'd like to befriend the ReadWriteWeb staff on Twitter here are our accounts – we'd love to meet you too!