Whenever I see something on Pinterest that reminds me of a friend, I immediately want to share it. Usually I'll share it on my friend's Facebook wall, or text a link to the post—emailing just seems rather clunky. I don't want to repin a friend's style on my board, and sometimes it's too personal to share publicly.
That's why I'm excited about the new Pinterest Conversations, a private messaging feature that makes sharing pins with friends—and then chatting about them—so much easier.
While Pinterest's new messaging feature is focused on sharing pins, the premise of taking a public post and sharing it privately could apply to text or links, like, say, tweets. And I hope Twitter is paying attention, because Conversations is exactly what Twitter's direct messaging feature should be.
Kicking Off The Conversation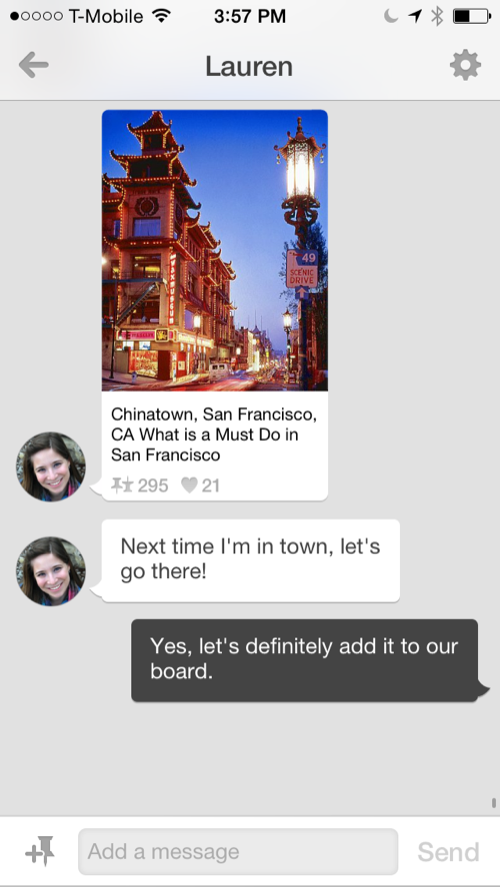 To send someone a pin, simply tap on the paper airplane icon and add your friend's name. It's the same icon that sends a pin as an email. In the mobile app, you can tap the notifications icon, and toggle to "messages" to reply to or compose chats. Chat heads—almost identical to those in Facebook Messenger—are used to label chats.
On the Web, you'll see a messaging option under your notifications, and messages will appear to the left of your screen. It's a bit slower to chat on the Web—if you're having problems sending and receiving messages and notifications, try logging out and logging back in to Pinterest first.
Conversations can come in quite handy for a maid of honor helping plan her sister's bridal shower or a group of friends creating a trip itinerary. You can add as many fellow pinners to a chat as you want, as well as search pins and add pins directly from the chat.
It's a great way to get feedback on a particular pin, but it also works as a smooth and simple messenger. There are no sticker packs, and no ephemeral photos—just pins, links, and texts.
It took five Pinterest employees one week to build a Conversations prototype, a Pinterest spokesperson told ReadWrite. When they presented it to company executives, the product was fast-tracked and implemented on all Pinterest platforms within three months.
Twitter, Please Learn From Pinterest
Twitter's direct messaging feature is in desperate need of an update. CEO Dick Costolo has been hinting about it for months, but short of a few minor tweaks, including adding the ability to send photos privately, nothing has changed. Direct messages still don't accept most links, and on both mobile and the Web, messages are still frustratingly slow and unintuitive.
There is hope, however. In an interview with Business Insider on July 29, Costolo said that the difference between Twitter direct messages and other messaging services like Facebook Messenger will be the ability to take a public tweet and discuss it privately with other people. In other words, Pinterest Conversations, but for tweets.
"Specifically, being able to take a public conversation and being able to migrate it to a private channel," Costolo told Business Insider. "So, taking a public tweet, and being able to have a conversation about that public tweet with a private group of people is a compelling use case."
Pinterest Conversations are simple to start, and because the application sticks to the basics—it's not bulging with unnecessary features—it does one thing and does it well: Starts the conversation around pins.
Replying publicly to tweets on Twitter can be intimidating. Most people have public accounts, and that means anything they tweet or link to can be seen by anyone on the Web. The only place there is any private communication on the network is in direct messages. By implementing a feature that allows people to send tweets to friends to reply in private, people might be inclined to have more intimate conversations around news and events, and share more frequently on Twitter.
Twitter has been slow to implement features of the Visual Web—something Pinterest pioneered. The social network took their time adding in-line images and GIF support, and recently acquired Madbits that will help them dive even deeper into images.
With Conversations, Pinterest once again introduced a feature Twitter should implement on its own platform. And hopefully it won't take Twitter as long to catch up this time.
Lead image courtesy of Pinterest.