Digital transformation is exciting, and it is happening all around us. It is not just a passing trend but a fundamental shift in the way we live, work, and interact with one another. There were the days we used to shop offline and rely on in-person banking for small tasks. We relied on print newspapers, magazines, and books to stay informed and entertained before the rise of digital news and media. Daily routine without technology looked very different from the way it does today. Digital transformation is also becoming essential for businesses of all sizes and industries. 
Why is Digital Transformation essential for businesses?
Digital transformation can help businesses stay competitive, improve efficiency and productivity, and provide a better experience for customers. It is becoming increasingly important in today's rapidly changing business landscape, and businesses that fail to embrace digital transformation risk falling behind their peers.
List of Top 10 Digital Transformation Companies in 2023
In this article, we will discuss the top digital transformation companies and their approaches: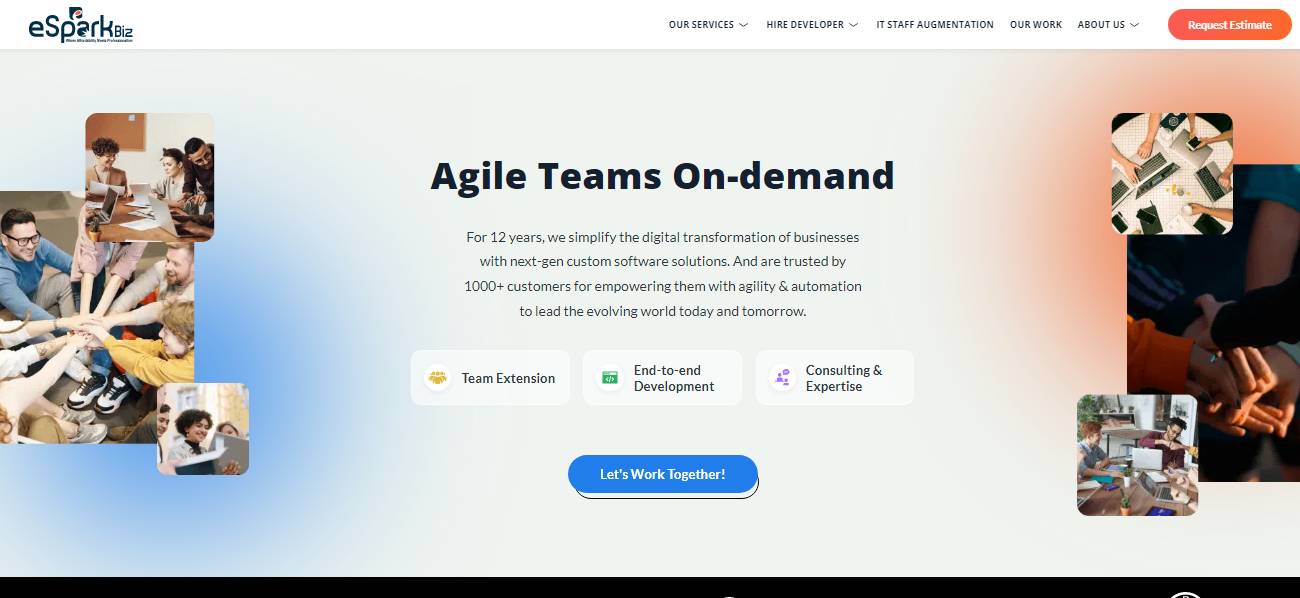 eSparkBiz is a CMMI level – 3 digital transformation company offering a range of services to help businesses navigate the process of digital transformation. It has a proven track record of success, having served clients in over 20 countries for 12+ years. They have a team of over 300 experienced professionals who can provide guidance and support throughout the digital transformation journey.
eSparkBiz team focuses on building both; technological and human capabilities to ensure that its clients are future-ready. It can empower the clients' workforce with cutting-edge technologies such as Cloud, IoT, AI, AR, and ML. They also offer services like Big data analysis, business restructuring, IoT modernization , UI/UX transformation, etc. They can help map a digital transformation strategy that aligns with the client's business model, automate processes, and optimize customer relations and workflow. The company's high client retention rate of 95% speaks about its commitment to delivering high-quality services and building concrete relationships with its clients. 
They are ISO 27001 certified, indicating that they have robust security measures to protect their clients' data. With high ratings of 4.9 on Clutch and 5.0 on HubSpot, they have a strong reputation for delivering excellent services and achieving customer satisfaction. Connect with their team if you are looking for top digital transformation companies.
Clutch Rating

– 4.9 

Established In

– 2010 

Projects Completed

– 1000+ 

Price

– $15 to $25 / hr

Time Zone Availability

– GMT, ECT, MET, IST, JST, ACT, AET, NST, PST, CST, EST

Min Project Size

– $5,000+

Employees

– 300+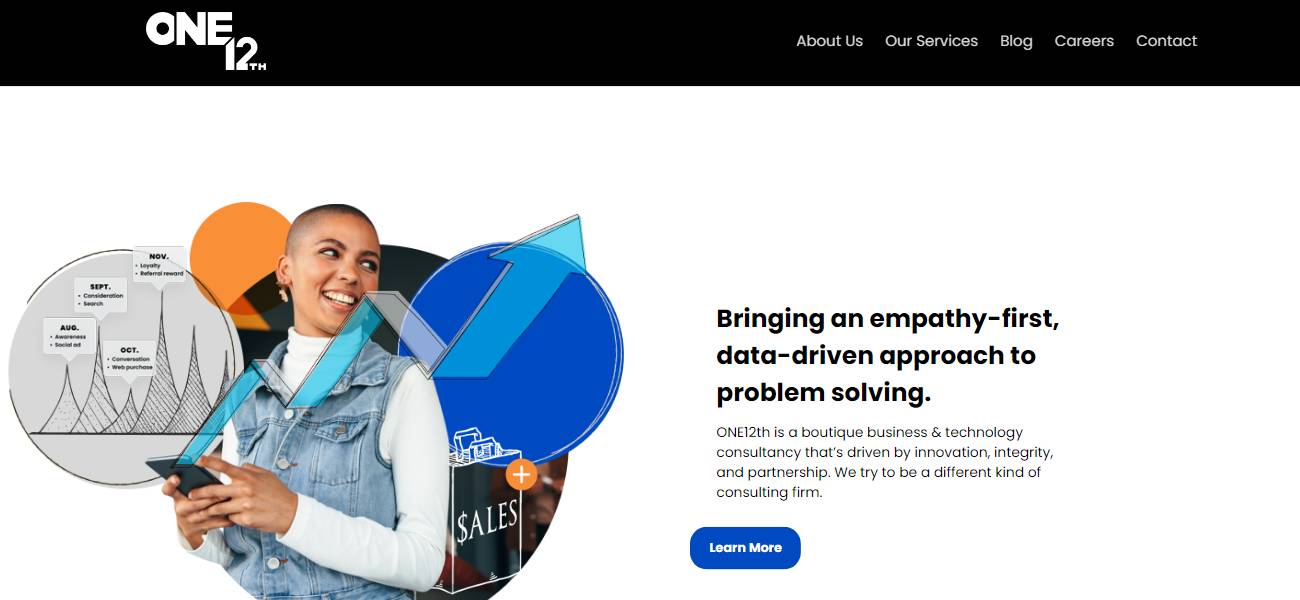 ONE12th is a management consulting firm that helps businesses and organizations achieve sustainable growth and success through effective strategy development, implementation, and execution. They provide many consulting services, including digital transformation, business process improvement, customer experience optimization, and organizational change management. 
Since 2012, ONE12th has been utilizing data-driven technology solutions to address customer issues. They are located in Miami, FL, and possess extensive knowledge and experience in the South Florida business landscape. Additionally, ONE12th Consulting has a team of experienced consultants in strategy, technology trends , operations, and marketing. They aim to leverage their collective knowledge and skills to deliver high-quality consulting services that drive long-term success for their clients.
Clutch Rating

– 4.9

Established In

– 2012

Projects Completed

– 35+

Price

– $100 – $149 / hr

Min Project Size

– $1,000+

Employees

– 50+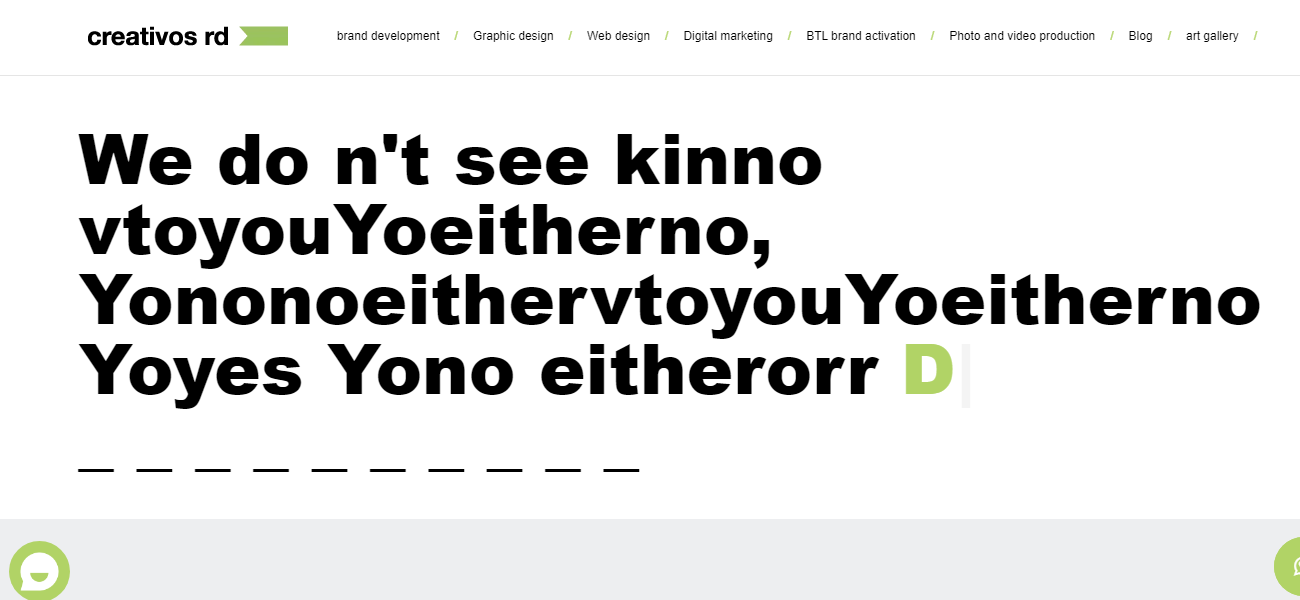 Creativos is a marketing and advertising agency based in the Dominican Republic that helps businesses build their brand. They offer numerous services for organizations to reach their target audience and enhance their brand image. Their services include branding and identity development, logo design, website design and development, social media marketing, content creation, video production, and more. 
The company's vision is to help businesses improve their online presence. Their team of professionals includes graphic designers, web developers, digital marketers, and video producers who work collaboratively to create effective marketing campaigns for their clients. 
Clutch Rating

– 4.8

Established In

– 2004

Projects Completed

– 10+

Price

– $200 – $300 / hr

Time Zone Availability

– CST, ECT, UTC, EET

Employees

– 10+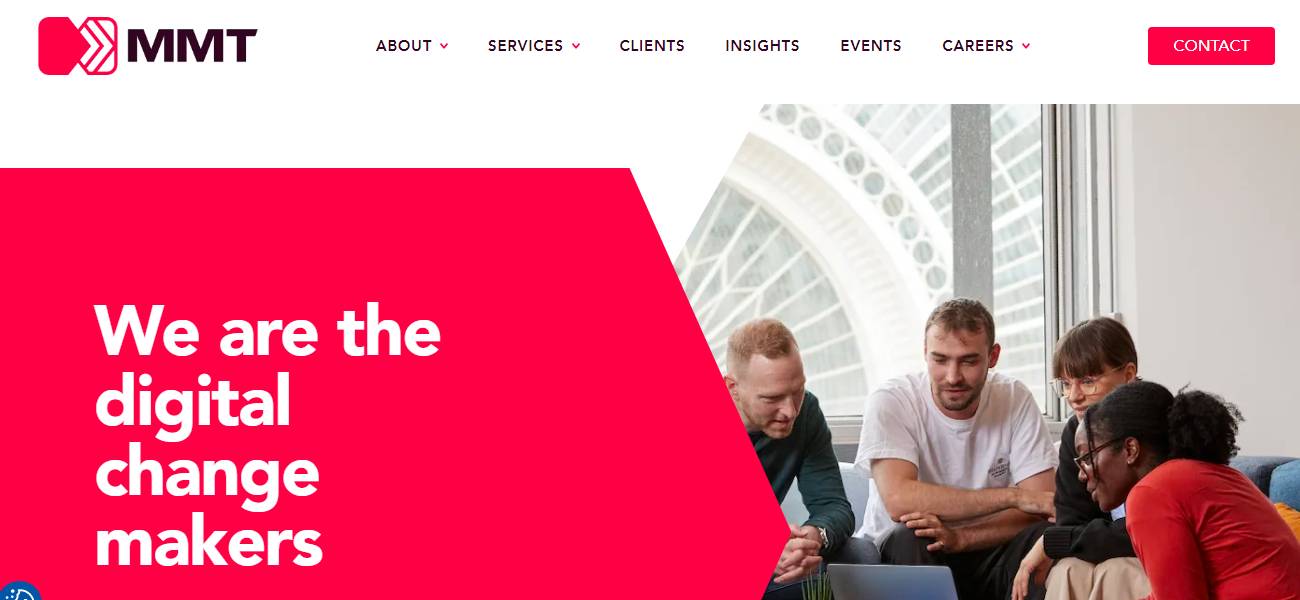 MMT Digital is a UK-based digital agency expert in creating bespoke digital solutions for clients in various industries. The company was founded in 1999 and has since worked with high-profile clients such as Vodafone, Translink, Sovereign, Elanco, etc. MMT Digital's services include strategic consulting, digital product delivery, UX design, cloud services, and more.
 MMT Digital was founded in 1999 and now operates with over 250 employees, with offices in London, Leeds, and Uppingham. The company is known for its agile approach to project management and has won several awards for its work, including recognition for its use of emerging technologies.
Clutch Rating

– 5.0

Established In

– 1999

Projects Completed

– 300+

Price

– $150 – $199 / hr

Min Project Size

– $10,000+

Employees

– 250+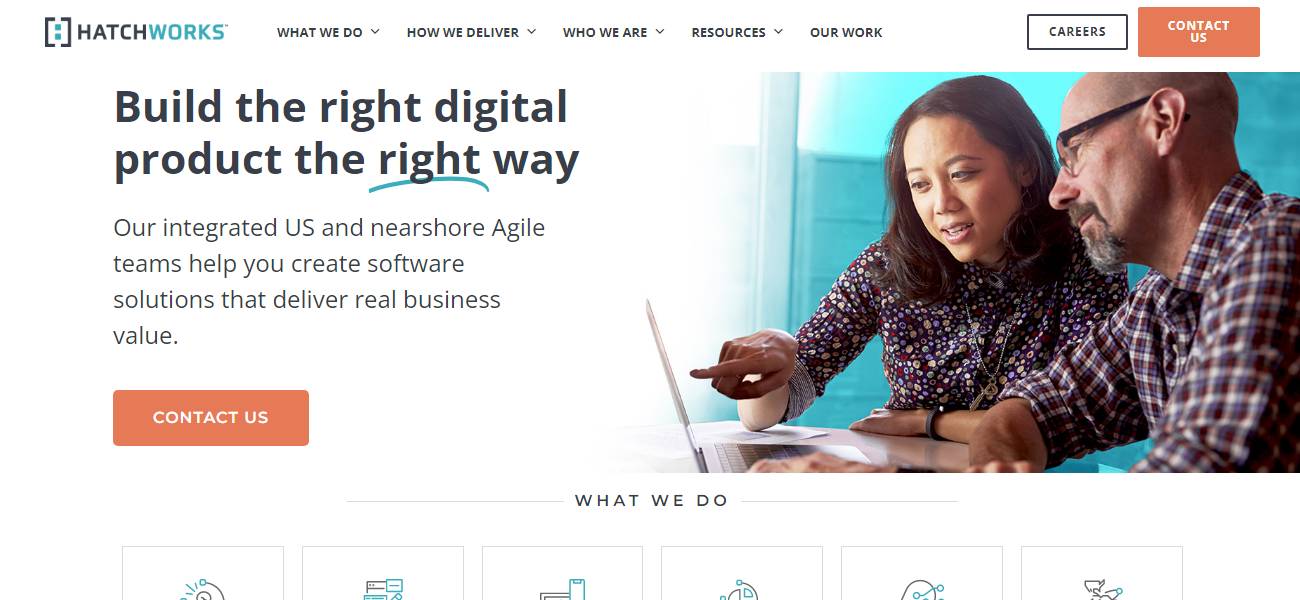 HatchWorks is a technology consulting company based in Atlanta and has offices in Medellin, Colombia, Chicago, Dallas, Washington, and many more locations. They design software solutions to meet specific business needs resulting in tangible benefits. Their services include software development, product design, IoT, big data, cloud computing solutions, data analytics, technology consulting, etc. They have experience working with clients across various industries, including healthcare and finance. 
The company has been working since 2016 and now has over 100 employees. Some of HatchWorks' clients include Juice Plus, ICS, Spring Hills, Diebold Nixdorf, and many more. They have received a few recognition for their quality work by AWS, Clutch, Adobe, Affinix, etc. 
Clutch Rating

– 4.9

Established In

– 2016

Projects Completed

– 225+

Price

– $50 – $99 / hr

Time Zone Availability

– PST, MST, CST, EST

Min Project Size

– $75,000+

Employees

– 250+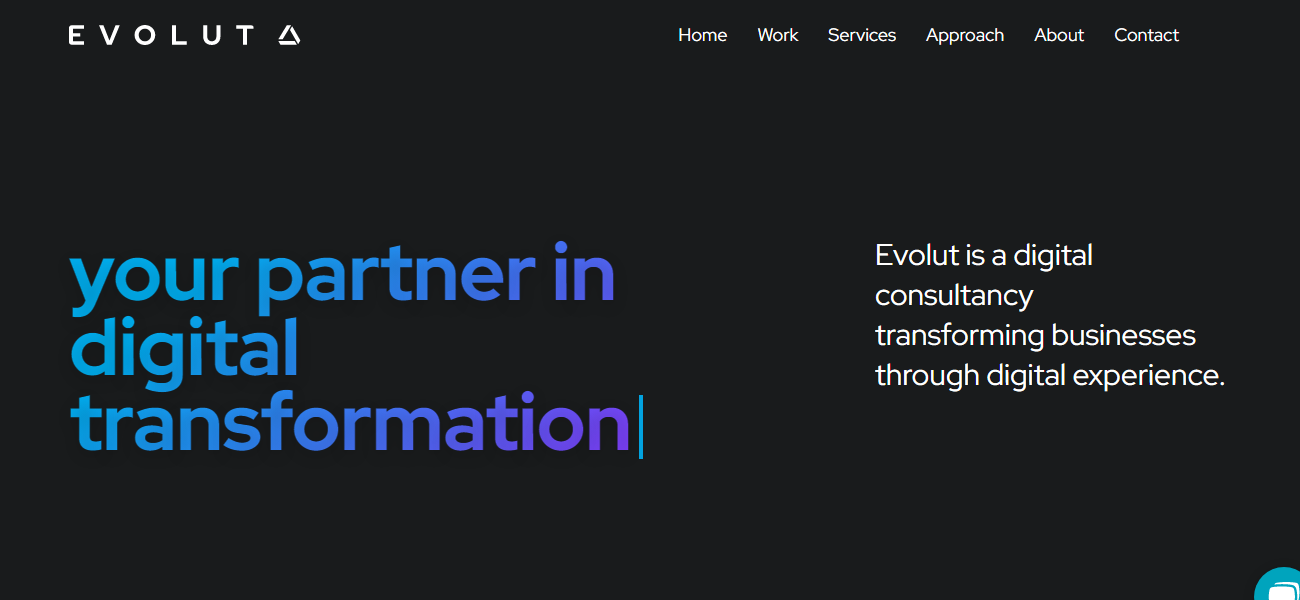 Evolut is a company based in Australia that provides IT solutions to its clients. Their services include web development, mobile app development, e-Commerce web solutions, digital marketing solutions, and more. Evolut offers efficient and reliable IT solutions that help businesses streamline operations and increase productivity. They have a team of experienced IT professionals who strive to comprehend the specific requirements of their clients and offer customized solutions to fulfill their unique needs. They have worked for prestigious clients such as Lavo, Nextfleet, Slacker Radio, Health and Wellbeing Queensland, and more. 
Clutch Rating

– 4.9

Established In

– 2019

Projects Completed

– 500

Price

– $100 – $149 / hr

Time Zone Availability

– AET

Min Project Size

– $10,000+

Employees

– 10+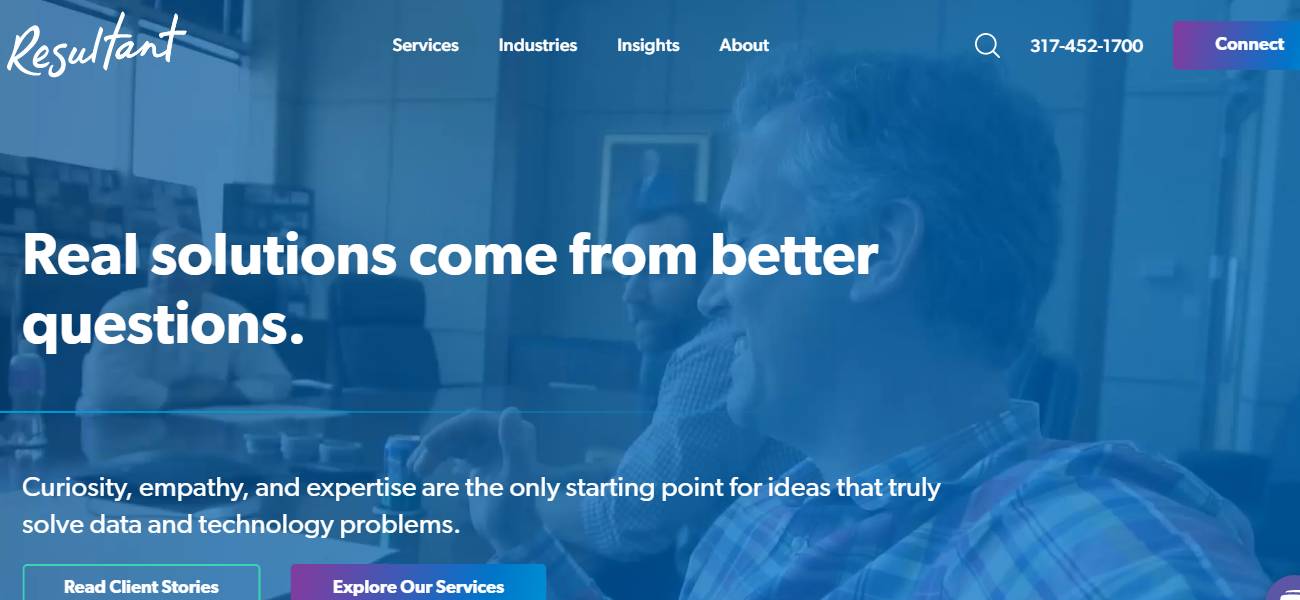 Resultant is a management and technology consulting firm based in the United States. Previously known as KSM Consulting since 2008, they have come a long way and changed the name to Resultant in 2021. Their featured partners are Google, Microsoft, AWS, Salesforce, DataRobot, etc. The Resultant team includes experienced professionals with diverse backgrounds and expertise, which allows them to deliver customized solutions to meet their client's unique needs. They take a holistic approach to every project, assembling collaborative teams with technical, business, and delivery experts to enhance the reputation of their clients. 
Resultant offer solutions like technology, data analytics, digital transformation, app development, financial services, etc. They also optimize operations, improve performance, and achieve clients' strategic goals. Resultant focus on achieving positive outcomes starts with strategic planning and delivering creative solutions based on technical expertise. They cater to industries including Government, Healthcare, Education, Non-profit, and SMB. 
Clutch Rating

– 4.7

Established In

– 2008

Projects Completed

– 650

Price

– $150 – $199 / hr

Min Project Size

– $5,000+

Employees

– 1000+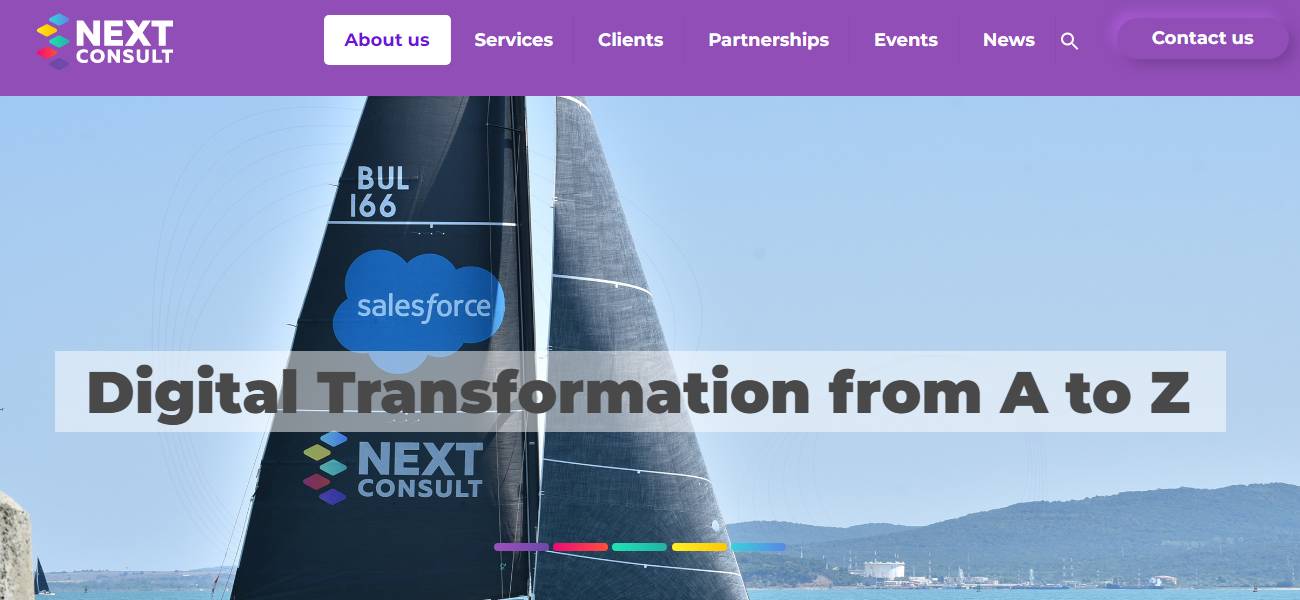 Next Consult is a management consulting company that provides advisory services to clients across various industries. The company has offices in several countries, including the USA, UK, Germany, Bulgaria, Romania, and Switzerland. Next Consult's services include business strategy, operational excellence, digital transformation, Human Resources, and IT advisory. 
They focus on helping their clients identify and solve complex business challenges and offer the best solutions to enhance the brand. 
The company caters to banking, insurance, healthcare, and retail. They have served some big brands; Vodafone, PostBank, Uniqa, Panorama, Sodexo, Codero, etc. Next Consult emphasizes collaboration with its clients, working closely to understand their goals and objectives. It can contribute to helping businesses stay in line with the competition in their particular fields. Next Consultant is one of the best choices when ventures look for digital transformation companies.
Clutch Rating

– 5.0

Projects Completed

– 235+

Price

– $50 – $99 / hr

Min Project Size

– $10,000+

Employees

– 250+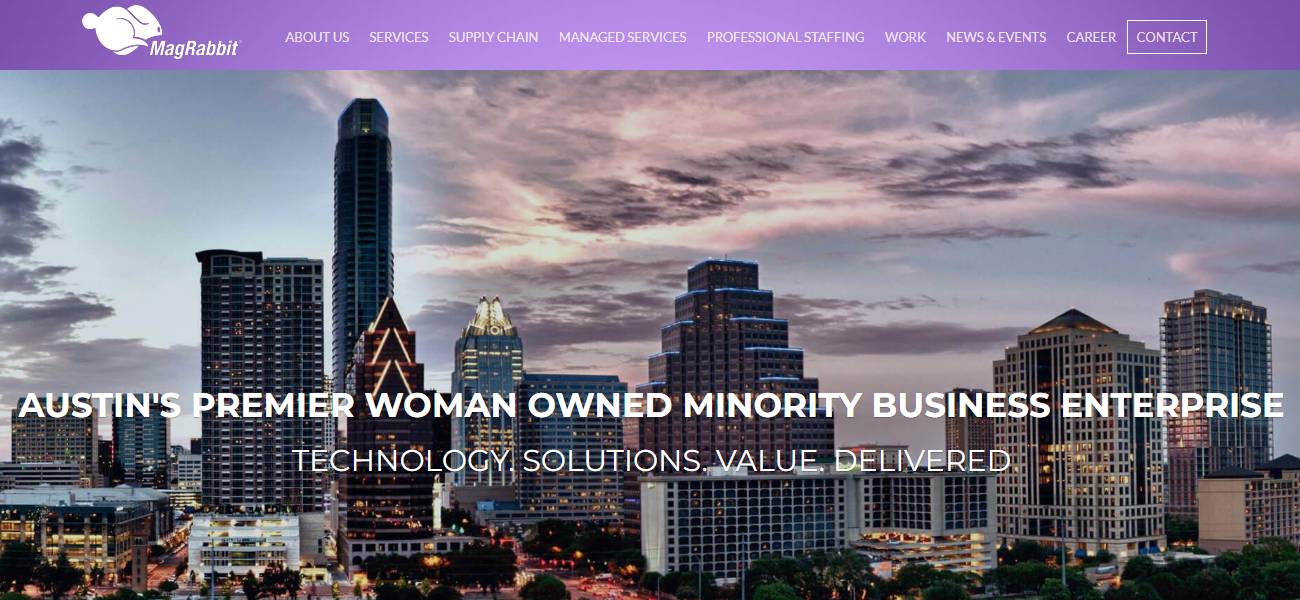 Established in Austin, Texas, in 1990, MagRabbit, Inc. is a certified Digital Marketing firm. They specialize in software development, IoT prototype development, product design, talent management solutions, digital transformation services, and more. MagRabbit's end-to-end software development solutions allow businesses to delegate the heavy lifting, freeing up their time and resources to focus on their core competencies. 
With a strong emphasis on collaboration, MagRabbit turns its clients' ideas into polished products. They have 300+ satisfied clients and over 250 professionals. The client base of MagRabbit is its strength with catering to some renowned brands like Adidas, Adobe, Ford, University of Texas, Visa, etc.
Clutch Rating

– 4.9 

Established In

– 1990 

Employees

– 1000+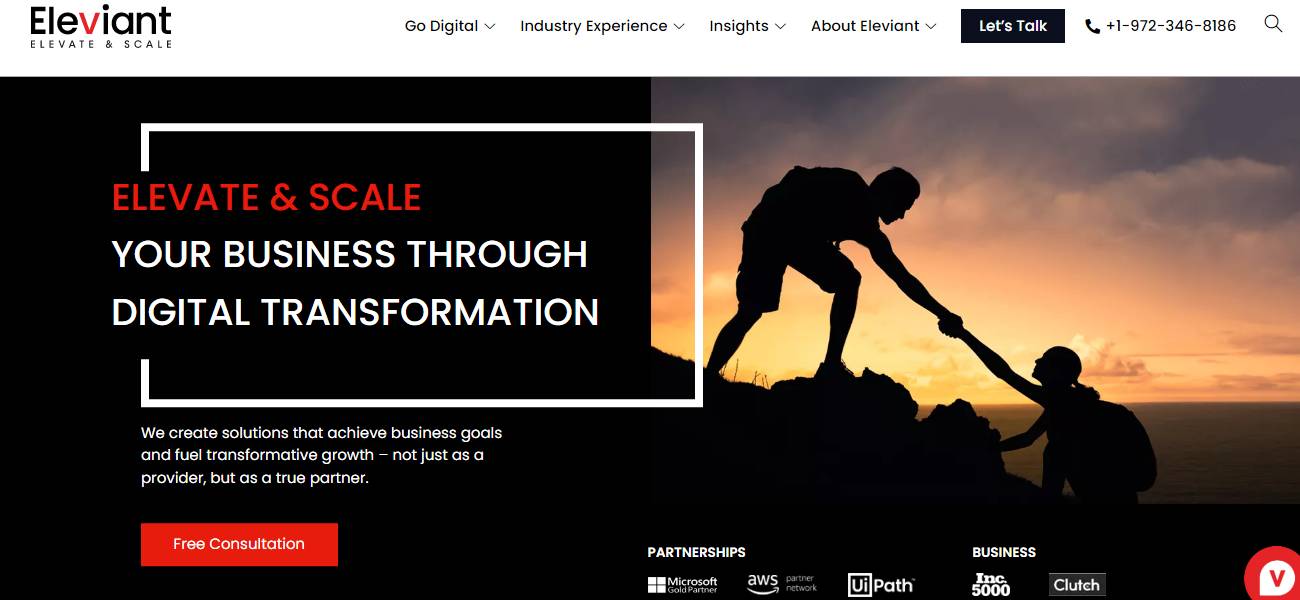 Elevant is a company that provides technology solutions and services to businesses. At Elevant, they don't just provide technology solutions but strive to be your dedicated partners in driving transformative growth. The company focuses on developing customized solutions aligned with the client's requirements. They offer services such as digital transformation, cloud, mobile, RPA automation, eCommerce, Blockchain, Machine learning, AI in Cybersecurity, etc. They also have designed digital solutions like vChat, vReport, vSales, vBot, and Peopleone to accelerate business growth. 
Their commitment to excellence and customer satisfaction has resulted in a customer retention rate of over 90%. With a team of over 250 professionals worldwide, they tackle the most significant digital transformation challenges. Whether you are a small startup with big ideas or a Fortune 500 corporation, they treat every client with the same attention. 
Clutch Rating

– 4.7

Established In

– 2004

Projects Completed

– 650+

Price

– $25 – $49 / hr

Min Project Size

– $25,000+

Employees

– 1000+
Conclusion
In today's rapidly evolving world, businesses must adopt digital transformation to remain relevant and competitive. The benefits of digital transformation are increased impact in the industry, streamlined operations, and the ability to stay ahead of the curve in a constantly evolving IT world. Hence, investing in digital transformation should be a top priority for businesses that want to succeed in the long term.
This article can help you pick the top digital transformation companies around the globe.