Think a tweet is just 140 characters of text? Think again. To developers building tools on top of the Twitter platform, they know tweets contain far more information than just whatever brief, passing thought you felt the urge to share with your friends via the microblogging network. A tweet is filled with metadata – information about when it was sent, by who, using what Twitter application and so on.

Now, thanks to Raffi Krikorian, a developer on Twitter's API/Platform team, you can see what a tweet looks like, in all its data-rich detail.
Via a weekend post on Krikorian's blog, there comes an embedded document that shows what a mapped out tweet looks like. He says he decided to do this map using "JSON as opposed to XML" since the company is "considering not supporting XML on v2 of the API." That may mean nothing to everyday Twitter users, but it's important information for developers to take note of.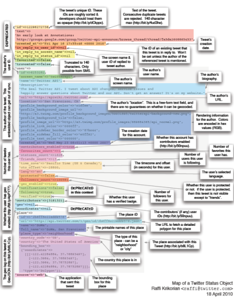 Coming Soon: Lots More Data
This image is all the more interesting when you consider how much richer a tweet's data map will soon become. At last week's first-ever official Twitter developers' conference, Chirp, Twitter announced that it will implement a new feature called "annotations" next quarter. This was possibly one of the most significant announcements made, second-only (if even) to the launch of Twitter's advertising initiatives, the long-anticipated answer as to how Twitter plans to make money.
With annotations, third-party Twitter developers can add any additional metadata to a Twitter post. That's right, any data. And a tweet can have more than one annotation attached to it. This extra data will initially start off small – Twitter developer Marcel Molina said it will "probably" be around 512 bytes. But over time, it will gradually grow larger as Twitter rolls out the feature and scales up in order to support it. The company hopes to have it end up "around 2K," says Molina. How developers use that extra space is entirely up to them – there can be one giant piece of extra data attached to a tweet or a thousand tiny ones.
With annotations, Twitter could become a platform for sharing anything, not just 140 characters of text. What will developers do with that data? We can only imagine. Perhaps new apps will allow users to share media like photos, videos and music? Or they'll add more details about a tweeted link? Will you tag your tweets? Share vCards? Create polls? These sorts of innovations will launch shortly and we expect to be surprised and delighted by what the developers come up with.
At some point, the map of a tweet posted by Krikorian will resemble a primitive artifact from a bygone era. We'll probably look back at it with wonder as we contemplate how far we've come. As for now, let's take a moment to enjoy Twitter's simplicity before it becomes a mishmash of other media and data.